Official IB Recruiting Statistics - Post your information
Points)
on 10/17/11 at 11:50am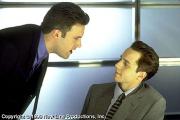 There has never been a post to gather data from prospective monkeys regarding their job search. To get a better idea of how hard it is to get a job on Wall Street, please post the following information regarding your job search and I will compile an excel file.
School: Target/Semi/Non Target
Major: Finance/Other Business/Other
GPA: x.x
# of banks applied to: x
Office(s) applying to: Names of Cities
# of first rounds: x
# of superdays: x
# of offers: x
Return offer from Internship: Y/N
This information will be extremely valuable to prospective analysts, and will help put into perspective the difficulty of securing an offer. Hopefully it will serve as motivation for all of us to work harder.
I'll post my stats first!