THE NEXT CATASTROPHE
O
Points)
on 3/2/10 at 4:19pm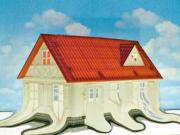 So here is the gist of why I am extremely worried. Don't look at this until you have fifteen minutes to digest it all -
According to a July 2007 report by AMP Capital Investors, the total value of all sub prime loans was approximately $1.4 trillion, of which only about one-third of outstanding loans could reasonably be expected to default. Even if a loan defaults, it isn't a total loss as the bank can sell the home.
If we assume that in the event of a default, a home can still be sold off, on average, for two-thirds of its original value, the total losses on sub prime loans shouldn't have gone much higher than $150 billion.
Much - Most - of the current crisis stemmed from the defaulting of sub prime loans that were disguised as "super-senior" triple A risk loans inside billions of dollars of CDOs. There were other things, but the crisis could have been abated if not for this. So, with those billions of dollars spread throughout CDOs, added to the fear factor, the financial sector was hit by an earthquake of 9.0 on the Richter scale.Thankfully, the financial system was sound at the time and the banks were hit hard, but most of them absorbed the hit, with the help of nearly a trillion from the fed. Point: it butchered the market in everywhere but the major arteries. We are left with a system that is barely intact, but still exists. It would appear that housing has hit a bottom, right? Or somewhere close to it. Here is the problem:
Option-ARMS and ALT-A
Payment option ARMs are popular negative amortization mortgages with recast features. Most payment option ARM's have a scheduled recast in month 61. Additionally, they have triggers that might cause an unscheduled recast to occur if a negative amortization limit is reached. For example, if the principal balance of the loan reaches a set limit through negative amortization, a recasting of the mortgage is triggered.
Here are some numbers -
California
At the end of March 2009
Sub prime loans active: $119 billion
Alt-A loans active: $288 billion
U.S.
Alt-A active: $469 billion
When we talk about the $500 billion in Alt-A mortgages this is what we are talking about. Last time I checked $469 billion does not mean the problem has gone away.
Link to Image
http://www.doctorhousingbubble.com/wp-content/uplo...
We are going to start seeing $8 to $10 billion per month recast, nearly 5 times the current rate. The chart states "months to 1st reset" but they are referring to recasts brought on by negative amortization. And as you will see, since the majority of these loans are in California the bulk are underwater Jacque Cousteau style.
Wachovia in their infinite wisdom swallowed up Golden West at the height of the lending insanity. This cratered the bank which was taken over by Wells Fargo. Just because you eat a bank doesn't mean the toxic waste suddenly disappears. In fact, there is still well over $100 billion in Pick-A-Pay mortgages in their portfolio. Wells Fargo has written off a portion of the portfolio but there is still a significant amount remaining:
About 1 million option ARMs are estimated to reset higher in the next four years, according to real estate data firm First American CoreLogic of Santa Ana, California. About three quarters of those loans will adjust next year and in 2011, with the peak coming in August 2011 when about 54,000 loans recast, the data show.
Option ARM borrowers hit with unaffordable monthly payments are another threat to the housing recovery and the economy, said Susan Wachter, a professor of real estate finance at the University of Pennsylvania's Wharton School in Philadelphia. Owners who surrender properties to the bank rather than make higher payments for homes that have plummeted in value will further depress real estate prices and add to the inventory of properties on the market, she said.
"The option ARM recasts will drive up the foreclosure supply, undermining the recovery in the housing market," Wachter said in an interview. "The option ARMs will be part of the reason that the path to recovery will be long and slow."
Option ARM recasts will mean more pain for California, the state with the most foreclosures in the U.S.
It's $750 Billion Problem
More than $750 billion of option ARMs were originated in the U.S. between 2004 and 2007, according to data from First American and Inside Mortgage Finance of Bethesda, Maryland. California accounted for 58 percent of option ARMs, according to a report by T2 Partners LLC, citing data from Amherst Securities and Loan Performance.
If it takes month 61 to recast, that means they will recast between late 2009 and 2012
Here is an example:
Shirley Breitmaier took out a $315,000 option ARM to refinance a previous loan on her house.
Her payments started at 3/8 of 1 percent, or less than $100 a month, according to Cameron Pannabecker, the owner of Cal-Pro Mortgage and the Mortgage Modification Center in Stockton, California, who is working with Breitmaier. The loan allowed her to forgo higher payments by adding the unpaid balance to the principal. She'll be required to start paying principal and interest to amortize the debt when the loan reaches 145 percent of the original amount borrowed.
When that happens, she won't be able to afford it!
Imagine paying 100 dollars a month on a mortgage (just interest) and then jumping to 7000 dollars a month (more interest plus backed payments plus you're already underwater because of current crisis)
What we do know as of today is that 40 percent of option ARM borrowers are now at least 60 days late. Fitch in their September release stated that 70 percent of the securitizedARMs would hit recast dates by 2011. So the next two years will see billions of these loans transform into more trouble for banks. In order to understand how we got here, let us look at Q2 of 2007 data I gathered on the top option ARM lenders at that time:
Image
http://financemymoney.com/wp-content/uploads/2009/...
The top 10 option ARM lenders held onto 66 percent of the market in 2007. 2006 and 2007 saw the biggest amount of these loans made. From 2004 to 2007 some $750 billion in option ARMs were made. If you look at the list, only two of the institutions still stand. Washington Mutual is now part of JP Morgan, Countrywide is now part of Bank of America, and Wachovia is now part of Wells Fargo. The names are different but many of the loans are still out there. These above banks dominated the entire option ARM market:
http://financemymoney.com/wp-content/uploads/2009/...
These loans are highly toxic because many had a massively low teaser rate that negatively amortized the loan. That is, the initial balance actually grew if you decided to make the minimum payment option. According to recent data 93 percent of option ARM borrowers elected to go with this minimum payment option. Many of these loans were cast with a five year time frame before rates hit major recast points. One of the more recent charts shows this wave:
There have been many charts like the ones above and much of the confusion is around a few key points:
-1. Banks have been circumspect given the actual number of option ARMs
-2. Many option ARMs are in California (roughly 60 percent of the market)
-3. Many of those behind on payments are now simply not paying their mortgage but banks are not moving
Now, there are two possibilities
1 - Fed Bought All of these behind closed doors
Outcome: FNM FRE collapse entirely, markets sink like a rock
2- Banks are still holding on to these
Outcome: US Banking Sector collapses entirely
Knowing what we know, assuming you agree, we have to do the hard thing. Figure out where and when to put our money so that A, we are not blown out of the water and B, we can make more money off of it...as cruel as that may sound
Also, do not forget that these loans do not default necessarily immediately after recast. AND, BEFORE the initial collapse, these loans had a default rate upward of 25%, AFTER the meltdown, you can only imagine how bad it will be. Look what 200 bil in sub prime did! Wait until this nuke goes off. We're only in the eye of the storm, this is when we plan.
Tell me your thoughts, I figured you would be the guys to bring this to.
Tags: