Undergraduate - USC vs UNC
Points)
on 5/10/12 at 12:24pm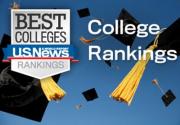 Hey, I'm a transfer for a local community college (had to go for financial and personal reasons).
Anyway, I've been accepted to USC and UNC. Waitlisted at Harvard and Amherst and rejected at Brown and Cornell. Columbia and Penn release their decisions today, but I'm not expecting much.
For USC I've been accepted into the Marshall School and UNC the College of Arts and Science. Which one would be the better choice? Also, I'm a minority so which school will be more diverse and all that? I've only been out of Texas (home state) a handful of times for conferences and extracurricular related stuff, so I'm pretty clueless about the social scenes at both schools.
--------
Also, Amherst is my top choice and I'm drafting a waitlist follow-up letter. Does anyone have any experience writing these for business school? I'm sure the advice would be useful even in my situation.
Thanks in advance.