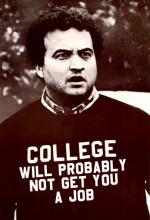 From Bloomberg:
The number of new college graduates far exceeds the growth in the number of technical, managerial, and professional jobs where graduates traditionally have gravitated. As a consequence, we have a new phenomenon: underemployed college graduates doing jobs historically performed by those with much less education. We have, for example, more than 100,000 janitors with college degrees, and 16,000 degree-holding parking lot attendants.
Does this mean no one should go to college? Of course not. First of all, college is more than training for a career, and many might benefit from the social and non-purely academic aspects of advanced schooling, even if the rate of return on college as a financial investment is low. Second, high school students with certain attributes are far less likely to drop out of school, and are likely to equal or excel the average statistics.
----Get your plumber suits on men----
Upcoming Events
May 24 2016 - 8:00am

to

May 25 2016 - 8:00am

May 29 2016 (All day)

to

May 30 2016 (All day)

Jun 1 2016 - 8:00am

to

Jun 2 2016 - 8:00am

Jun 8 2016 - 8:00am

to

Jun 10 2016 - 5:00pm

Jun 15 2016 -

7:30pm

to

8:30pm
Poll
Who is your favorite Hedge Fund manager?
Bill Ackman
13%
Steve Cohen
7%
Ray Dalio
17%
Ken Griffin
9%
Carl Icahn
10%
Jim Simmons
5%
George Soros
10%
David Tepper
6%
David Einhorn
9%
Seth Klarman
8%
Other / None of the above
6%
Total votes: 385