WSJ - J.P. Morgan Flags $2 Billion Trading Loss
Pages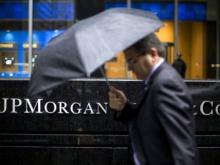 WSJ:

J.P. Morgan Chase has taken $2 billion in trading losses in the past six weeks and could face an additional $1 billion in second-quarter losses due to market volatility, Chief Executive James Dimon said Thursday in a hastily arranged conference call after the market closed.

The losses stemmed from derivatives bets gone wrong in the bank's Chief Investment Office, a part of the corporate branch of the bank that manages risk for the New York company. The Wall Street Journal reported last month that large bets being made in that office had roiled a sector of the debt markets.

The loss is a black eye for the bank, which sailed through the crisis in better shape than most of its peers, and Mr. Dimon. It comes at a time when large banks are fighting efforts by regulators to rein in risky trading with measures such as the so-called Volcker rule.
Full article here.
Thoughts?
The WSO Advantage - Trading
These 6 FREE Financial Modeling Lessons
Can Help You Land Your $100k+ Dream Job
Our Fun Excel Training and Challenge Contest
DCF Modeling, Tons of Free Templates & Video Tutorials
Valuation Lesson on Trading Comps
Cash Flow Modeling and more!
I would normally sell this for at least $200, but we're offering it for free as a sweet bribe to join our community of 350,000+ members. See you on the inside!
Lazy? Join us and get the 6 free lessons with 1 click below!
6 Free Financial Modeling Lessons...and More.
Enter e-mail to get our Modeling Tutorials (Worth $200+)
Upcoming Events
Oct 10 2015 - 8:00am

to

Oct 11 2015 - 8:00am

Oct 10 2015 - 10:00am

to

Dec 9 2015 - 7:00am

Oct 10 2015 -

1:00pm

to

2:00pm

Oct 11 2015 - 8:00pm

to

Oct 12 2015 - 9:00pm

Oct 14 2015 - 8:00am

to

Oct 15 2015 - 8:00am
Poll
Long term, which career path interests you the most?
Accounting
0%
Asset Management
7%
Commercial Banking
1%
Consulting
5%
Corporate Finance / Strategy / Development
8%
Entrepreneurship
7%
Equity Research
4%
Fintech
2%
Hedge Fund
21%
Investment Banking
10%
Investment Advisor / PWM
1%
Private Equity
16%
Prop Trading
1%
Real Estate
5%
Sales & Trading
3%
Venture Capital
5%
Other Finance Role (academia, non-profit, government, legal, etc)
1%
Other - Non Finance
2%
Total votes: 475