Four Up Weeks in a Row | The Daily Peel | 8/15/22
Stocks climbed higher Friday as markets tried to string together a fourth consecutive winning week. WTI Crude is still in a trading range just north of $90 a barrel, and the treasury yield curve is in the same inverted shape that we saw at the beginning of last week.
Many on the Street are investing in ESG and Fossil Fuels at the same time, while some of us aren't too terribly convinced that the next bull run is around the corner. After this week's financial data, the consensus is a 50 bps rate hike at the next FOMC meeting, and investors are generally satisfied with earnings szn.
Friday was another good day for bulls. At the closing bell, the Dow was up 1.27%, the Nasdaq climbed 2.09%, and the S&P was up 1.73%.
Historically, access to top-tier Private Equity & Venture Capital funds has been limited to the 1%. OneFund is changing this.
OneFund is a platform where everyday investors can invest in top-tier PE & VC funds with low minimum investment requirements. Join the waitlist for early access!
Let's get into it.
Monkey Wanted: The Daily Peel is Hiring
TDP is looking for a newsletter writer. If you're interested, we'd love to hear from you!
If you're a great writer with a sense of humor, check out our job posting here. To apply, please author a draft copy of the Peel and send it plus a resume to [email protected].
Friday - 69 pigeons were resting on a telephone wire. A man shoots one with his beebee gun; how many remain?
None; the remaining 68 flew away.
Today - It's 30 bananas off of an hour of mentoring for the first 10 respondents. LFG!
The Peacock doesn't lay eggs. How do we get baby Peacocks without eggs?
Shoot us your guesses at [email protected] with the subject line "Banana Brain Teaser" or simply click here to reply!
Irrational Bear Market Pump - Some of you might, at this stage in the summer, be counting your chickens after a nice little bear market rally.
Me, on the other hand, well, I'm still licking my wounds from getting crushed in the first half of the year.
Not everything that happens in financial markets makes sense. Even if they aren't perfectly rational all the time, the markets themselves are insightful; they give us a look into human psychology, even the deep, dark thoughts that no one should utter aloud.
These are the same types of thoughts that you might have after a couple of adult beverages late on a Saturday night, right before you text your ex a "wyd?".
Just because stonks have been up doesn't mean that markets or the economy are turning around. This is exactly the sort of thing that happens in a bear market. A little surge here, a little froth over there, and then SCHWACK; there goes your 401k.
Lately, we are back to extreme levels of optimism, almost to the same highs as late 2021. Just because markets have been on a tear for a few weeks doesn't mean you need to yolo your milk money back into OTM calls. We have learned that stonks don't always go up, right?
Just because the Nasdaq is back in the bull market territory, with the other major indices not too far behind, it doesn't mean that the money printer is going to go brrrrrr again anytime soon.
Investors haven't capitulated. There hasn't been a broad feeling of "f*ck, I give up" just yet. My take is that in order for another bull run to get going, investors need to stop GAF for a hot second so we can rationally reset.
Some of you disagree, and that's okay. If you want to share your opinion or ask a question, send it our way. We'd love to hear from you.
Happy Monday, Apes.
How You Can Access Top-Tier
Private Equity and Venture Capital Funds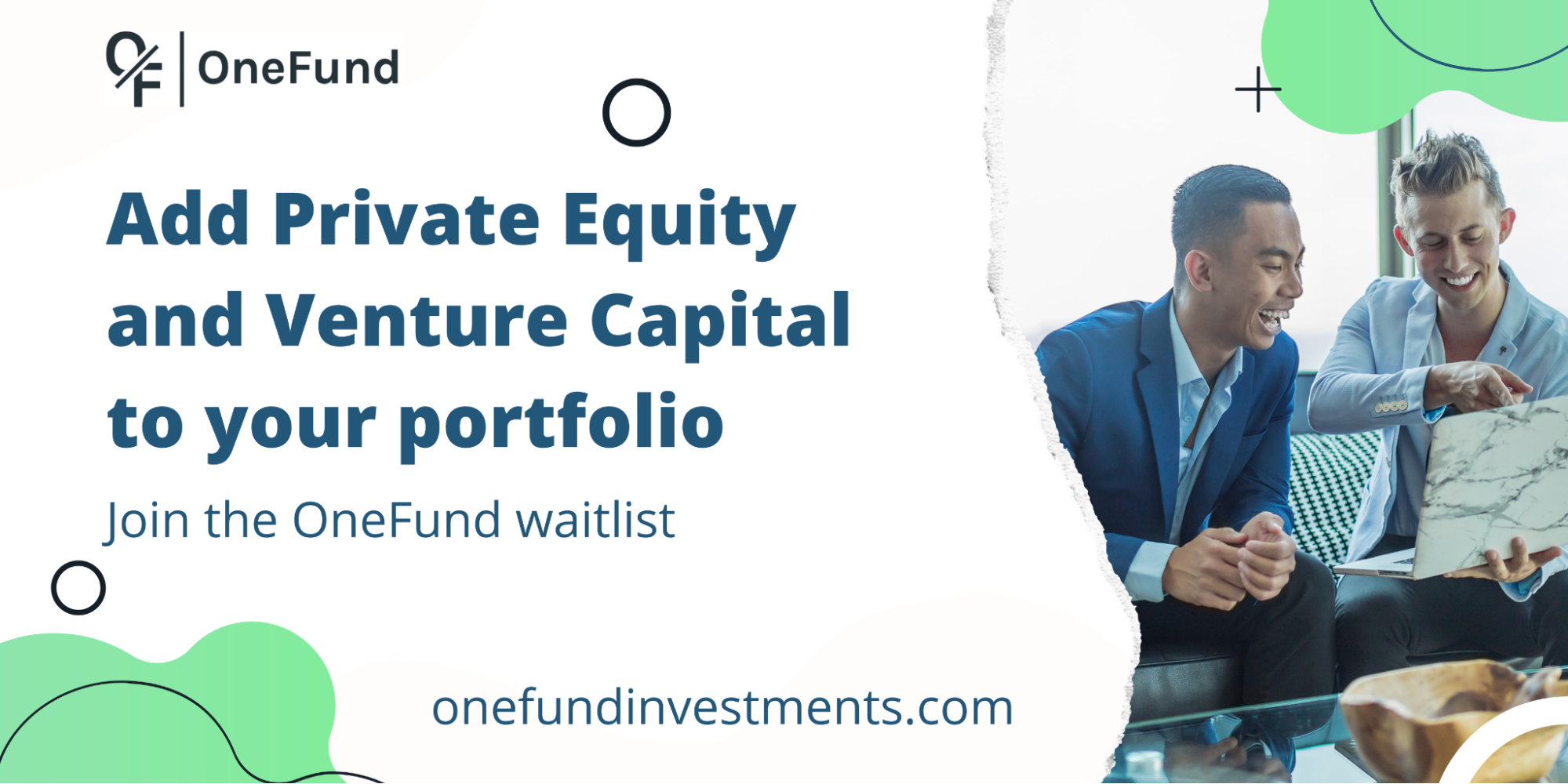 Private Equity and Venture Capital have outperformed public markets over the last 25 years. Despite this, access to top-tier PE & VC funds has been largely limited to the top 1% of earners and industry insiders because of the multi-million dollar minimums required by most funds. OneFund is changing this.
With OneFund, everyday investors can select from and invest in top-tier PE & VC funds at low minimums. Get access to these elusive investment opportunities, and feel confident that your investment is in the hands of experienced professional investors.
Peloton ($PTON) - Here's a pandemic darling that hasn't been in the Ripe section of TDP for ages. Here is a brand that has inspired fierce consumer loyalty. Ask your buddies. Who doesn't love their IoT exercise bike?
However, this loyalty has not kept the brand in favor of many Wall Street types. The stock has been trading as far south as the south can be, especially in the last year or so.
But Friday was a good day for the exercise equipment maker. Shares soared 13.60% on some good news for the brand: the company's leadership is raising prices and firing employees. This isn't usually something we rant and rave about, but what the hell, Wall Street loved the news.
Workday ($WDAY) - Shares of Workday climbed 6.11% on Friday.
Honestly, there's not a lot of news floating around about the cloud-based productivity company. Maybe a rising tide just lifts all boats?
Guggenheim initiated coverage of the stock, but they issued a sell rating with a price target that's 23% lower than where the stock is currently trading on Friday. This makes it hard to believe that any analyst coverage is driving this significant upside move.
Illumina Inc ($ILMN) - Shares of $ILMN plummeted on Friday. The gene-sequencer was down 8.40% at the closing bell, a far cry from the broader market's rally and fourth straight positive week.
The reason: the company had crappy earnings and an even bleaker outlook.
The company fell short on both the top and the bottom lines, and then its guidance was weaker than expected. This is how you get punished for not meeting the Street's expectations.
Poshmark ($POSH) - Sometimes, you get punched in the face on a Friday. That's what happened to $POSH last week, after its earnings report for the most recent quarter. Its shares slid 8.39%.
Sure, revenue beat expectations, but earnings per share came in well short of estimates; in addition to posting a wider than expected loss, the company adjusted guidance to further signal that consumer demand for anything that costs dollars is softening.
If you're following at home, this softening consumer thing might just be a trend.
To Supply Chain, Or Not To Supply Chain - Inventory management doesn't get enough love, or at least it hadn't until recently.
We've been talking about supply chain problems so much since the beginning of the pandemic that many Monday morning logistics experts have a lot to say of late.
The big retailers have deep pockets and can afford long payrolls of really smart people to manage their inventory. You need a PhD from MIT with a focus on operations research to manage your just-in-time inventory system? That's 250k per year well spent.
And they don't just have one person facilitating logistics management at the corporate level; they have an entire team of people making pretty good money by anyone's standards, who make sure things run smoothly.
And they still get it wrong.
We've already seen some downward sales revisions because the froth amongst consumers has shifted away from goods towards experiences. We've heard from Target and Walmart, among other big names, that their inventories got a little bit too deep, and it's time for more than one fire sale.
In 2020, going to the gym became an impossibility for just about everyone in America. With the exception of basically just Florida, lockdowns forced us to find other ways to recreate.
Enter the bicycle craze.
Some of you probably even participated in it, waiting literally months for your bike to arrive from some distant factory shipped to your local bike shop so that you can have it assembled safely and according to the manufacturer's torque specifications.
This is a relatively common story from the last two years. It took about forever to get the bike you wanted in your size in your area, and that generated a tad bit of artificial demand. Anyone who thought, "gee, maybe I might want a bike," ended up buying one.
Bike shops enjoyed this overzealous consumer, and they doubled down on it, ordering an insane amount of bikes to keep in inventory. After all, demand is through the roof. This couldn't possibly come off the rails, right?
Well, a dangerous saying is, "Well, it's different this time," and that's kind of what bike shops thought. The prediction industry-wide was that consumers would keep buying f*cking bikes.
These shops experienced literal lines out the door (wearing masks outside, no less) when merch arrived at their shops.
Lately, the music has stopped, and abruptly so. Some shops have loads of bikes that they can't sell, all because the market is saturated and gyms are back open. The consumer environment has changed.
The talent pool to staff bike shops, particularly ones that do maintenance and tune-ups, is also not what it used to be.
Margins on low-end and entry-level bicycles aren't as exorbitant as you'd think, clocking in somewhere around 20-30%. This is actually less than margins in traditional brick-and-mortar retail. At those margins, you have to sell a lot of $750 bikes to pay the $25 an hour that it costs for an entry-level bike tech for a year.
For those of you who still ride those pandemic peddling machines, if you need service, it's going to be another couple of weeks, most likely, before you can get your bike back from the shop.
High-end bikes are still tough to come by; I haven't seen much pre-C19 data, but I'm pretty sure that those of you looking to spend $7k and beyond on a bicycle have always had trouble finding the bike you want in the color you want with the groupset you want.
For smaller shops, poor inventory management might force business owners to permanently close their doors. For others, it looks like it's time to work on supply chain resiliency while fighting for their lives for the next couple of years.
"Lost dollars are simply harder to replace than gained dollars are to lose." - Michael Burry