If You Demand It, They Will Produce | The Daily Peel | 12/3/21
Silver Banana goes to...

Market Snapshot
Tennis is a great sport, but I'm not too sure I want to replicate it's back-and-forth nature in my financial markets. Luckily, yesterday swing went in the right direction. The Dow got a sizable 1.83% boost while the S&P gained 1.42%, and the Nasdaq turned in a respectable 0.83% boost.
Professional research is hard to come by and expensive, but it doesn't have to be. WSO Alpha has professional research, a 10 year-old portfolio to trade with, and more!
Let's get into it.
Macro Monkey Says
Wrapped in Together - As you've seen if you've been on Instagaram, Snapchat, literally any other social media, or Spotify itself recently, the music streaming service released the legendary summary of it's users streaming habits for the year, known as Wrapped, this week. 
National and global data from Spotify is likely a much better view at how the world jams out vs. Apple Music, as Spotify boasts 381mm users while Apple had 60mm last time it reported user figures.
Now that we got that out of the way, let's take a look at some of the highlights Spotify revealed on our globally collective streaming habits:
Top Streamed Artists: 
Bad Bunny (9.1bn streams without an album drop...)
      2. Taylor Swift
      3. BTS
      4. Drake (really??)
      5. Justin Bieber
Top Streamed Songs:
"driver's license", Olivia Rodrigo
      2. "MONTERO", Lil Nas X (c'mon y'all…)
      3. "STAY", The Kid Laroi & J-Biebs
      4. "good 4 u", Olivia Rodrigo (banger)
      5. "Levitating", Dua Lipa & DaBaby
Top Podcasts:
The Joe Rogan Experience (obviously)
      2. Call Her Daddy (what is wrong with you guys?)
      3. Crime Junkie
      4. TED Talks Daily
      5. The Daily
Cool Playlist Facts: 
"Plant playlist" music grew by 1,400% during the pandemic
      2. "Vaccine related playlists" hit 42mm streams (think, 'Hit me with your best shot"             by Pat Benatar
      3. There are >187,000 Sea Shanty playlists all generated by users (shoutout to                The Tendieman)
As you can no doubt see, it was an interesting year for streaming. Just keep in mind when you go and look at your that you really don't "need" to post it all over social media. Literally no one cares, I promise. 
Manufacturing - We just received word from the North Pole, and it looks like your holiday gifts are gonna be fine as Santa has taken a page out of Bezos' playbook and is forcing the elves to work overtime while removing any and all forms of bathroom breaks. As a result, production of goods is on pace to check every box on your wish list.
That's right, the production of goods, aka manufacturing, continued to grow last month. We're not sure just how much of that Santa is responsible, but safe to say it's meaningful. November's PMI reading came in at 61.1, a 0.3% increase from October's 60.8 reading. That marks 18 months straight of gains - meaning the economy's manufacturing sector has grown continuously for longer than any one of your relationships have lasted.
All in all, supply chains are healing. A ratio of new orders compared with inventory levels, remains low, indicating there is plenty of inventory to meet demand from these orders. Like I said, Santa's working overtime.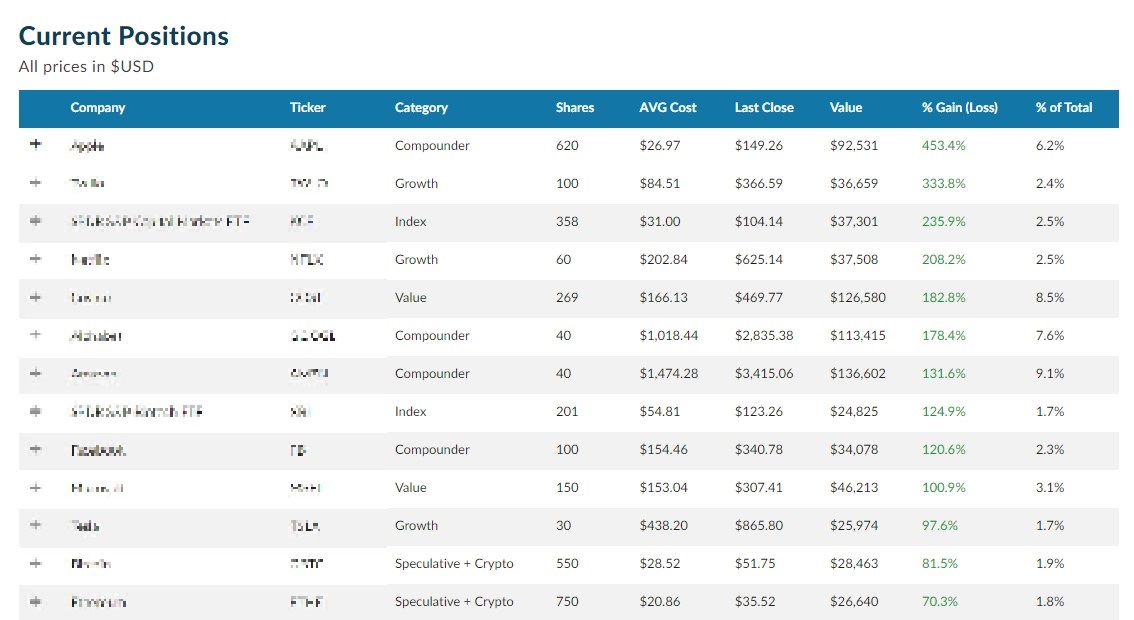 The WSO Alpha portfolio is still up over 300%.
This is THE portfolio you don't want to miss. WSO Alpha has
Historically outperformed the S&P, Nasdaq, and Dow
An unmatched Risk/Reward profile
Professional research reports
And more!
What's Ripe
Snowflake ($SNOW) - Buffett says to avoid investing in companies you don't understand. On that note, I'd sacrifice my first born child if someone can prove to me that he, as an investor and a 91yr old man, understands Snowflake's business. Regardless, it's working out - especially yesterday after the firm released a home run earnings report. Revenue came in nearly 10% higher than expectations and the quarter's net loss was well below expectations too. Shares popped 15.9% on the news.
Boeing ($BA) - You may not have heard much about Boeing for a while, and that's probably a good thing because we pretty much only talk about them when one of their planes crashes. Somewhat related to that, shares gained 7.5% on essentially not having a crashes recently. The Civil Aviation Administration of China (CAAC) is reportedly close to giving all-clear for Boeing's 737 Max planes to fly again. U.S. approval was a piece of cake in comparison, but getting back into the world's second-largest economy certainly doesn't hurt.
What's Rotten
Vax Stocks ($MRNA, $PFE, $NVAX) - One bright spot throughout the pandemic has been the returns from vaccine stocks. Given stocks trade largely on future demand, this makes sense. Now that the market has decided it doesn't give a f*ck about Omicron, vax makers collectively took a hit yesterday. Moderna lost 2.9%, Pfizer sank 3.0%, and Novavax plummeted an intense 15.9%, likely because it can't even seem to get a vax against OG COVID to work.
C3.ai ($AI) - In an age of wild technological speculation, its unexpected to see a stock who's ticker is literally "AI" to plummet 11.2% in a single day. Nevertheless, that's what a disappointing earnings release will do, and C3.ai is feeling that right now. Investors were not at all vibing with lower than expected subscription revenues as well as poor execution around sales reorganization. Still, revenue grew faster than expected and the firm saw a sizable boost in their customer base. Many analysts voiced potential optimism for the long term, but for now, the slew of price target cuts speaks for itself.
Thought Banana:
Asking for Trouble - Get ready to scream "WTF?!" and run to show your roommates what we're about to say: the scientists out of Harvard, Tufts, and the University of Vermont that developed the world's first living robots (did not even know this was a thing) have announced that apparently those living robots can now independently reproduce.
If that doesn't make you sh*t bricks, you might be a living robot too. But please, allow me to elaborate.
Apparently, in 2020, U.S. scientists used stem cells from African clawed frogs to create "xenobots", the official name of these living robots. Roughly 0.04 inches long, the xenobots serve no purpose right now and are basically just an example of scientific curiosity pushing the boundaries further than ever. This allowed those scientists to observe an entirely new method of biological reproduction in which the parent xenobot essentially sucks up loose stem cells (think Pacman) and bakes them inside their bodies until they mature into full xenobots themselves.
I don't have to explain how "WTF" this is right? I mean, just wow.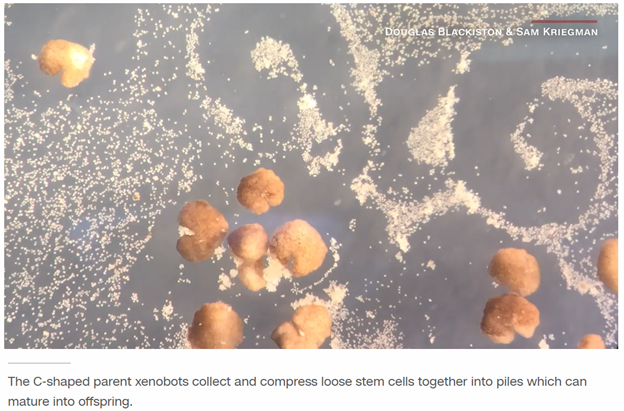 "I've always believed, if there's going to be a hit, take it and then go on about your business." - Jim Simons
Happy Investing,
Patrick & The Daily Peel Team
Was this email forwarded to you? Sign up for the WSO Daily Peel here.