Not A Dead Cat Bounce | The Daily Peel | 4/29/22
Futures convincingly pointed towards greener pastures on Thursday morning, on the backs of fat earnings beats by $QCOM, $FB, and $MSFT. The Market was trying to rally and not just have a dead cat bounce, and it was very successful in doing so.
Teladoc $hit the bed after earnings, and it looks like Cathie Wood was in that bed a la Johnny Depp and Amber Heard.
At the close, the S&P was up 2.47%, the Dow was up 1.85%, and the Nasdaq gained 3.06%.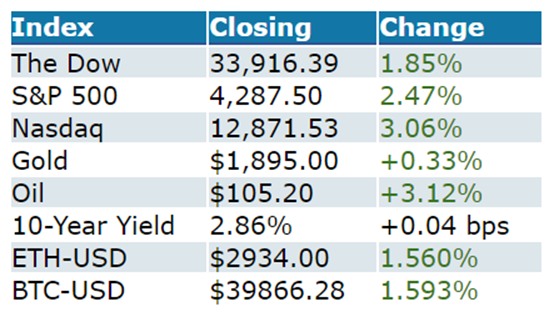 Ready to save up to $2,000 on your summer travel? Stop dreaming and start planning. Try DFC for $1 if you sign up in the next 24 hours. Think; roundtrip to Hawaii from $175, Madrid from $335, and much more. Offer ends in 24 hours!
Let's get into it.
The Real Economy — Does it feel like the economy is broken? Has $hit hit the fan, or is the stock market just having some hiccups that were only to be expected after two years of running around like a meth addict hopped up on any stimmy that it could smoke?
If you watch CNBC or Fox Business all day, you'll hear a distinctly different story than if you watch your local news when it comes to the economy.
The talking heads will try and paint a rosy picture for you even in light of off-nominal economic news:
Inflation is elevated, driving price increases across the board
Home prices are up, but inventories are getting stronger in many markets due to rising interest rates
Business investment is up 9.2%, and companies see a healthy future even with today's macroeconomic headwinds
The supply chain is still in catch-up mode, but inventories grew in this recent quarter
Crazy swings in imports and exports are keeping economist-fortune tellers on their toes
Consumer spending is up; the average Joes and Joe-ettes are spending their hard-earned greenbacks
When it comes to the rubber meeting the road, the economic situation probably feels much starker for the consumer.
Unless you have a healthy 401K and a cushy hybrid job, you're feeling the squeeze.
Rents are through the roof, up more than 25% year over year in many major markets across the country
Gas is up 43% in the last year, eating into blue-collar disposable income
Sure, consumers spent 2.7% more money, but inflation was 8.5%
Wages by no means have kept pace with inflation
A gallon of milk, butter, a loaf of bread, or a pound of chicken cost more than ever before
The economy is officially in a contraction after yesterday's GDP numbers were released, validating the negative trend in consumer sentiment in recent months
Indeed, the US saw a surprise 1.4% GDP contraction in the first quarter compared to a 1% expansion that was predicted by millionaire economists with PhDs from MIT, Harvard, and Stanford. It's official; the economy did not grow.
This could be the last hurrah for the great C-19 bull market.
There could be a silver lining. Perhaps, the Fed doesn't need to be as aggressive in throttling the economy because it is no longer growing as aggressively as over the last handful of quarters. But that being said, if the Fed opts for this course of action, Stagflation might make a Robert Downey, Jr.-esque comeback.
While this isn't the onset of the r-word you've been looking out for, it might be a real wake-up call for investors, traders, and economists alike.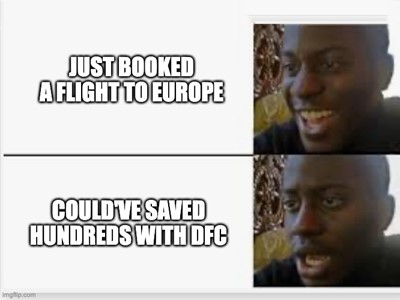 Ready to save up to $2,000 on your summer travel? Stop dreaming about that beach vacation and start planning. Try Dollar Flight Club for just $1 if you sign up in the next 24 hours.
Think; roundtrip to Hawaii from $175, Madrid from $335, Costa Rica from $205, and many more destinations for up to 90% off.
Join over 1 million happy travelers and join the Club…offer ends in 24 hours!
Meta Platforms Inc ($FB) — Big Tech really needed a pick-me-up, and the way the Street interpreted Facebook's earnings was just that. After a gut punch based on slowing growth and struggles with subscribers last quarter, daily active users, and platform monetization concerns, the artist formerly known as Facebook delivered results that have thoroughly pleased investors.
Thanos snapped Meta's stock in half this calendar year, but after reporting a bottom line that beat analysts' predictions after hours on Wednesday, shares of $FB blasted off like the New Shepard. Shares traded after hours following their announcement and in pre-market hours yesterday up between 10 and 25%. Average Revenue per User and Daily Active Users both topped analysts' estimates, propelling Meta back in the right direction.
This beat was arguably a little bit of a lifeline for tech. At the closing bell yesterday, shares of Meta ended the day up 17.59%.

Qualcomm ($QCOM) — Compared to other big tech companies, Qualcomm is not the sexiest. There's no 'Q' in FAANG last we checked. But a decade ago, $QCOM was a f*cking communications and advanced technologies powerhouse.
Today, Qualcomm is the biggest maker of chips that power smartphones, but it looks like a budding interest in expanding its business is starting to pay off. Qualcomm beat earnings and revenue estimates, sending shares on a tear after hours before yesterday's trading session.
Typically, $QCOM's performance has been tied to the demand for smartphones and cellular-enabled tablets, but in the recent past, they're diversifying into internet-of-things-enabled chips, targeting connectivity in cars, industrial electronic devices, and other cool $hit that isn't a phone.
After a solid quarter and favorable upgraded full-year guidance, shares of $QCOM rose by 9.69% yesterday.

Amgen Inc ($AMGN) — By traditional metrics, Amgen had pretty decent earnings. Their non-GAAP EPS beat estimates just like their revenues, showing strength even compared to the first quarter a year ago in a drastically different macro environment. Amgen also reported stronger than expected free cash flow.
So what gives? Apparently, Amgen is on the hook for $5B of adjustments and penalties with the IRS *allegedly*. Under this cloud, shares of $AMGN retreated 4% pre-market and ended yesterday down 4.28%.

Cathie Wood — As you guys know, in this section, we usually cover an individual stock or a sector that showed some weakness compared to the broader market. Today, we will mix it up and talk about Cathie Wood, or as South Korean retail investors know her, "Money Tree."
ETFs aren't exactly sexy, but I'll give Wood some credit. I'd consider her an uber bull on some intangibles that you can't see either: innovation, magic internet money, making the world a better place.
But if recent performance is any indicator of future returns, her future is not looking bright. Wood runs ARK Investment Management as their Chief Investment Officer and Portfolio Manager, and, well, things are not going great.
Her flagship fund ARK Innovation ETF ($ARKK) is down 49.61% YTD. The rest of ARK's baskets are down between 25 and 50% this calendar year.

In spite of this awful performance, Wood had the lady-balls to double down, affirming expectations for 50% returns compounded annually after this recent rough patch. These comments came shortly after a Morningstar downgrade of ARK's premier fund.
While her clients have been hemorrhaging cash, she has been galavanting around the world, probably collecting Hilary Clinton-sized speaking fees. She was recently spotted in the wild in Miami and Bahamas, peddling her bull$hit.
$ARKK's third-largest holding is (was?) Teladoc, comprising almost 7% of the fund. Yesterday we watched $TDOC shed over 40% of its market cap. We saw this move wipe away around 3% of $ARKK's value between the close on Wednesday and the opening on Thursday.
Wood's critics love to hammer her for crappy risk management and her contrarian views on investing, reality, and the future. To me, it sounds like her alleged denigrators might be more than a little bit right.
BTFD — Investing in a bear market can seem pointless. Not unlike throwing a hotdog down a hallway, it can appear you're sending good money after bad.
While we don't give financial advice here at The Daily Peel because (you degens would probably follow it), we do propagate cliches that are cliches for a reason. That reason: because they're actually true.
Sometimes you have to hold on for dear life
It's not a loss until you sell
Buying lottery tickets is still a worse investment than BTFD
Dollar cost averaging is a way to lower your basis and manage risk
When a stock gets beat down, think of it as a sale
Crappy companies do occasionally go to zero; stonks don't always go up
Some industries have historically been r-word-proof; looking at you, Utilities and Consumer Staples
If you have the foresight, adjusting your allocation in accordance with your time horizon can preserve wealth in a bear market
Buy the f*cking dip, sell into strength
The big D is a personal choice, but Diversification is usually not a bad idea
As interest rates go up, real asset valuations typically go down
Using the right metric to determine a stock's value could be the difference between a W and an L
This is a list of cliches, not financial advice
Of late, there are plenty of trades out there that seem like they are either a screaming buy or still a falling knife. News flash, apes: it's not black and white.
Stay strong. Happy investing.
"Corrections are good, they keep us all humble." — Cathie Wood