Pigs Are Flying | The Daily Peel | 12/7/22

Dec 7, 2022 | Peel #353
Give your silver bananas to...
Happy Wednesday, apes.
Yeah, that was a rough one yesterday. After a month of slowly vibing in the right direction, markets this week seem to be shedding away all their hard-earned gains. Yesterday's >1% fall across the major indexes is a reflection of expectations that JPow will go HAM with rates a week from today. Either way, we shall see. Stay patient, apes.
Let's get into it.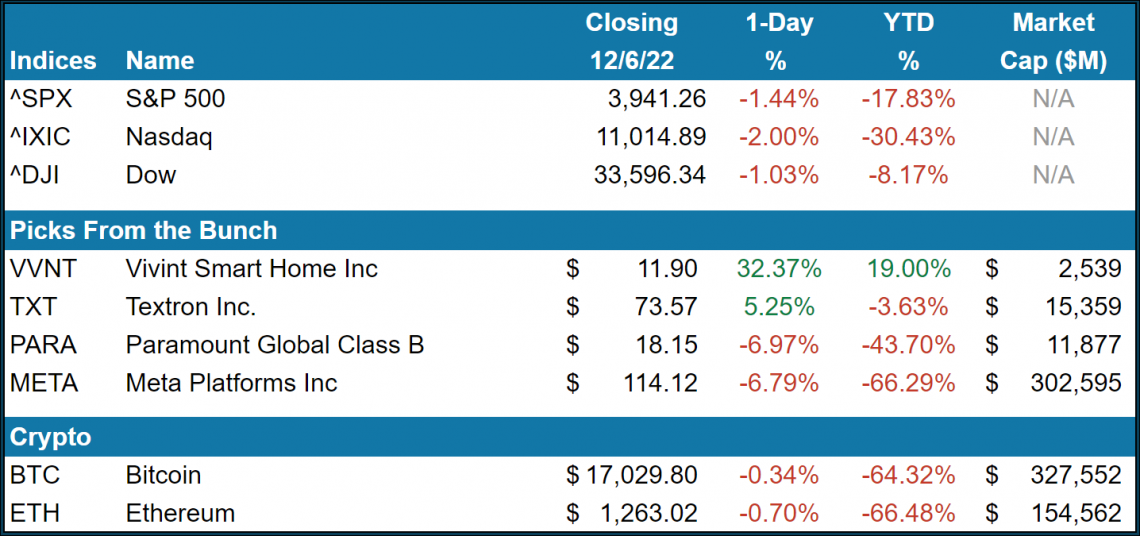 Elon Musk's AI-Enhanced Monkey Stock Pickers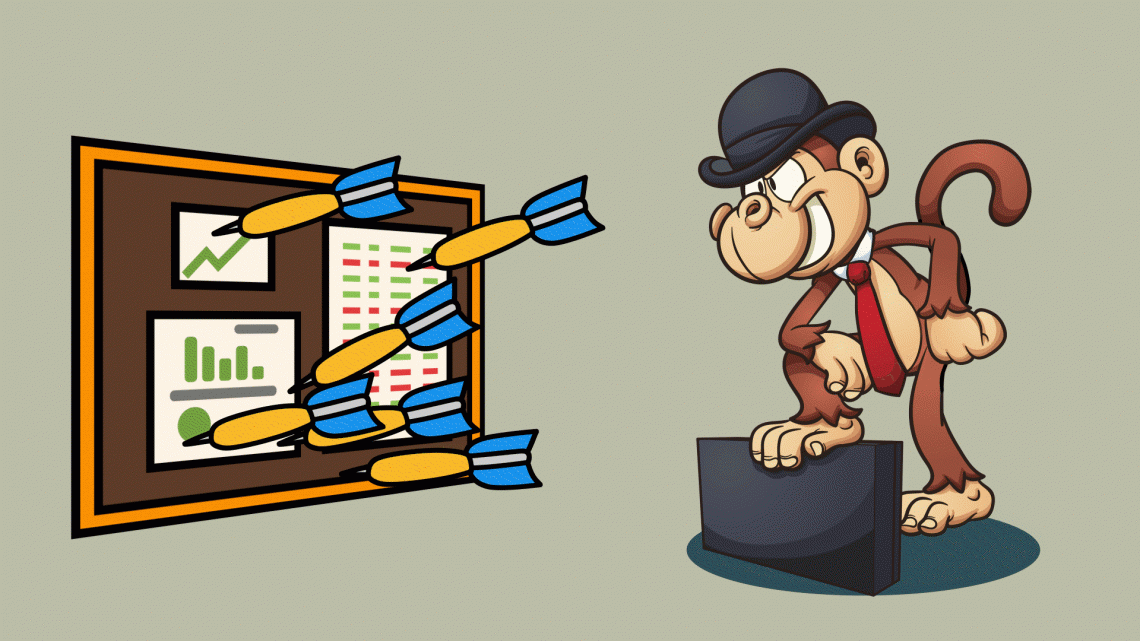 We've all heard the (true) story of the blindfolded dart-throwing monkey that got better returns than stock-picking pros. You may have also heard that Elon's Neuralink is equipping monkeys with intelligence-enhancing brain implants (Also true). So, is it really soooo crazy to think this could all be his evil plan to "outsmart the market"?
You be the judge. What's clear is that the unpredictable stock market can make anyone go bananas. But there are alternatives. In fact, as stocks and DeFi crashed, one investment platform had 3 recent exits, realizing: +13.9%, +17.8%, and +21.5% net returns each.
It's called Masterworks. They're unlocking the $1.7 trillion high-end art market for investors like you. Now, nearly anyone can invest in shares of multi-million-dollar art by names like Banksy and Picasso. Why art? Well, contemporary art prices:
Outpaced the S&P 500 by 131% over the last 26 years.
Have the lowest correlation to equities of any asset class, according to Citi
Beat gold, real estate, and stocks in inflationary periods historically
Daily Peel readers are invited to skip the waitlist with this exclusive link. It's so easy, a monkey could do it.
See important Regulation A disclosures.
JPow's Boss Sounds the Alarm
No, not Joe Biden. We're talking about JPow and every central bank chair in the world's de facto "boss," and that's the Bank of International Settlements, or BS for short.
**BIS, my bad (typo). Anyway, the Bank of International settlements is often called "the bank of central banks," which is a helpful analogy but somewhat overstates the importance of the institution. Most of the BIS's benefit comes from the research and analysis it provides, and in emergency situations, it's a central bank's central bank.
Okay, now that we've squared that circle, let's see what's going on. On Monday, the BIS dropped its hottest mixtape (aka "Quarterly Review") maybe ever. Acclimated to irrelevancy, the BIS took center stage this week as its latest Quarterly Review highlights an alleged $80tn "blind spot" looming over global financial markets. After digging through this egregiously long report, we're ready to call fact or cap.
Call: Fact. Hate to say it, but it's pure facts at the Peel.
But, but, the claim is mildly overblown out of context and majorly absurd considering the media's reaction to it. Let's see why.
Foreign exchange swap markets function like any other swap market-it's basically a market in which you can buy insurance against your own financial risk exposure. It's as if you loaded up on $AMC, and your homie did the same on $GME, and you both agreed to pay each other monthly premiums in order to get the other to cover your losses if (and when) they come.
That's a very dumbed-down version, but it exhibits the functionality of the market the BIS is worried about. (here's a full explanation by the legends at Investopedia).
Now, the BIS is exceptionally concerned about the seemingly unnoticed growth in the market of foreign exchange swaps. From $55tn in dollar debt just 10yrs ago, today's value exceeds $80tn-a figure that "exceeds the stocks of dollar Treasury bills, repo, and commercial paper combined," according to Reuters. It seems as if this massive exposure-and its relevance to the inflation fight-isn't getting the love it deserves.
The BIS uses the BOE's recent Truss-induced flare-up as an example of how incoming distortions could force an increase in dollar supply, thus hyping up inflation once again.
Not sure if you've noticed, but inflation has been a bit of an issue in 2022. The Fed would give up anything to get rid of it, and yet, volatility in foreign currency markets threaten to force JPow and the gang to start slinging even more dollars out of thin air, thus sparking higher inflation at literally the worst possible time.
But fate loves irony, and the past few years have not been kind to JPow. But hey, at least if inflation is up 10%, your paycheck will probably go up like 6% instead of the usual 2.1%. Congrats!
Vivint Smart Home ($VVNT) ↑ 32.37% ↑
In the realest "pair of star-crossed lovers" acquisition, energy giant NRG Energy yesterday agreed to purchase smart-home servicer Vivint Smart Homes. Certainly star-crossed, but genius? Maybe…
NRG is shelling out $5.2bn for the deal, leading to Vivint's nearly 1/3 jump in value. So it's only natural we'd ask-uhm…why??
Well, NRG expects the acquisition will allow them to develop a market-leading home service provider, expanding from energy services to ancillary technologies in the home. Bold move; let's see if it pays off.
Textron Inc ($TXT) ↑ 5.25% ↑
And now for another company you've never heard of…(it was a rough day yesterday, leave me alone).
Textron is a bit of a jack-of-all-trades, but the company is for sure a master of one as the US Army pen's Textron's subsidiary Bell Helicopter for an $80bn contract to produce its next line of helicopters, replacing the legendary Black Hawk (yes, the one from Black Hawk Down).
Shoutout to the little guys out there, as Bell and Textron's V-280 Valor outplayed Lockheed and Boeing's Defiant model for the contract award. Shares surged 5.25% on the news.
Paramount Global ($PARA) ↓ 6.97% ↓
Back to firms that you've heard of but likely don't use…especially according to Paramount CEO Robert Bakish at the UBS TMT Conference yesterday.
My man broke the cardinal rule. Dude got out there and said to a bunch of investors that ad sales would be "coming in a bit slower" next quarter. To make it worse, he also said (for some reason) that achieving profitability will "[take] a little while." Shares plummeted 7% on this rookie mistake.
Meta Platforms ($META) ↓ 6.79% ↓
Replace "Damn, it feels good to be a gangster" with "Damn, it feels bad to be Meta," and that basically sums up the stock's day yesterday. Shares fell 6.8% as the firm is being attacked from seemingly all angles, including its own oversight board.
Basically, the US, EU, and their own oversight board ganged up on the social media giant yesterday. Grievances include:
US: Might force Meta and others to pay publishers for content
EU: Ban platforms from requiring users to accept targeted ads
Meta's Oversight Board: Said that Meta ignores moderation-violating policies when it makes bread off the post, like those from celebrities
All of those imply either 1) less revenue or 2) higher costs which both equate to lower profit margins going forward if implemented. Not good.
Short-term yields climbed in anticipation of tighter monetary policy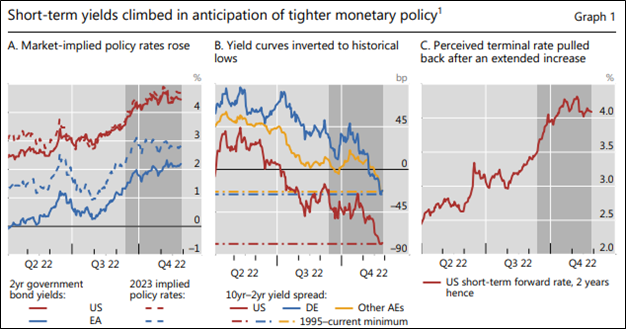 Pigs Are Flying
Oh wait, never mind, it's not that-it's just f*cking Robinhood adding retirement accounts of all things to its platform. I can't believe it either.
Yesterday, Robinhood announced that for the first time ever, users may destroy their financial lives 2x over as they can now have not one but two Robinhood accounts!
Thankfully, the only way to get a second one is for it to be an Individual Retirement Account, aka an IRA, in either Traditional or Roth. This is basically like if Tucker Carlson (Robinhood) got fired from Fox (was forced to chill on the degenerate trading) and had to go work for MSNBC (was forced to offer IRAs)…everyone would hate it. But they gotta put meat on the table.
And that's the real story here. Who cares that dumpy little Robinhood is offering IRAs? The real shock is that this former legend of trading to the most degenerate of levels has been forced to resort to the tried and true biz of real financial planning, and it only took like a year and a half.
Hopefully, at the same time, this is also either a sign of the youth pending a swing to long-term investing or being convinced to start prioritizing long-term investing.
But, even if not, it's a sign of structural change in financial market psychology. This kind of move would never have occurred in the negative real rate environment of the past few years, but now risk exists again as the result of the Fed's rate hikes. The question is…
The big question: Is Robinhood's pivot to retirement accounts a sign of long-term fundamental change in the psychology of financial markets, particularly among young people?
Yesterday - You measure my life in hours, and I serve you by expiring. I'm quick when I'm thin and slow when I'm fat. The wind is my enemy.
A candle.
Today - It's 30 bananas off the Hedge Fund Interview Course for the first 15 correct respondents. LFG!
An old man dies, leaving behind two sons. In his will, he orders his sons to race with their horses, and the one with the slower horse will receive his inheritance. The two sons race, but since they're both holding their horses back, they go to a wise man and ask him what they should do. After that, the brothers race again-this time at full speed. What did the wise man tell them?
Shoot us your guesses at [email protected] with the subject line "Banana Brain Teaser" or simply click here to reply!
"I'm not emotional about investments. Investing is something where you have to be purely rational and not let emotion affect your decision making - just the facts." - Bill Ackman