Staten Island's David Vs. Goliath | The Daily Peel | 4/4/22
Happy Monday. War is raging in Europe alongside record-setting inflation, teetering global supply chains, pandemic resurgence around the world, and a god damn yield curve inversion - we're all gonna die, right? Well, not according to global equity markets, gaining just about across the board to close last week. Oil dropped, while treasuries moved flatter than Kansas following a not-so-bad jobs report.
Don't ask me how, but amid all this, the Dow jumped 0.40%, while the S&P rose 0.34%, and the Nasdaq gained 0.29%.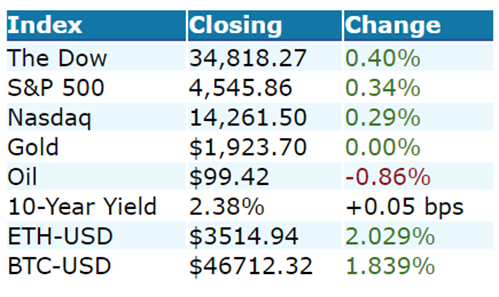 Let's get into it.
Jobs - Everybody knows that a job ain't nothin' but work. But hey, gotta put food on the table somehow. So instead of degenerately gambling on three or four-letter symbols from their parent's basements for 8 hours a day like we apes do, 431,000 Americans decided to get a job last month. 
And while 431,000 is a decent number for sure, economists were naturally way off in their predictions. As pointing and laughing at how wrong the "experts" are is the best part of any economic release, let's see just how off the overlords were. 
This time, the geniuses driving economic policy put their guesses at 490k jobs added. But the best part is how wrong they were in the actual report of February's job gains, having to revise the figures upward by over 10% to 750k. Damn, counting is hard.
In all seriousness, March's employment report proved strong enough to make the market happy. Those 431k jobs added translates to an unemployment rate of 3.6%, just 0.1% above pre-pandemic levels in February 2020. At the same time, the total size of the labor force grew by 418k, now just 174k workers below pre-pandemic levels. 
All signs point to a labor market that's stronger than Everclear. You wouldn't know it from the recent headlines, but much of the U.S. economy is looking like a snack. So, the combination of strong growth this month, upward revisions to previous months, falling unemployment, growing labor force, and a whole lot more can only mean one thing: rates are definitely gonna moon.
And traders seem to have already caught onto this, obviously. Short-term Treasury yields saw huge jumps, leading to even more flattening of the yield curve and, once again, an inversion of the 2- and 10-year spread. Meanwhile, the dollar gained sharply for the same reasons. 
Remember, the Fed attempts to balance inflation and unemployment. So the strength of the labor market gives Daddy JPow all the room he needs to raise rates through the ceiling this year.
We'll see how markets react now that they've had a few days to reflect on their reflections. Inflation, supply chain shitshows, and Vladdy P might just have to come in and shake things up.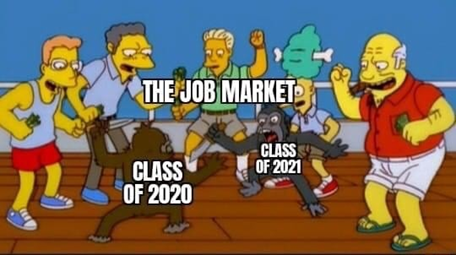 NetEase ($NTES) - After years of the U.S. screaming, "Show me the money!" China has finally answered back. Their response? -  "bro, chill… okay."
Ever since China eased off the gas of this whole communism bullsh*t and started letting its companies trade publicly around the globe, the U.S. has been like, "dude, you gotta let us audit their financials." 
Up until yesterday, China had always been like "nah," but based on a CCP-approved report issued Friday, it now seems that Chinese regulators are close to letting U.S. firms take a peek under the hood.
Shares in Chinese names popped off as a result, with NetEase taking the lead, gaining 6.8%. 

Lemonade ($LMND) - Despite not being given any lemons, Lemonade was still able to make lemonade on Friday, leading to a 6.2% gain to close the week.
Sure, the stock's chart looks absolutely disgusting as shares are down 83% from their all-time high, but no one told them that on Friday. 

Planes, Trains, and Automobiles ($JBHT, $NSC, $FDX) - Well, mostly trains and automobiles, but that doesn't sound as fun, now, does it?
Transportation stocks got absolutely hammered on Friday, just not in the same way that you and your friends did.
Trucking names like $JBHT, down 9.6%,  were slammed like they got hit by… a truck. Taking a page from that playbook, railroad stocks got hit by… a train, with names like $NSC losing 6.8%. Basically, anything to do with transportation got clobbered, hence FedEx joining the party with a 4.4% loss. 
Analysts suddenly made a bearish turn on the industry, believing that what is now a drastic undersupply of the shipping realm will soon be a just as drastic oversupply. Either way, not lookin' great.
The Gap ($GPS) - This is as macro-bro as it gets: power shortages in Sri Lankan garment factories caused by dollar scarcity are leading to you having fewer color options next time you go to The Gap.
You may not have heard, but Sri Lanka is going through a full-on economic and social crisis. Skyrocketing inflation across Asia is causing government dollar balances to dry up faster than Californian forests in the summertime. Massive protests, curfews, declarations of public emergency, and, of course, diesel shortages at clothing factories are spiraling out of control.
And demonstrating just how globalized the world has become, all this led to shares in Kanye West's favorite brand sliding 4.0% on Friday. Markets are fun.
Ronald Reagan is Spinning in His Grave - First, there was David vs. Goliath. Then there was Average Joe's vs. Globo Gym. And now, a new champion has emerged. Straight out of Staten Island, that champion is none other than Christian Smalls with his major W over big, bad Amazon.
That's right, workers at an Amazon warehouse in Staten Island last week officially voted in favor of forming a union, a first for the company despite several tries in the past and despite management's Reagan-esque campaign against unionization.
The vote wasn't all that close, coming in with 2,654 votes in favor and 2,131 votes against forming a union. The effort, led by former warehouse supervisor Christian Smalls primarily seeks to secure:
Higher wages
Longer breaks
Paid sick leave
PTO for injuries sustained on the job and
A bunch of other things
Amazon, naturally, released a statement expressing their disappointment in the outcome and letting organizers know that management is going to find any way it can to call bullsh*t and take this thing to court. This makes sense as paying employees a non-starvation wage and giving them time for pointless things like going to the bathroom is just utterly ridiculous. 
Wages at this particular facility start at $18.25/hr, which is pretty damn good compared to most other places, but it still translates to just about $38k annually, assuming you work 40 hours every single week of the year. Median rent for a one-bedroom apartment in NYC? About $39k/yr. So while wages and other benefits really aren't that bad, workers say it's just not enough, especially given the ungodly amounts of money Jassy & Co. rake in every year.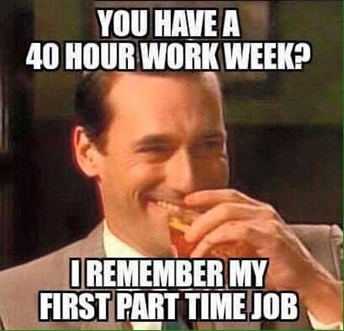 In classic Amazon fashion that I'm sure Bezos is wondrously proud of, the group didn't vote to join any old union - they innovated and created their own, the Amazon Labor Union. And while this is the very first Amazon facility to formally unionize, any bettors with a brain would be quick to recognize there's likely plenty more to come.
More votes at different locations are in store for this year, and management's gonna have to go full North Korea-style with their propaganda if they want the next votes to have different outcomes. Stay tuned.
"The biggest risk of all is not taking one." - Mellody Hobson