Thanks, Pete Davidson | The Daily Peel | 2/17/23

Feb 17, 2023 | Peel #402
Happy Friday, apes.
Hope all you apes have been doing well lately, unlike the S&P 500, but it is Friday, so let's all finish on a strong note. Given the performance of equities yesterday, that might be wishful thinking considering every single S&P sector was in the red. It wasn't a great day for treasuries either, as yields continued to climb higher while the U.S. dollar gained strongly against peers. Alas, fingers crossed for today, but to ensure we start out on a good note…
Let's get into it.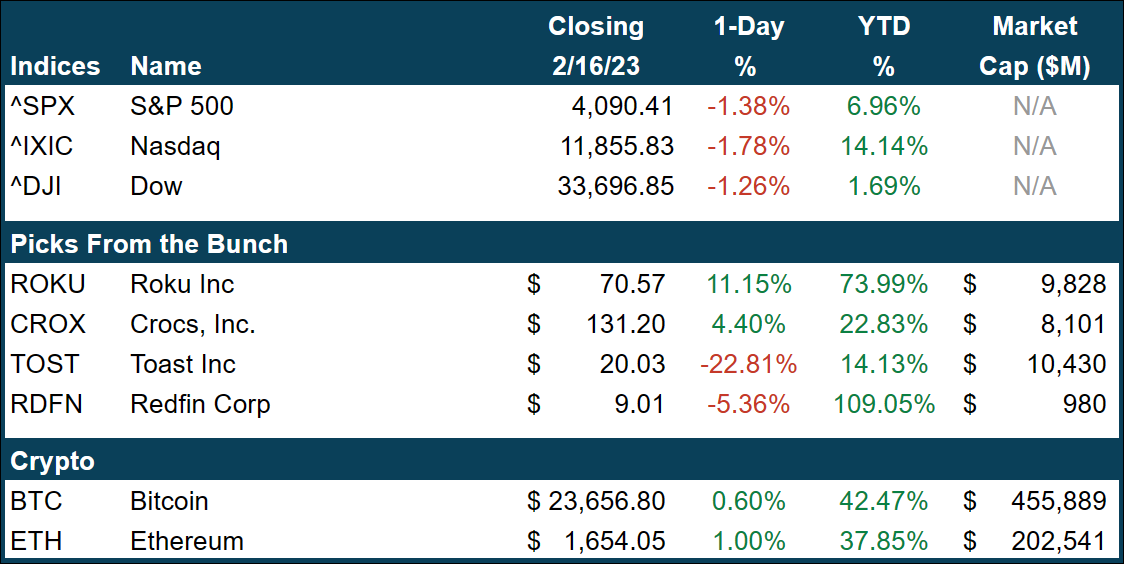 Take Your Finance Career to the Next Level
Attention all financial wizards and career climbers, are you ready to take your modeling skills to the next level?
If you're looking for an undervalued investment in your career, look no further than WSO's Elite Modeling Package! With 6 courses designed to turn you into an absolute Excel master, this is the package that keeps on giving.
From building a 3-statement model to tackling complex LBO modeling and M&A transactions, this package has got you covered. You'll also build a solid foundation in trading comparables and precedent transactions analysis and DCF modeling, all using the versatile and relatable example of Nike, Inc.
And as if that wasn't enough, the first 3 Peel readers to sign up for the Elite Modeling Package in the next 24 hours will also get access to our Foundations Package! That's right, a two-for-one deal that'll have you feeling like a baller in no time.
So don't miss out on this opportunity to boost your career, and invest in WSO's Elite Modeling Package now! #ModelOn #FinancialGains #CareerGoals
PP-High
Can this whole inflation thing maybe just f*ck off? Right when we think we're just about out of the woods, the newest inflation reports jump out of the bushes just to give us a good scare.
The Producer Price Index, a measure of wholesale inflation tracking the prices of raw goods, inputs, and materials, spiked in January well above expectations. The Labor Department reported a jump of 0.7% for the month, well above the 0.4% expected and representing a 6.0% jump for the year. Core PPI, which once again strips out food and energy, rose 0.5%. Not bad, but still kinda trash, given expectations were for 0.3%.
Mr. Market had a mild-mental breakdown afterward, crashing to start the day only to rebound slightly on some midday optimism. But of course, Mr. Markets hates you and your portfolio, so the good vibes couldn't last, and he ended the day at his most downbad.
It was a "deja vu all over again" kind of day as the same fears lingered. Higher wholesale prices mean JPow and the gang have more work to do, and as we know all too well, a teensy little 25 bps bump in base rates is apparently more than enough to bankrupt a $25tn economy, judging by the market's reaction at least.
The same risk-off trade was apparent in treasuries as well, with the ocean of yields surging so much that Noah almost had to build another ark. Treasuries, and especially the sub-2-year yields, can serve as a proxy for the bond market's best guess of where rates will be over that maturity period. And unlike stocks, the bond market actually does kinda-sorta know what it's doing (allegedly).
But it wasn't just the PPI that made markets cry (rhyme intended). Yesterday also blessed us with the Philly Fed's manufacturing index, a measure of overall production across the economy. Just like Philly's sports teams, the city's manufacturing index disappointed immensely and caused heartbreak among millions (shoutout Eagles, Phillies, and Union…RIP).
Fortunately, Philly is one of those cities that gets way less destroyed when their teams lose. They wildin', but markets are very different. The index posted a reading of -24.3, more than 3x the -7.8 drop economists guesstimated. An above 0 reading = growth, and a below 0 reading = gross (aka a contraction).
So while wholesale price levels spiked, meaning as manufacturers had to pay more for their goods, activity absolutely plummeted. This makes sense, but the magnitudes were so extreme that it's likely the dynamic between these two readings that spooked Mr. Market so badly.
Not only is inflation still high, but seeing a slowdown in production at the same time is the economist's version of watching The Exorcist on Friday the 13th inside a haunted house while 10 black cats walk by. Safe to say it's a tad unnerving of an omen.
But then again, it is just one piece of data. There are heroes in every battle, and luckily we have Walmart on our side as Reuters reports the company is using its buying power to b*tch suppliers into not hiking prices so much.
Maybe if we just sent the company's 2.3mn employees to go square up with inflation instead, this would all be over.
Roku ($ROKU) ↑ 11.15% ↑
Roku needs to change its ticker to RKO because that's what they just did to analyst expectations on their latest earnings report.
This stock has been calling 1-800-273-8255 on a daily basis since at least early 2022. Shares had fallen as much at 92% from peak to trough, so yesterday's action might've just pulled them off the ledge.
Earnings are still egregiously negative at -$1.70/sh, but hey, that's $0.03 less negative than expected! Still, the top line was the real reason to party, with sales of $867mn destroying expectations.
Plenty of analyst commentary followed, but the basic idea was that the alleged "ad armageddon" that slapped everyone from Snap to Google in the face managed to play a little nicer with Roku.
Crocs ($CROX) ↑ 4.40% ↑
The drippiest shoes you own had a damn good day yesterday, gaining almost 4.5%, as ugly has been confirmed to be the new hot (thanks, Pete Davidson).
Crocs shares stormed higher (for a shoe company) on the back of solid earnings released early Thursday. We learned Crocs pulled in $2.65/sh, a +21% beat, while nearly $950mn in sales was far from disappointing.
And the outlook for 2023 only got better. The HEYDUDE acquisition is key here as the Italian-founded brand is (allegedly) just beginning to run in the U.S. Stay tuned.
Toast ($TOST) ↓ 22.81% ↓
Safe to say that this firm was certainly not making bread last quarter. In fact, one might even say that shares were toast.
Loyal Peelers had to see that one coming, but nobody saw coming just how rough of a day Thursday would be for the restaurant POS system maker. Sales actually beat decently, but a $0.01 wider-than-expected loss was enough for shares to get burned.
2022 saw sales surge ~60%, so management's call for an almost 50% reduction in growth to 34% for 2023 told analysts the firm's valuation could be a tad overcooked. But hey, the lower the bar you set, I guess the easier it is to jump over it!
Redfin ($RDFN) ↓ 5.36% ↓
This is so sad it seems downright mean to make jokes about. I mean, down +95% back in October? Might as well just set the house on fire.
And, in fact, that's kinda what happened. The housing market has been maybe the most anomalous macro aspect of the pandemic recovery, with prices booming into the fastest rate hike cycle in U.S. history. It neither makes sense nor cents (clearly).
Redfin shares tanked despite beating the hell out of estimates on both the top and bottom lines. The downbeat rev growth of 2022 weighed heavily while the firm also appears to be inching out of the home-flipping market that competitor Zillow called a full retreat not long ago. I don't need to tell you apes that slowing growth and lagging behind competitors isn't exactly a recipe for an up day.
Chart 1. One-month percent changes in selected PPI final demand price indexes, seasonally adjusted

Chart 2. Twelve-month percent changes in selected PPI final demand price indexes, not seasonally adjusted

Source
Digital Handbags
Let's get weird for a sec.
It's been a hot minute since anyone on the face of the planet has said the word "NFT" without getting laughed out / thrown off a balcony. Let's go ahead and take that risk right now. Just get ready to catch a falling newsletter writer.
Hermes, a French, mostly family-owned luxury brand, officially won one of the first actually meaningful legal cases for the entire digital asset market. In addition to overpriced belts and other flex-able accessories for rappers to sing about, Hermes is the maker of the elusive Birkin handbag. Everyone seems to want one of these things, but an NYC-based artist seemed to want their own a little too much.
Essentially, the artist, named Mason Rothschild, sought to make a bag on the NFT craze of 2021. He sought to do so, and boy did he succeed, with his NFT art collection raking in ~$795k in ETH at the time.
Unfortunately for him, one line of "products" at his "store" was called "MetaBirkin," which "sold" digital replicas of the luxury designer's famous handbags.
Hermes saw this and said, "f*ck all that." The firm lawyered up, arguing that 1) the name "MetaBirkin" was too similar to use as a domain name (called "cybersquatting" by loser lawyers) and that 2) Rothschild had also committed IP infringement by profiting off of exact replicas of the bags.
Rothschild, on the other hand, argued with his lawyers that the works were a commentary on the animal cruelty Hermes employs to produce said handbags and other items. Likening it to Andy Warhol's paintings of Campbell's Soup or Coke cans.
The jury was hearing none of it from Rothschild, however. Hermes walked away with a $133k W while the artist's lawyers ominously stated, "this is far from over."
If that quote sounds mad, trust your instincts. If Rothschild wanted to pay that $133k with the money he made on his "store" in the form of ETH, that $795k would now be worth a little less than $300k. Assuming he didn't blow it all on fat penguins or digital rocks, Rothschild isn't too downbad right now.
In addition to being rather unusual, this case will also be a landmark decision going forward in the U.S. court systems. Basically, what was decided here is brands that make physical goods essentially carry the same degree of ownership of their brand and products in the digital space.
U.S. Courts love a nice precedent, presumably because it means they don't have to think as hard, so this decision could have multi-year/decade ramifications for the industry.
Moral of the story: if you want to make cool handbags, kill your own crocodiles.
The big question: Will the jury's decision, in this case, carry significant legal precedent for the industry? How will future cases involving NFTs be decided compared to this one?
Yesterday - In a lake, there is a patch of lily pads. Every day, the patch doubles in size. If it takes 48 days for the patch to cover the entire lake, how long would it take for the patch to cover half the lake?
The patch doubles in size every day, so on the 47th day, the patch will be half the size it is on the 48th day.
Today - It's 100 bananas off the WSO's Elite Modeling Package. LFG!
An old man wanted to leave all of his money to one of his three sons, but he didn't know which one he should give it to. He gave each of them a few coins and told them to buy something that would be able to fill their living room. The first man bought straw, but there was not enough to fill the room. The second bought some sticks, but they still did not fill the room. The third man bought two things that filled the room, so he obtained his father's fortune. What were the two things that the man bought?
Shoot us your guesses at [email protected] with the subject line "Banana Brain Teaser" or simply click here to reply!
"The best time to plant a tree was 20 years ago. The second best time is now." - Chinese Proverb
Happy Investing, Patrick & The Daily Peel Team
Was this email forwarded to you? Sign up for the WSO Daily Peel here.