WSO's FREE Real Estate Modeling Crash Course Just Released
Dearest primates, we just released our latest free crash course on Real Estate Modeling. This course was created by real estate finance professionals with proven track records. It covers multi-family modeling basics (18 video lessons) and a simple multifamily underwriting test (11 video lessons).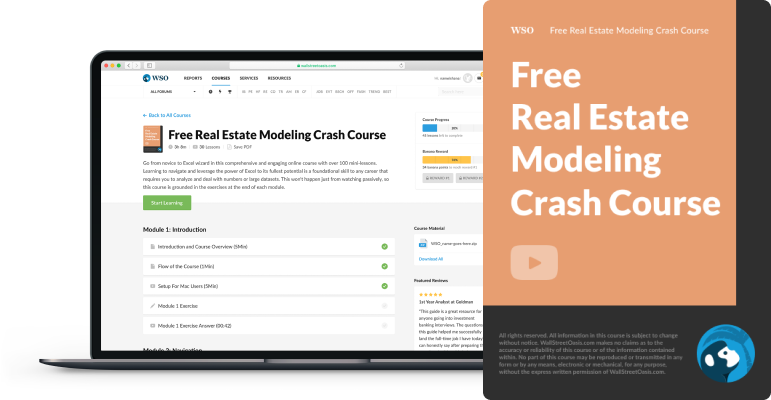 Included in this course:
Multifamily Modeling Basics (18 video lessons)
This section uses 18 video lessons to explain the basics of real estate modeling. We will go over how to read a multifamily operating statement, forecast that into cash flows, calculate the Cap Rate and IRR, and how to modeling financing.
Simple Multifamily Underwriting Test (11 video lessons)
In this section, we use 11 video lessons to demonstrate how to solve a modeling test and underwrite a potential acquisition of a multifamily property using a real-life OM, a pro forma model, and historical financials. Learning how to extract data points and input them into a model to forecast cash flows. We will also simulate a situation where incomplete data was provided, and how to fill those gaps.