Blackstone Alternative Asset Management (BAAM), ESG Analyst
Thoughts on career advancement, comps, lifestyle..etc? Any info helps.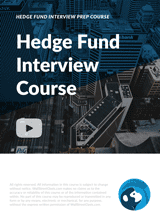 Hedge Fund Interview Course
814 questions across 165 hedge funds. Crowdsourced from over 500,000 members.
11 Detailed Sample Pitches and 10+ hours of video.
Trusted by over 1,000 aspiring hedge fund professionals just like you.
Total Avg Compensation
October 2021 Investment Banking
2nd Year Analyst (137)

$154

3rd+ Year Analyst (30)

$147

Intern/Summer Associate (103)

$143

1st Year Analyst (499)

$135

Intern/Summer Analyst (383)

$83