The OnlyFans OnlyCritics? | The Daily Peel | 8/23/21
The rampant taper fears that spread like the Delta variant seem to have cooled off on Friday, as stocks ended the week on a positive note. The U.S. indices all finished green, with the Dow up 0.65%, the S&P 0.81%, and the Nasdaq up 1.19%. Let's get into it.
Macro Monkey Says
Tesla AI Day – In their attempt to become Skynet 2.0, Tesla held their incredibly popular AI Day last week, and some of the announcements were...interesting. The event which is used as a recruiting tool, as well as a way to flex on competition, included a slew of deep-tech advancements. Most notable, was the unveiling of the, now heavily-memed, Tesla AI Bot. The Technoking himself explained that these robots would be used to work in inhospitable conditions here on Earth and Mars. Still just a dancer in an outfit from Cyberpunk 2077, Musk said the bot could be in production as soon as next year. If this sounds crazy, trust your instincts. 
Retail – As the market is still semi-freaking out over the latest monthly report, let's take a look at where retail is thriving. If you didn't immediately think online, please go back to bed, you're clearly not ready to face the day. As the graph below shows, online retail & ecommerce has ruled the world since Bezos burst onto the scene. Scoffing at this trend, Apple leaned into retail in 2001 to vast success. Now, 20 years later, the serial retail killer is opening up brick-and-mortar Amazon stores across the country. The company plans for their semi-department stores to be comparable to Walmart or Target, and will likely serve as "temples to the brand" in the same strategy as Apple. Or, could they just be adding salt to the wounds of the countless, now defunct retailers, who fell victim to the internet?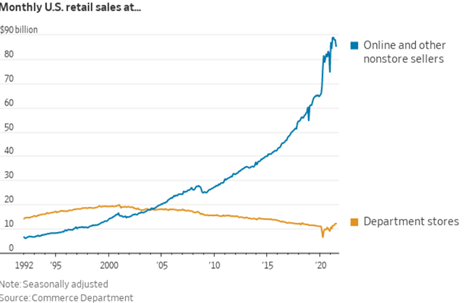 Access 30+ holdings in an actual 401k account (held by lead investor)
Get trade alerts and research from an actual portfolio with real capital at stake (over 20% annualized return over 9.5 years)
Over 100 monthly brokerage statements included, dating back to December 2011 (as proof) when it started
What's Ripe
Nvidia ($NVDA) – The wise modern philosopher Ke$ha best described the current state of Nvidia's stock, as she famously said "hot and dangerous." Closing at a record high on Friday, shares continued to heat up after a knock-out earnings release earlier in the week, gaining 5.1% on Friday. The danger, however, could be looming anywhere from supply chain difficulties to an overvalued market. But, when analysts keep raising your price target to $250 and beyond, who cares right?
Microsoft ($MSFT) – Today, we may have hit the all time high of how many stocks at all time highs we cover in the Peel. Microsoft, which jumped 2.6% Friday, has decided to raise the price of an Office 365 subscription, a move analysts have called "long-overdue." Given that just about every business ever uses this godsend of a product, this could significantly raise revenues for the firm among other positive benefits. Whatever you do, just please don't tell me this is another sign of inflation.
What's Rotten
The Topps Company – You know them, you love them, you traded them long before trading stocks. Of course we're speaking of Topps baseball cards. After seven decades, the company lost a soulmate in their MLB partnership and will no longer be producing official baseball cards. This was anything but a mutual breakup, as the MLB chose to pursue a future with their younger mistress, Fanatics, a growing collectibles brand. Now, Topps has tossed their plans to go public and is in search of a new identity as an era comes to a close. 
OnlyFans – Instead of speculating on stocks, let's speculate on what would happen if one private company was public. Let's choose OnlyFans. My guess? Shares would be down, very down, after last week's announcement. The content subscription service announced it would no longer allow "explicit content" on its service (don't worry, nudes are still a-okay) as the firm has struggled to find financing due to its adult content focus.
Thought Banana:
Bezos vs. Musk – Speaking of best buds Musk and Bezos, let's take a look at their latest beef. Basically, Astronaut Jeff is butthurt that NASA chose SpaceX alone to develop the lunar lander that will be used for the Artemis program, rather than split the contract or use both companies for different specializations. SpaceX has absolutely dominated the game of government space contracts and Bezos is ready to prove his team has what it takes. As of now, development at SpaceX has been halted until at least November 1st to allow Blue Origin's lawsuit to go through. If you ever wonder why U.S. government projects take so long to get done, well, there you go.  
"There's no such thing as the goose that lays the golden egg forever." – Jim Simons
Happy Investing,
Patrick & The Daily Peel Team
Was this email forwarded to you? Sign up for the WSO Daily Peel here.