Securities Industry Essentials Exam (SIE)
It provides a solid foundation for the working of the securities and securities trading industry while focusing on the strong legal foundation surrounding capital markets.
The Securities Industry Essentials (SIE) Exam offered by the Financial Industry Regulation Authority (FINRA) is a certification aimed at professionals who want a career dealing with securities.

It provides a solid foundation for the working of the securities and securities trading industry while focusing on the strong legal foundation surrounding capital markets. The Securities Industry Essentials Exam has taken many forms, with its most recent change in 2015.
The SIE can boost your professional resume or allow you to stand out against your peers when landing an internship. Or so it claims. Does the SIE still stand to be a competitive certification today?
The SIE is structured quite differently compared to more common finance certifications, such as the Chartered Financial Analyst (CFA), the go-to certification for finance professionals. Most industry leaders have outlined how the CFA can be a determinant factor in the hiring process.
However, the SIE is not as broad or technical as the CFA, and its content is distributed over a much shorter period. It can be a quick alternative to gain a small competitive edge.
Key Takeaways
The Securities Industry Essentials (SIE) Exam, administered by FINRA, is designed for individuals seeking careers in the securities industry.
Unlike some other professional qualifications like the CFA or CPA, the SIE has relatively low barriers to entry. Anyone over the age of 18 with an interest in capital markets can take the exam. This makes it accessible to a broader range of individuals.
In 2018, FINRA made changes to the SIE qualifications to reduce duplicative testing and make it easier for individuals to enter the securities industry. The SIE is now followed by job-title-specific top-off exams that are more relevant to specific roles within the industry.
The SIE exam consists of four primary sections with varying weights, totaling 75 questions. The majority of questions are related to understanding products and their risks, as well as trading, customer accounts, and prohibited activities.
The value of the SIE certification depends on your career goals and location. It is primarily relevant for those planning to work in the U.S. securities industry, as it covers U.S. laws and regulations.
One of the primary reasons to pursue the SIE is the low barriers to entry compared to other professional qualifications. According to the official FINRA guidelines, any person over the age of 18 with an interest in the capital markets can take the exam.

Comparatively, the CFA program requires candidates to have a bachelor's degree, be enrolled in undergraduate school, or have over 4,000 hours of professional experience.
The Certified Public Accountant (CPA) qualification varies from country to country. But at the very minimum, it still requires an undergraduate degree.
The Financial Modelling and Valuation Analyst (FMVA) qualification similarly requires a bachelor's degree.
An important factor to consider about the SIE is that it is only valid for four years and will have to be accordingly retaken to hold its value.
An important point to note is that if an individual does want to work in the securities industry in the United States, they will have to complete their Series 7 (securities license offered by FINRA), which is a corequisite to the SIE.
Individuals that have previously taken a FINRA licensing exam are exempt from taking the SIE. The SIE is targeted mostly at professionals with no experience in the securities industry, aiming to become licensed members.
FINRA revised its examination policies on October 1st, 2018. The two main reasons for restructuring, as per FINRA, were:

Reduce duplicative testing of general knowledge when taking exams to register in multiple categories, and
Make it easier for individuals to enter the securities industry.
These changes are approved by the Securities and Exchange Commission (SEC), the governmental regulatory body of the securities industry.
Due to the previous structure causing candidates to be double-examined on similar topics, the SIE was created to develop a broad understanding of the security industry.
Then students would have the option to complete a job-title-specific top-off exam more applicable to their roles and job responsibilities.
Individuals who had completed a Series qualifications before the transition was automatically eligible to gain credit for their SIE exam. Due to the changes, many previous Series exams (Series 11, Series 17, Series 37, etc.) are no longer provided.
The Securities Industry Essentials exam is split into four primary sections. They each have varying weights in the exam itself. The test consists of a total of 75 questions. The breakdown is summarized in the table below.
Breakdown of SIE Examination with Weightage

| Sections | %Weight | Number Of Questions |
| --- | --- | --- |
| 1. Knowledge of Capital Markets | 16% | 12 |
| 2. Understanding Products and Their Risks | 44% | 33 |
| 3. Understanding Trading, Customer Accounts, and Prohibited Activities | 31% | 23 |
| 4. Overview of Regulatory Framework | 9% | 7 |
| Total | 100% | 75 |
The majority of questions in the exam cover Understanding Products and Their Risks and Understanding Trading, Customer Accounts and Prohibited Activities.

The FINRA content breakdown includes topics such as Equity Securities, Debt Instruments, Options, Trade Settlements, and Anti-Money Laundering policies.
Preparation for the SIE also includes studying all the FINRA regulations related to each section and understanding their impact and implications.
You can complete the SIE, but this does not mean you are a registered member of FINRA. Post-completion candidates must gain employment at a FINRA-registered establishment, allowing them to complete their top-off exam.
The top-off options vary based on the industry the firm operates in. For example, if you were to complete the SIE and then land a job in the Investment Banking (IB) industry, you would have to complete your Series 79 (Investment Banking Representative).
Your employer should be able to fill out a U4 form after 4 months of employment. This gives the candidate 120 days, within which they have to choose an exam date to complete the test.
Content Outline
As stated, the SIE alone is not enough if an applicant desires to become a FINRA-registered member. Candidates are required to complete a top-off option with a FINRA-certified employer.

A lot of professional certifications follow this method. The CFA requires you to complete 4,000 hours of professional work to add value to your product/service if you want to remain a registered member.
The Association of Chartered Accountants (ACCA) requires evidence of three years of professional experience in a relevant role for candidates to complete their roles.
These examples highlight how various qualifications require candidates to earn employment in relevant roles to earn their professional titles. The SIE is no different with its top-off structure.
Within 7 months, split between 3 months of study and 4 months of employment; individuals can aim to complete their SIE and top-off. The CFA, on average, takes candidates about 4 years between completing their studies and appearing for the exams.
The Chartered Alternative Investment Analyst (CAIA) is another popular qualification with a primary focus on alternative investments. It takes candidates about 18 months to clear both levels of CAIA.
Top-off Options
Top-offs are the final requirement in the FINRA registration process. After the restructuring of 2018, 82% of candidates that took the SIE passed. The pass rate for first-timers was also favorable at 74%.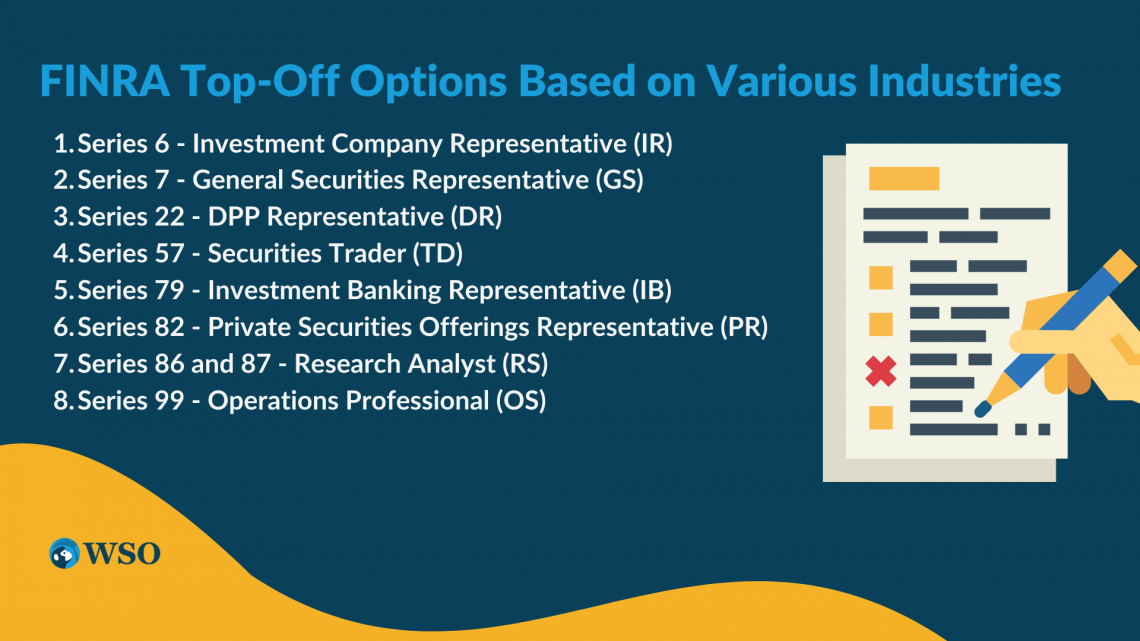 FINRA offers 8 top-off options based on various industries, broken down below.
Series 6 - Investment Company Representative (IR)
Series 7 - General Securities Representative (GS)
Series 22 - DPP Representative (DR)
Series 57 - Securities Trader (TD)
Series 79 - Investment Banking Representative (IB)
Series 82 - Private Securities Offerings Representative (PR)
Series 86 and 87 - Research Analyst (RS)
Series 99 - Operations Professional (OS)
Some of the top-off options have prerequisite or corequisite series exams which need to be completed as well. The SIE's good part is its structure; you can specialize in topics relevant to your role rather than having to prepare for all possible fields.
Top-off Breakdown
Series 6 is aimed at individuals who plan to work in mutual funds, variable annuities, variable life insurance, unit investment funds, and municipal savings plans.
The Series 7 is the top-off since it gives candidates access to trade every security. But an individual who chooses to complete Series 7 will not be able to engage in structuring municipal funds.

Series 22 DPP (Direct Participation Programs) is for corporate trade professionals, specifically account managers. They essentially work in Limited Liability Companies (LLC), Limited Partnerships (LP), and other DPPs like Real Estate and the Oil and Gas industry.
Series 57 is aimed at brokers who work with equity trading. These include the typical wall street brokers that work directly on the trading floor.
Series 79 is for Investment Banking professionals who deal with debt and equity offerings, mergers and acquisitions, financial restructurings, asset sales, and business combination offerings. These skills are essential for your career in Investment Banking.
For individuals that specifically work with Initial Public Offerings (IPO), Series 82 is the typical top-off option.
Research Analyst exams are interesting because individuals that have passed Level I and Level II of the CFA program are exempt from taking their Series 86 and 87. This top-off is typically targeted at analysts who make decisions based on data.
Finally, Series 99 is for professionals that work in Finance but are not dealing with financial activities. They specifically deal with an establishment's operations department, aiding in customer onboarding, invoicing, and defining business requirements and approvals.
The main question is, is the SIE worthy to set you apart in today's hyper-competitive job market? Is it useful and valuable leverage concerning professional qualifications?

The most important factor to remember is the SIE is ONLY helpful for your career in the United States. If you are a Non-US citizen or resident, the SIE is not a valid option. It primarily covers U.S. laws and regulations, especially since the SEC approves the exam.
As of 2019, over 73,000 students took the CFA, whereas over 93,000 students appeared for the SIE. It is important to note that this may be to the relatively low barrier to entry of the SIE.
If you are someone without an undergraduate degree, trying to gain a slight competitive advantage, or can not commit to an extensive course such as CFA or CPA, then the SIE might be your best option.
Otherwise, the preference is still for exams. The decision may also depend on what field your professional role is in. For example, if you were to work in the Securities Industry, regardless of whether or not you complete the CFA, you must finish your Series 7 to be licensed.
Note
The CFA is the most preferred financial qualification in the industry due to its depth and broad coverage. The SIE comparatively is very top-level. Students that clear just CFA Level 1 find the preparation for the SIE easy.
There are various SIE training providers with varying costs and quality. You need to make the decision that best suits your needs and budget. Larger firms typically cover your training provider costs to ensure you are licensed.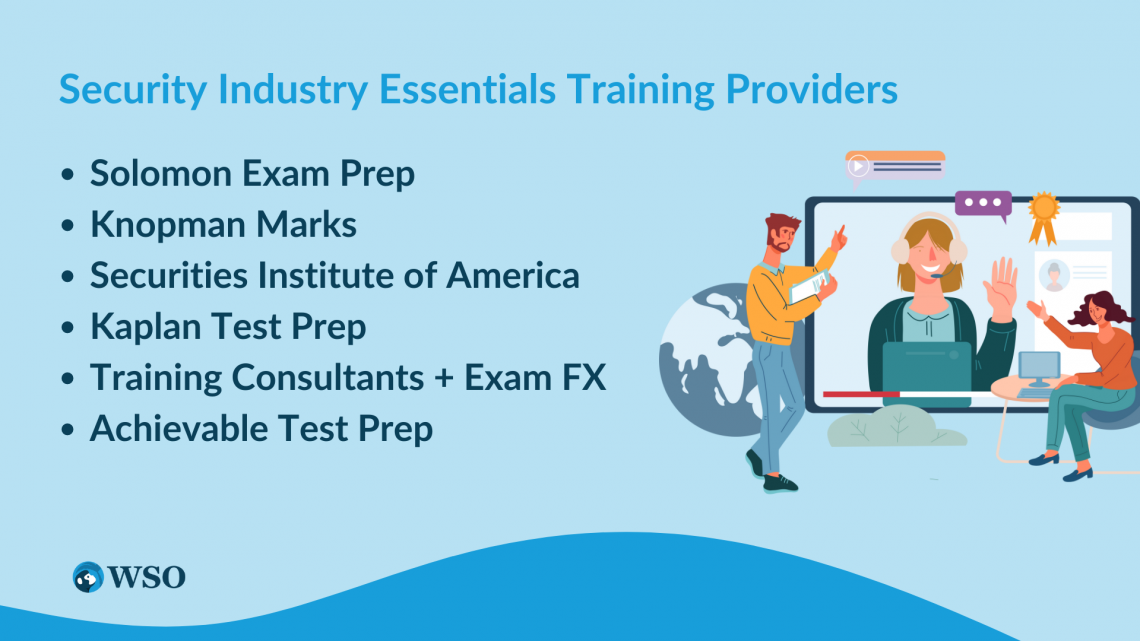 Both in-person and online courses are available based on your chosen provider. Many providers are confident enough in their services to offer a full refund if a candidate does not pass their SIE.
Prep courses can cost anywhere between 50$ to over 600$! Courses have different lengths, with an average of 3 months. The online providers give you access to the material for 6 months to a year so you can prepare on your time.
Given below is a list of top Security Industry Essentials Training Providers:
If you prefer online classes, your best option with regard to value for money and time is the Training Consultants + ExamFX training program. However, if you prefer in-person classes, the Kaplan Test Prep is one of the most comprehensive courses.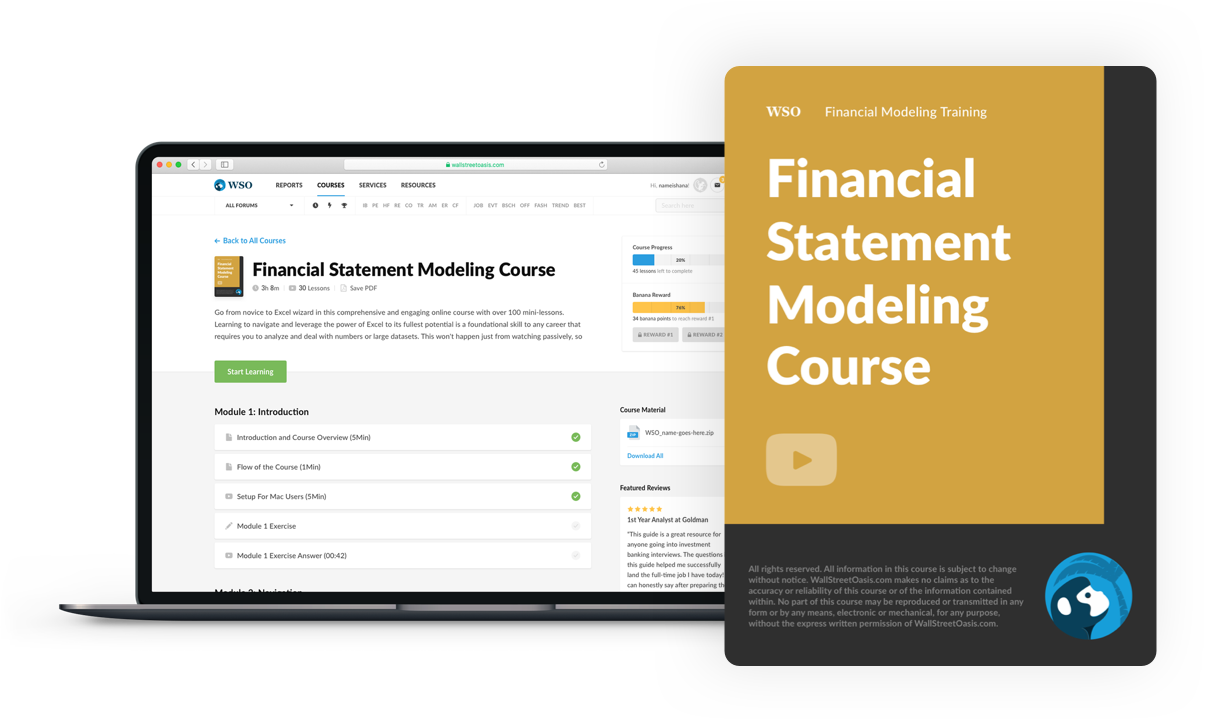 Everything You Need To Master Financial Statement Modeling
To Help You Thrive in the Most Prestigious Jobs on Wall Street.
Researched and Authored by Amaan Mohammed | LinkedIn
Reviewed and edited by Parul Gupta | LinkedIn
Free Resources
To continue learning and advancing your career, check out these additional helpful WSO resources: