Top 10 Accounting & Finance Certifications
Top certifications to make into Accounting and Finance career 
Top 10 Accounting & Finance Certifications
Earning the following certifications will increase your career opportunities. These accounting and finance certifications enhance candidates' credibility when applying for jobs and working with clients. Additionally, holding these certifications will boost your salary and decrease the odds of getting fired during layoffs.
Top 10 Accounting & Finance Certifications:
Chartered Certified Accountant (ACCA) designation
Certified Financial Planner (CFP) designation
Certified Management Accountant (CMA) certification
Certified Public Accountant (CPA) certification
Chartered Alternative Investment Analyst (CAIA) designation
Chartered Financial Analyst (CFA) designation
Chartered Financial Consultant (CHFC) designation
Chartered Global Management Accountant (CGMA) designation
Financial Modeling and Valuation Analyst (FMVA) certification
Financial Risk Manager (FRM) certification
ACCA is The Association of Chartered Certified Accountants and is one of the certificates in accounting and finance with high specifications. 
Founded in 1904, it is one of four chartered institutes of Certified Public Accountants in the United Kingdom and one of today's leading international accounting organizations.
 It is the world's leading professional accounting organization and a professional accounting organization with the rapid development of international students.
After taking ACCA, you can earn not only just one but also a series of high-value certifications, including a diploma in Accounting and Business and an Advanced Diploma in Accounting and Business. 
Also, to become certified as an ACCA Affiliate (Associate Member), you must complete 14 global exams and have three years of relevant working experience.
Qualifications:
According to the ACCA official website, to achieve the ACCA Qualification, students have to:
Complete a maximum of 13 exams, depending on prior experience and qualifications
Complete an Ethics and Professional Skills module
Evidence of three years of practical work experience within a relevant role
Generally, it requires at least three years to complete ACCA Qualification.
Why is ACCA not preferred over other certificates?
The ACCA course is global and does not relate directly to any country. Every country's economy is different; therefore, a certificate from a specific country is preferred, such as CPAs in the US.
ACCA is not recognized in some countries, such as India and South Africa. 
CFP certification is recognized as the authoritative level in the financial planning industry in the United States and worldwide. 
CFP qualification is widely granted to professionals in financial planning, including financial managers, fund managers, financial directors, investment advisers, investment bankers, financial advisers, etc.
CFP, a professional financial membership, has become a passport for the financial services financial industry. As a result, the number of CFP holders is an essential measure of an institution's wealth management services.
Price
Testing appointments are scheduled on a first-come, first-served basis; the official website suggests students register for the exam at least 60 days in advance.
The standard registration price is $925, the early bird price is $825, and the late registration price is $1,025 during the final two weeks before the exam.
Qualification
To achieve the CFP Certification, students must complete coursework on financial planning through the CFP Board Registered Program and hold a bachelor's degree or higher from an accredited university. 
Students must complete the coursework before taking the exam, and students have five years from the date they pass the exam to satisfy the bachelor's degree requirement. 
CFP exam includes 170 questions, a multiple-choice test that consists of two 3-hour sessions within one day, and the exam consists of stand-alone and scenario-based questions and case studies as well.
Students need to complete either 6,000 hours of professional experience related to financial planning or 4,000 hours of apprenticeship experience that meet additional requirements.
This is the final step to achieving the CFP certification. This step indicates you've agreed to adhere to high ethical and professional standards for financial planning.
Certified Management Accountant (CMA) is the most authoritative certification in management accounting and financial management. It was launched in 1972 by the Global Management Accounting Organization and the American Institute of Management Accountants (IMA).
CMA, AICPA, and CFA are the world's three gold certificates in finance and economics.
If you obtain this certification, it will significantly impact your accounting career. CMA can be used to help holders advance their careers, have a competitive edge in their careers, and have the ability and qualifications to act as supporters of strategic decisions.
Where will the CMA take you?
Financial Analysts
Accounting Managers
Controllers
Chief Financial Officers
Price
The CMA exam consists of two parts; the general price for each part costs $460 and the $280 Entrance Fee. Students who have taken at least six credit hours in the past semester can receive the discount, which each part costs $345 and a $210 Entrance Fee.
Part 1: Financial Planning, Performance, and Analytics
Part 2: Strategic Financial Management
Qualifications
Candidates have four hours to complete each part of the exam; the exam consists of 100 multiple-choice questions and two 30-minute essays. 360.500 is considered passing for the CMA exam.
To apply, CMA should hold either a bachelor's degree from an accredited university or an IMA-approved professional certification. In addition, candidates should have their schools email official transcripts to IMA.
Candidates should have worked in management accounting or financial management for over two years.
Certified Public Accountant (CPA) aims to cultivate a group of high-level accounting elites who master the theoretical knowledge and professional skills of accounting, master corporate financial strategic planning, be familiar with American and international accounting standards, and adapt to the global operation of modern enterprises.
CPA Exam Parts:
Financial Accounting & Reporting (FAR)
Auditing and Attestation (AUD)
Regulation (REG)
Business Environment & Concepts (BEC)
Examination Process:
Apply to take the exam
Complete Payment of Examination Fees
Review the tutorial and sample tests
Receive notice to schedule
Schedule the exam
Take the exam
Receive exam score reports
Price
CPA Exam Fee consists of three parts:
The application fee varies depending on the state; the average fee is around $140. This is a non-refundable fee.
Registration fees vary depending on different states and the number of application sections.
Examination Fee per Section
The examination fee for each section is about $225.
Qualifications
Hold a bachelor's degree
Have 150 hours of total college credit
Have 30 hours of approved upper-level accounting course credit, including at least 2 hours in accounting research/analysis
Have 24 hours of approved business course credit, including at least 2 hours in accounting/business communications
Have 3 hours of approved accounting ethics credit
CAIA is the world's only educational standard for those specializing in alternative investments. The CAIA exam consists of two levels. 
Level 1 focuses on assessing candidates' understanding of alternative asset classes and the tools and techniques used to evaluate the risk-return attributes of each asset. 
Areas covered by Level 1 courses include quantitative analysis, regulatory framework, trading strategies, performance measurement, real estate, hedge funds, commodities, managed futures, private equity, credit derivatives, etc.
Level 2 assesses how candidates can apply the knowledge and analysis learned at Level 1 in a portfolio management environment. 
Areas covered by Level 2 courses include asset allocation, portfolio management, style analysis, risk management, structured products, indexation and benchmarking, current topics and case studies, etc.
Both levels of the exam include an ethics and professional conduct section.
Price
Program Enrollment: $400
Level 1 Exam Registration Fee: $1,250
Level 2 Exam Registration Fee: $1,250
Annual Membership Fee: $350 one year, $650 two years
Qualifications
Hold a bachelor's or equivalent degree and more than one year of business experience in the financial industry.
OR
Four years of experience in the financial industry
Chartered Financial Analyst (CFA) represents the highest level of the global investment industry and is subject to the highest ethical standards.
CFA is a chartered financial analyst professional qualification certification established by the American Institute of Investment Management and Research (AIMR) in 1963.
Its vocational exam is held twice a year and is one of the most comprehensive vocational exams globally. As a result, it is a professional title generally recognized by the world's securities investment and management circles.
The CFA certificate consists of Level I, II, and III levels. Each candidate can only apply for one level per year. Only those who pass all three levels and have four years of experience in the financial industry can finally obtain the qualification certificate.
Level I: Professional standards and ethics, financial reporting, economics, and quantitative methods. This exam consists of 180 multiple choice questions for 4.5 hours.
Level II: Asset Valuation and correctly applying investment tools. This exam consists of vignettes with 88 accompanying questions for 4 hours and 24 minutes.
Level III: Planning and management of portfolios. This exam consists of multiple-choice and essay questions for 4 hours and 24 minutes.
Price
The price depends on the time the candidate registers for the exam. Although beginning in 2023, the initial enrollment fee is $350, this fee will not be applied to the two following level exams.
The early registration fee is $700; the standard registration fee is $1,000. Beginning in 2023, the registration fee will be increased to $900 for early registration and $1,200 for standard registration.
The rescheduled fee will be $250.
Qualifications
Level 1 Exam  
Hold a bachelor's degree
Be an undergraduate student within 11 months of graduation
Have a combined 4,000 hours of professional work experience OR higher education acquired over at least three sequential years
Chartered Financial Consultant focuses on providing clients with comprehensive financial planning. As a result, the ChFC exam is more complex, and the follow-up training is relatively complete, focusing on practical operations. At the same time, those who experience and pass eight core courses. 
Among them, six compulsory sources are: 
Financial Planning: Process and Environment (HS 300)
Fundamentals of Insurance (HS 311)
Income Taxation (HS 321)
Planning for Retirement Needs (HS 326)
Investments (HS 328)
Fundamentals of Estate Planning (HS 330)
The other two courses can be selected from the following:
The Financial System in the Economy
Financial Planning Applications
Estate Planning Applications
Financial Decision-Making at Retirement
Price: 
The tuition for this certificate is under $6,000 and requires completing the course in 24 months or less, which includes (Self Choose):
Individual course: $850
Case-study course (HS 333): $1,060
Contemporary Applications in Financial Planning (HS 347): $1,565
8-course package: $4,670 with promotion
3-course package: $2,260
Qualifications:
There is no prerequisite to start this certificate, but completing nine college courses or 27 hours of college credit in this field is required to use the designation.
In May 2011, the London-based Chartered Institute of Management Accountants (CIMA) and New York-based American Institute of Certified Public Accountants (AICPA) announced that they would form the world's largest accountancy organization and promote a new global accounting qualification - Chartered Global Management Accountant (CGMA).
CGMA is divided into three different levels: 
Operational level: focuses on short-term decision-making.
Management Level: focuses on translating long-term decisions into medium-term plans.
Strategic Level: focuses on long-term strategic decision-making, learning about risk, and finance strategy.
Price
CGMA program offers three different types of subscriptions:
Start at the Operational Level (3-year subscription): $4,795
Start at the Management level (2-year subscription): $3,695
Start at the Strategic Level (1-year subscription): $2,495
Once the candidate has earned CGMA designation, there's a $395 annual fee to maintain.
Qualifications
To earn the CGMA designation:
Enroll in the CGMA Finance Leadership Program
Complete the coursework and case study exams
Complete three years of practical work experience
The FMVA exam consists of the following topics:
Business Valuation
Accounting
Finance theory
Budgeting/forecasting
Presentations
Strategy
Price
The FMVA certification costs $497, including all courses, case studies, and exams.
Qualifications
To complete this certification, each candidate needs to meet the following requirements:
Complete nine core courses
Complete three elective courses
Finish all exercises and case studies
Pass all the exams with a score of 80% or higher
FRM certificate is the top authoritative international quality certification in financial risk management, established by the American "Global Association of Risk Professionals." 
The FRM certificate is mainly aimed at those engaged in risk management, including financial product risk, financial market risk, foreign exchange risk, etc. Therefore, earning an FRM certificate is a prerequisite for many risk management positions in international financial institutions.
FRM certification consists of two parts:
This part of the exam includes 100 multiple-choice questions related to the foundations of risk management, quantitative analysis, financial markets and products, and valuation and risk models.
This part of the exam includes 80 multiple choice questions related to market risk, credit risk, operational risk and resiliency, treasury and liquidity risk management, risk management and investment management, and current issues in financial markets.
Price
Enrollment Fee: $400
Exam Fee for each part (2 parts total): $600
Qualifications
To receive the FRM certificate, candidates must pass two parts of the exam and submit two years of work experience.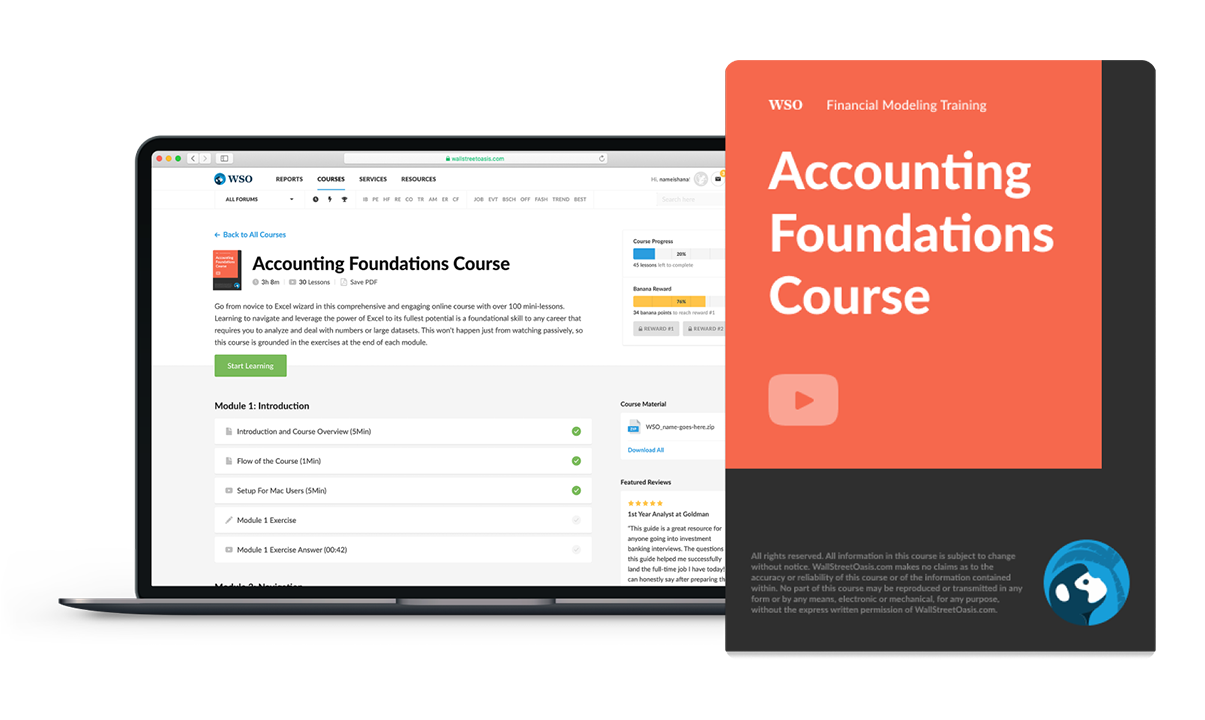 Everything You Need To Build Your Accounting Skills
To Help You Thrive in the Most Flexible Job in the World.
Researched and Authored by Yihan Du | LinkedIn
Edited by Colt DiGiovanni | LinkedIn
Free Resources
To continue learning and advancing your career, check out these additional helpful WSO resources: