Enterprise Resource Planning (ERP)
A sort of programming software that associates use to oversee everyday business tasks
Enterprise Resource Planning (ERP)
Enterprise Resource Planning (ERP) is a sort of programming software that companies use to oversee everyday business tasks. For example, accounting, procurement, project the executives, risk the board, and consistency and inventory network tasks.
Think of Enterprise Resource Planning as a method that companies employ to organize and streamline the important parts of their operations.
Numerous ERP programming applications are critical to organizations since they enable companies to efficiently manage their resources by bringing together all the processes needed to run their operations into a single system.
An ERP programming (software) framework can likewise coordinate the preparation, buying of stock, deals, advertising, finance, HR, and more.
Enterprise Resource Planning (ERP) is the coordinated administration of principal business processes and is frequently intervened by programming and innovation.
ERP refers to a classification of business management programming, a set-up of coordinated applications that an association can use to gather, store, oversee, and interpret information from numerous business tasks.
Key Takeaways
Enterprise Resource Planning (ERP) is a comprehensive software solution that facilitates the management and integration of core business processes, including accounting, procurement, project management, risk management, and supply chain operations.

Organizations adopt ERP to streamline operations, enhance collaboration, and meet evolving business needs. ERP systems offer real-time data interpretation, improve efficiency, and support future growth, making them crucial for businesses aiming to stay competitive.

ERP systems provide enterprise-wide coordination, real-time or near-real-time operations, a common database, and a consistent look and feel. These features contribute to improved business processes, collaboration, and data-driven decision-making.

The ERP implementation life cycle involves stages such as discovery and planning, design, development, testing, deployment, and support and updates. Each stage aims to ensure a smooth transition to the new system while addressing specific organizational requirements.
Most organizations have a finance and functional framework set up; however, other programming out there cannot go past regular business cycles or help with future business development.
As organizations grow and their necessities change, their frameworks ought to stay aware of them. We will characterize what ERP is and why it is shrewd to have programming set up that stays aware of your business needs.
Moreover, a cutting-edge ERP arrangement offers adaptable organization choices, further developed security and protection, supportability, and low-code customization. 
While there's no all-up arrangement programming for each business cycle, ERP innovation is getting endlessly better at uniting processes.
In particular, it will incorporate progression and strength into your business and cycle through bits of knowledge that assist you with improving at a fast rate today while setting up your business for what's next tomorrow.
Three signs that you really need ERP:
The basics are not allowing you to develop

You're managing unique frameworks

You can't meet client expectations
At its core, an ERP is an application that automates business processes and gives experiences and inner controls, drawing on a focal data set that gathers inputs from divisions including accounting, fabricating, store network the executives, deals, sales & marketing, and HR.
As any business organization grows, the work pressure of its administrators also grows simultaneously. And at this stage, being unable to track and maintain the customer needs and demands could derail any business for the further growth of an organization.
Investing in enterprise resource planning (ERP) programming software will help business organizations to disparate activities under a single integrated application. 
Note
Software development planning is critical for the success of an ERP system project. It helps in planning and defining the goals required to develop the ERP system and ensure that the project is completed on time and within the predetermined budget.
An ERP software uses a unique database that speeds up the response times to customers, increases operational efficiency, and ensures customer success.
An ERP framework binds together all these processes with a unique interface that makes it easy for users to access the data by using a centralized dashboard.
Let's discuss the roles of an enterprise resource planning:
ERP software is intended to assist organizations with putting away, making due, and using the information in regard to their day-to-day and ordinary cycles. It monitors a wealth of data, including finance, raw materials, business responsibilities, buy requests, and capacity for manufacturing.
The four main key features of ERP systems are as follows:
Enterprise-wide coordination. Business processes are coordinated from end to end across departments and business units.

Real-time (or near real-time ) operations or tasks.

A typical information base.

Steady look and feel.
The scale, extension, and functionality of ERP frameworks differ broadly. In any case, the majority of the ERP programming highlights the previously mentioned qualities.
Appropriately working ERP frameworks empower undertakings to decrease the time expected to finish practically every business interaction. They likewise advance cooperation through shared information coordinated around normal information definitions, bringing about better direction.
An ERP framework manages all the information about a company's products, customers, suppliers, and employees. It can also be used to increase business productivity and reduces the service lifecycle and marketing life cycles.
It helps to streamline different sectors of a business, whether it is a mixture of finance, human resources, sales, manufacturing, logistics, and many others. Instead of utilizing various programs for all the different sectors of your business, an ERP framework can allow a business to operate in a one-stop-shop system.
Most ERPs additionally incorporate Client Relationship Management (CRM) tools to track client interactions, giving further experiences about client conduct and needs. ERP frameworks further develop undertaking productivity and efficiency in various ways.
Who uses ERP? Organizations across each industry, with different or diverse plans of action, have understood the advantages that come from ERP.
Adaptable arrangements with broad usefulness can take special care of a wide variety of organizations and their requirements.      
Industries that depend on ERP to maintain their organizations include as follows:
Advertising and digital media platforms

Apparel, footwear, and other accessories

Consulting and campus stores

Education, Energy, and Food & Beverages

Financial services

Healthcare and life sciences

IT services and manufacturing (production)

Non-profit organizations.

Professional services

Restaurants and hospitality

Software and technology
There is a significant role of ERP inside an organization and various job functions that benefit from ERP; some of them include as following:
1. Finance / Accounting department
The finance and accounting team is often the first adopter. This group will record and report on all transactions and other financial information in the system, which includes accounts payable (AP), accounts receivable (AR), and payroll.
2. Supply chain department
Employees focused on various tasks, a group that includes buying agents, inventory planners, warehouse managers, and senior supply chain leaders, depend on the ERP system to guarantee a smooth and continuous flow of goods from suppliers to consumers.
3. Sales & Marketing department
An ERP system can increase productivity and drive improved results for your sales team by automating lead management and observing & monitoring the interactions prospects' interactions with your organizations.
4. Human resources department
The HR department tracks all employee information and more extensive workforce patterns in the ERP. It can rapidly find contact information, compensation and benefits details, and other documents for each employee.
HR can also monitor metrics like maintenance by division, normal compensation by title, promotion rate, and other measurement tricks to better allocate its staff and assist line-of-business administrators.
Enterprise Resource Planning (ERP) program (software) is considered a type of an "Enterprise Applications," which refers to software designed to fulfill the software needs of an organization and further improve business performance and execution.  
There are three main types of ERP systems that function with different deployment model options. The most common types of ERP systems include the following:
1. On-Premise ERP software
It is implemented onsite and maintained in physical office space inside an organization, hosted on the company's computers and servers for full control, support, and ownership of the entire system once implemented.
2. Cloud-based ERP software
It is a web-based solution known as software as a Service (SaaS), where an organization accesses and stores data/information on any device with a network connection.
3. Hybrid ERP software
A hybrid ERP software refers to a combined implementation of cloud-based and on-premise ERP system solutions. The combination of hosting and deployment services vary by provider.
Each ERP arrangement framework is frequently tailored to support various aspects of a business, meet an organization's business requirements and have various strategies for the organization.
Before, "Big Enterprise ERP" tended to huge associations that frequently sent nearby/on-premise ERP arrangements and had an overflow of assets to devote to IT and other help to examine clients, redesign and convey their product arrangements.
The term "Small Enterprise ERP" or "SME (Small and medium-sized enterprise) ERP" generally refers to ERP programming frameworks with the executives' applications commonly made to meet the particular requirements for a small to mid-measured business.
Today, these terms are utilized less every now and again as the significant element isn't organization size yet deciding whether the ERP framework is tending to current and future business necessities, regardless of the size of the association.
Is ERP suitable for big enterprises or small enterprises?
A common misconception about ERP is that they are only suitable for large-scale enterprises, but more & more small enterprises are using ERP to integrate all their business processes and data in one place.
Associations should consider and choose ERP frameworks that take out the requirement for exorbitant customizations, adjust to the fast speed of business change, address future innovations and meet other recognized requirements.
Different ERP sellers support different sending model choices. These models can give ERP clients adaptability to move between conveyance models.
An ordinary ERP implementation plan can be divided into six stages, each with specific objectives. Every business is unique, so the stages may vary somewhat depending on the type of business organization, and they also may overlap.
The six-part of an ERP implementation stages life cycle includes the following: 
1. Discovery & Planning Stage
This is the first stage, which includes researching and selecting a system, setting up a project team, and defining detailed system requirements and prerequisites.
The team may select and acquire an ERP system during this phase as the organization develops a clear idea of its requirements.
2. Design Stage
The second stage in the implementation and execution of ERP is the design stage which works from detailed requirements and an understanding of current workflows to develop a detailed design for the new ERP system. 
The team can present the gaps to its implementation partner or supplier and ask them to identify potential solutions.
3. Development Stage
Furnished with clear design requirements, the development stage can start. This includes arranging and, where necessary, modifying the software to support the redesigned or upgraded processes.
4. Testing Stage
Testing and development might happen simultaneously. This stage should also encompass testing the migrated data and information incorporating the introductory end-user training. 
5. Deployment Stage
The project team should be readily available to address the questions, help and assist the users in understanding the system and framework, and try to fix any issues.
Some organizations plan to deploy all the modules of the ERP system and framework simultaneously, while others focus on specific high-priority modules or processes and add others later in stages.
6. Support & Updates Stage
Nurturing your ERP implementation after organization assists with keeping users happy and ensures that the business achieves the desired benefits and accomplishes the ideal advantages.
The project team might, in any case, be answerable for the ERP framework during this stage; however, its center will move to tuning in for client criticism and changing the framework in like manner.
Assuming you have an on-premises ERP system or framework, you will need to install periodic software updates and may even need to upgrade hardware over time. If you are using a cloud-based ERP system, your vendor may update the software automatically.
Implementing or executing an ERP system may be one of the largest investments of time, money, and resources your business can make. And, it will only be as good as how you implement or execute it.
The below video shows the detailed step of how an ERP framework or system work.
An ERP system or framework works by reducing the number of resources that are needed to run the business- organization efficiently while still ensuring profitability and business improvement and development.
Studies show that an ERP framework brings various benefits to any business organization. Hamidreza Vakilifard, Shahla Abbaszadeh Meinagh, and Mohammad Reza Khataee conducted a study published by the European Online Journal of Natural and Social Science.
The ERP framework is entirely different from a single application because it permits other enterprise modules of your business organization to work from a single database. This system gathers data and information from various parts of the business organization.
Let us assume that your business organization's ERP system is fully automated. ERP does the data entry for you in the back-end and also helps to transform the information with other units that need it.
Let's look at some of the benefits of implementing an ERP system in various business organizations, some of the benefits are as follows:
1. Sharing the information
The ERP system can automatically share the information across the several divisions or departments of your business organization easily, and as a result, it also speeds up the collaboration through integrated information exchange.
2. Improves the performance of business enterprise
The system will guarantee that departments spend their time managing their core business instead of trying to get the data that would help them to do so.
3. Easily accessible and manageable
As there is a rapid growth in technology and innovation, ERP systems continue to become easier to access and manage. This is specifically for the business enterprises which do not have the Skills and Resources to integrate their systems.
4. Provides Standardized Report
By this ERP will guarantee that the information delivered by your enterprise is coherent and can communicate directly to the market.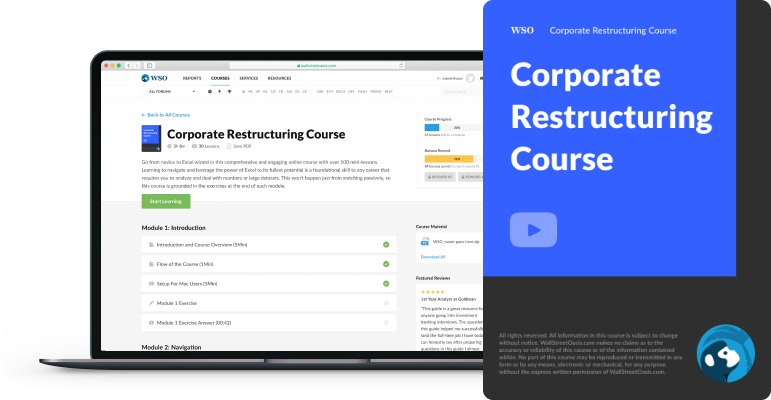 Everything You Need To Understand Restructuring
To Help You Thrive in the Most Prestigious Jobs on Wall Street.
Researched and authored by Spoorti Biradar | LinkedIn
Edited by Colt DiGiovanni | Linked
Free Resources
To continue learning and advancing your career, check out these additional helpful WSO resources: