Financier Face Off

EN
Points)
on 5/17/12 at 12:00am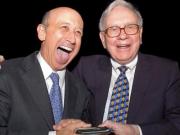 I recently read a list of the great financiers of all time and also another one on the top 5 bankers. Although I obviously knew that banking has been around for ages,
I was expecting more contemporary players from the industry, but was shocked with how few photographs there were in the first link, just paintings. I guess it makes sense, these days it is harder for one person to single-handedly have such an impact.
Who, in your opinion, has been the greatest financier/banker of the past 50 years? With the size of the industry there are so many possible answers, I'm surprised it isn't discussed on here more often.
Finance doesn't seem like music, politics or other fields whereby people are inspired to join by those before them; most people drive themselves to succeed based on their own personal goals (e.g. money, personal growth, developing their skills, and of course, money). Myself included; I've never spent too much time looking at the paths of 'great' financiers, I'm too busy trying to start on my own journey. That being said, most with an interest have people in mind who they consider to be extraordinary because of what they achieved or how they achieved it.