Heavy Drinkers Outlive Abstainers
ST
Points)
on 8/31/10 at 6:04am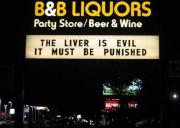 "There are more old drunkards than there are old doctors..." - Benjamin Franklin
As if you needed another reason to partake in Wall Street's culture of booze (well, some of you do), a recent 20-year study has concluded that heavy drinkers live longer than people who don't drink at all. So there. You teetotalers in the crowd are probably coming up with all kinds of justifications about how this data is flawed, but you can rest assured that the researchers factored in everything. The fact is, heavy drinkers live longer.
Even though heavy drinking is associated with higher risk for cirrhosis and several types of cancer (particularly cancers in the mouth and esophagus), heavy drinkers are less likely to die than people who have never drunk. One important reason is that alcohol lubricates so many social interactions, and social interactions are vital for maintaining mental and physical health. As I pointed out last year, nondrinkers show greater signs of depression than those who allow themselves to join the party.
Drinking has always been a part of Wall Street. While three martini lunches may have gone the way of Michael Milken, drinking and socializing are still a big part of the culture. I've always been wary of people who don't drink in general, and especially wary of those on the Street who don't drink. Like Humphrey Bogart was fond of saying, "The problem with the world is that everyone is a few drinks behind."
With that in mind, I thought it might make for a few laughs if we all shared some of our most heinous drinking stories. As usual, I'll go first.
I was working out of the San Diego office of my firm for a while, and the market closes at 1:00 in the afternoon there. So one day myself and three other guys decided to head down to Tijuana after the close to spend the afternoon gambling at Caliente. Caliente kicks ass, because they'll let you bet on the stupidest shit you've ever heard of. Wanna lay a bet on competition fishing? They'll take your action.
So the four of us are down there eating, drinking, and betting on buggy races or some stupid shit for about three hours when we decide to head back to this really hot bar in La Jolla for happy hour. On our way out of Caliente, we pick up a bottle of almendrado - a cheap, amaretto-flavored tequila - for the ride home. I'll call the youngest member of our crew Ralph, for reasons that will soon become obvious.
I'm driving and I had enough to drink at Caliente, so I left the almendrado alone. The other guys passed it around the car but most of it was consumed by Ralph. By the time we got to the bar, the bottle was empty and Ralph was pretty much wasted.
I don't know why we did what we did, probably because Ralph was so drunk that he was getting annoying, but when we got in the bar we slipped the bartender a fifty to help us ruin Ralph. The place was filling up fast because happy hour was in full swing, so we were lucky to have a spot right at the bar. We told Ralph we were switching to peppermint Schnapps shooters, and he was too wrecked to argue.
Thing was, Ralph was the only one doing peppermint Schnapps shooters, as the bartender was filling our shot glasses with water. So we did one, then two, then three, and Ralph is getting really shaky. Common sense would clearly dictate what happens next, but it just so happened that common sense decided to stay late at the office that night, so we were on our own.
The fourth shot saw Ralph break out in a cold sweat. The fifth shot put him over the edge. In the middle of a packed bar, Ralph erupted like Mount Vesuvius. I mean, he wallpapered the place. He puked all over the bar, all over the bottles behind the bar, all over the ice bin behind the bar. People were screaming and scattering like Godzilla had been sighted.
My other two buddies took off like a shot, leaving me behind to cope with the quivering, puking shell of Ralph and a now very pissed off bartender. I threw a couple of twenties on the bar and dragged Ralph out of there, with him puking the whole way out. When I tried to load him into a cab, the cabbie wouldn't take him. I ended up giving him a ride home with his head hanging out the window.
And all this before 7:00 at night. Good times.
Your turn.