How to Survive and Thrive During Unemployment

CO
Points)
on 8/15/12 at 12:30pm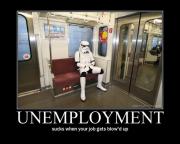 A few posts on layoffs got me thinking of my unemployment spell a couple of years back, and I think that now would be a good time to go over lessons that I learned to keep myself sane and productive while searching for a new job.
The big key is to look at this as an opportunity for growth rather than as an obstacle. For most of you monkeys, this is going to be a difficult view to internalize: we all place a great deal of importance on our career, otherwise we wouldn't post here.
Leaving your job may suck, but lets face it, working can suck too. So let's just jump into it: here are 6 things to keep in mind that will let you come out of this in a better state than you were in when you were beforehand.
1. Keep a Normal Schedule.
Without a day job, it's very easy to lie around in bed for an hour after waking up and then waste two hours making breakfast and messing around on the computer. Before you know it it's 1:00pm and you're still in your boxers and a t-shirt (if that).
You need to impose a workday on yourself. Get 8 hours of sleep, hop out of bed immediately, and go for a walk to get some fresh air rather. You'll feel better, and after a week of this you won't be tempted to sleep in really late every day. Also, give yourself a 9-5 sort of schedule: focus on applying to jobs, networking, and other productive tasks during the day and tend to personal matters in the evening.
2. Exercise.
There's just no excuse for not working out regularly. Do a combination of cardio and strength training for at least 30 minutes a day for 5 days a week: you'll lose weight, build muscle, and feel better about yourself. Exercise (combined with eating well and getting enough sleep) is also the best possible way to stave off depression and anxiety.
3. Work on Personal Projects.
There's got to be something that you've wanted to learn more about, work on, or improve. Now's the time to do it. Here are some ideas:
Take an online course in through Kahn Academy, Academic Earth, or MIT Open Courseware--you can learn anything form 19th century British literature to Differential Equations.
Learn a foreign language. The Goethe Institute has offices in many cities if you want to learn German, and I'm sure that there are numerous low-cost ways to learn other languages.
Take a class through Skillshare.com or join a group through Meetup.com.
Read about value investing and get started building a fantasy stock portfolio, learn how to play poker or bridge...the list is endless.
6. Take Advantage of all Your City has to Offer.
You've got to have all sorts of things that you've been meaning to do but haven't had the time to try. Grab a copy of your local independent newspaper and see what's going on this week. Just about any decent sized city should have all sorts of cheap / free things to do: author readings at book stores, museums, concerts, and so on. Of course, you can now do all of this on weekdays an beat the crowds too.
4. Meditate.
The Relaxation Response was the book that first made me interested in mediation. All you need is 15 minutes and the willingness to try to sit quietly. It's a great way to rejuvenate yourself and give your mind a break.
5. Philosophy and Religion.
Try going to church or synagogue. No interest in religion? Stoic philosophers like Seneca and quasi-buddhists such as Alan Watts have been very inspirational to me--far more so than years of Sunday school as a kid.
6. Remain Optimistic.
Everyone I've known who got laid off or fired early in their career eventually came back even stronger. Some got equal or better jobs in the industry, while others moved on to other fields. Just remember: this will get better, and if it's the worst thing to happen to you in your life so far, you should consider yourself lucky.
Notice that I didn't tell you to network with alums from your school or to polish up your resume. I'm assuming that you're smart and already doing that. Instead, I'm encouraging you to focus on all the other stuff in life that's too easy to ignore when you're working full time.
Monkeys: did I miss anything big? If you've been unemployed, what did you learn from the experience? Anything you'd do differently? How did you manage your time?