The rate of interest is the amount charged on any debt by the creditor to the borrower. An interest rate is expressed in percentage points (%) or in basis points (bps), and is usually charged on an annual rate. The rate of interest charged will usually depend on the credit-worthiness or riskiness of the borrower. A high-risk borrower will be charged a higher rate of interest than a low risk borrower, all other things being equal. An example of interest rates is as follows:
An investor wishes to borrow $1,000,000 to invest in the stock market
A bank loans the investor $1,000,000 for 5 years at an annual rate of 5%
The investor has to pay $50,000 per year to the bank in interest as well as the $1,000,000 at the end of the 5 years
If the investor earns more than 5% per year, he will make a profit, otherwise he will lose money or break-even
To learn more about this concept and become a master at bonds and fixed income, you should check out our Bond Course - Fixed Income (coming soon!).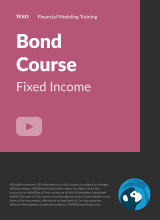 Related Terms