A Bit More Chill | The Daily Peel | 3/16/22
Stocks partied like 1999 yesterday - pre-dotcom blowup 1999. Every single sector, except energy, was up big on the day, leading to a great day for traders and an even better day for the stores that sell their Patagonia vests. Anyway, the Nasdaq stormed up 2.92%, while the S&P rose 2.14%, and the Dow gained 1.82%.
Let's get into it.
PPI - Like the final drum before battle, we've officially received the last inflation reading before JPow and the FOMC head into rate decision day. Spoiler alert: it was not good.
Shoutout to Barron's for the super insightful headline following the release of February's PPI report, saying, "Inflation is a Problem." Thanks. We had no idea.
But still, despite being a little too on-the-nose, the headline is nevertheless as accurate as they come. Producer prices increased 0.8% month-over-month in February, just under economists' expectations of 0.9% (not bad, guys) and down from the 1.2% jump in January. That translates to an annual jump of 10.0%, a.k.a. the fastest year-over-year jump ever.
As if it even needs to be said, most of that jump comes from the ridiculous upswing in energy prices, driving an 8.2% annual increase. Stripping food and energy from the reading, we get the so-called "Core" PPI. For the month, core producer prices increased only 0.2% and a much more mild but still kinda wild 6.6% annual jump.
So that doesn't sound great, yet markets didn't immediately freak the hell out. Why? Well, recall that the market doesn't necessarily move on absolute data, but rather, how it fits in with expectations. As sad as it sounds, pretty much everyone was ready for record producer prices.
But the most prominent reason, we can assume, is that the record increase in producer prices fits with the Fed's expectations as well. JPow and the FOMC gang met yesterday and will continue their meeting today, ultimately deciding whether or not to move the Federal Funds Rate and, just as importantly, by how much.
All signs point to a 25bps increase, taking rates from 0 to just basically 0. Prior to the start of Putin's war, markets were pricing in a high probability for a 50bps jump, but given the added uncertainty, experts say JPow knows he has to be a bit more chill.
But of course, you never know. Expect a rate update by mid-afternoon as the FOMC meeting is scheduled to run until 2 pm. JPow will give one of his classic, emotionless press conferences following the decision, with their plans for monetary policy going forward taking the spotlight. You better believe we'll be tuned in, so see you there.
Airline Stocks ($DAL, $AAL, $UAL) - Airline stocks took flight yesterday (sorry, had to) now that things are looking good for them for probably the first time in 2 years.
Delta kicked off the party with a sizable increase in revenue guidance, while United, Southwest, and American all did the same. Basically, they each expect to earn somewhere in the range of 75-90% of sales in 2019, the last time life was normal.
Investor excitement soared, along with their share prices, as Delta gained 8.7%, United popped 9.2%, and American led the way with a 9.3% boost.
AMC Entertainment ($AMC) - You know, I've always thought when I walked into movie theaters, "Wow, there is a distinct lack of gold and gold mining equipment in here." Thankfully, AMC has put that issue to rest, leading to yesterday's nice 6.9% gain.
In one of the strangest moves in maybe the entire history of business, AMC (the movie theater chain) has bought a 22% stake in Hycroft Mining (a gold-mining company). The move comes as AMC executives learn that meme-ing their way to riches is really their only solution, not actually improving their business.
Oh yeah, and there was definitely some insider trading around this deal. CNBC pointed out that the volume of the small mining stock exploded to 5x its 90-day average the day before the acquisition was announced. Sus.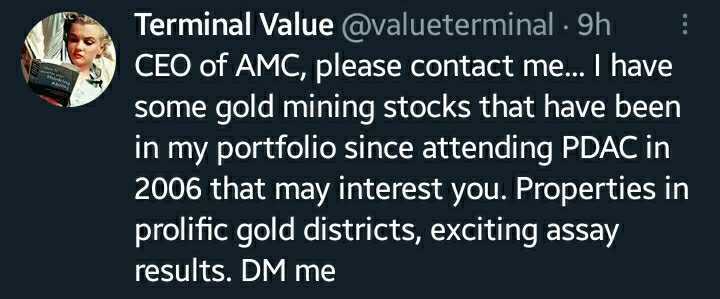 Oil (Brent, WTI) - I guess traders were serious in pushing down oil prices yesterday. The party continued today, with both Brent and WTI back below the $100/bbl line. Life is good; nature is healing.
Well, kinda. The same drivers persist, meaning oil prices today largely fell for the same reasons as on Monday. C-virus crises in China, a positive view on Ukraine-Russia negotiations, and a spike in traders unwinding bullish trades the day before JPow shakes things up.
Either way, this at least gives us some hope that pump prices will fall. All hail the oil gods.
Sophia Genetics ($SOPH) - To fall even more than energy stocks yesterday, companies would've had to do something truly egregious. With their 9.7% loss, we're looking at Sophia Genetics.
The small medtech firm based out of Boston and Lausanne reported Q4 and full-year earnings yesterday. Traders, needless to say, were disappointed. Revenue grew only 42% annually, while net losses came in slightly lower than expected, losing only $0.33/sh.
However, it was the forecast figures that did it for traders. 42% sales growth ain't bad, but projections for this year to grow by only 27-33% really soured investors' opinions. Better luck next time.
USD vs. Yua(w)n - Sometimes, things backfire. This is often the case when we seek a short-term solution and fail to fully consider long-term implications, and this could be exactly what's happening to the U.S. Dollar right now.
You may have heard a little bit about western sanctions against Russia. One of the most damning of the bunch was the U.S. government's decision to freeze USD in Russia's central bank reserve and essentially prevent the nation from using our currency at all. While that's certainly one hell of a power play, the long-term implications are kind of… worrisome.
See, the USD has acted as a global reserve currency for the better part of the last century. Essentially, all that means is that any country in the world would transact in USD as it was trusted and believed to be the most stable, reliable form of currency.
But the keyword in there is trust. In order to transact, all parties must agree that the currency is stable and reliable enough to truly hold value. Part of that trust comes from the fact that the U.S. has never actively sought to manipulate the value of its currency like China has repeatedly done through devaluing the yuan or seeking to ban its use in a broad-scale form.
Now, that's all changed. The federal government's move to ban Russia from using the world's reserve currency has already started to take its toll on global trust in the USD. This comes as reports emerge that Saudi Arabia may soon price oil it sells to China in yuan, not the USD.
That might not sound like a big deal, but trust me on this, it might be the biggest deal. The U.S. Dollar's reserve currency status gives the U.S. immense power that's allowed it to maintain hegemony over the decades. Loss of that status means loss of U.S. hegemony, partially at the very least, and gives nations like Russia and China exactly what they want.
These are all just reports for now, but now might not be a bad time to start getting slightly concerned. To help, let's do our part - chant along with me: "USA! USA! USA!"
"The arithmetic makes it plain that inflation is a far more devastating tax than anything that has been enacted by our legislatures. The inflation tax has a fantastic ability to simply consume capital." - Warren Buffett
Happy Investing,
Patrick & The Daily Peel Team
Was this email forwarded to you? Sign up for the WSO Daily Peel here.