75-bps Fueling a Rally | The Daily Peel | 7/28/22
Wednesday morning's futures tried to make up for Tuesday's lost ground. Earnings continued to be better than expected. Treasuries declined into the FOMC announcement yesterday afternoon, and then the yield curve steepened following the rate hike announcement.
Daddy JPow giveth another 75 bps in the name of full employment and price stability, and then stonks took off like a rocket ship. Every sector in the S&P shot up yesterday afternoon.
At the closing bell, the major indices had a great day, and the VIX was down to 23. The Dow was up 1.37%, and the S&P was up 2.62%. The real winner yesterday was the Nasdaq, shooting up like a Falcon 9, finishing up 4.06%.
We're excited to announce WSO has partnered with Bloomberg Exam Prep to offer a whopping 100 'naners off any CFA exam prep plan. Pick your exam & pass it, guaranteed, by working smarter-not-harder using their premium content & renowned expert tutors. Use Code WSO100
Let's get into it.
Yesterday - During which month do people sleep the least?
February. It has the fewest nights.
Today - We will mail a t-shirt to today's fifteenth correct respondent. Happy Thursday!
What runs all around a backyard yet never moves?
Shoot us your guesses at [email protected] with the subject line "Banana Brain Teaser" or simply click here to reply!
75 Bps - Daddy JPow waved his magic wand again yesterday, announcing an additional 75 bps rate hike to deliver us from inflation.
This really wasn't a terribly big surprise, but it is historic. Two 75 bps hikes in a row, given many other contextual scenarios, would be like pouring a bucket of water on a fire that is just getting started.
The issue here is that this fire is more like a gender reveal-induced forest fire in California. It is raging, and these couple of buckets of water aren't going to get the economy across the finish line.
But are rate hikes the right way to solve our inflation woes?
If you trust politicians and their opinions about the economy, Elizabeth Warren's take is that rate hikes aren't the cure for our economic woes. She thinks that raising rates is just another blunt instrument that won't cool inflation and protect the American consumer from runaway prices.
Her alternative: attack the supply side by legislating price controls, antitrust, and consumer protection into law.
I'm taking some liberties on translating her rationale into something I deem as sensible here-and I absolutely hate to say it because In Daddy JPow We (as in me) Trust-but I agree.
Raising rates until unemployment goes to 10% is not a very eloquent solution to the runaway inflation train.
But do we think that any politician of any political party can author legislation that doesn't step on the toes of the other 434 or 99 members of their side of Congress?
Those conflicts result in backdoor handshakes, extra pork, and pet projects. These are also known as government inefficiency.
The Fastest, Most Effective Way
to Pass the CFA Exam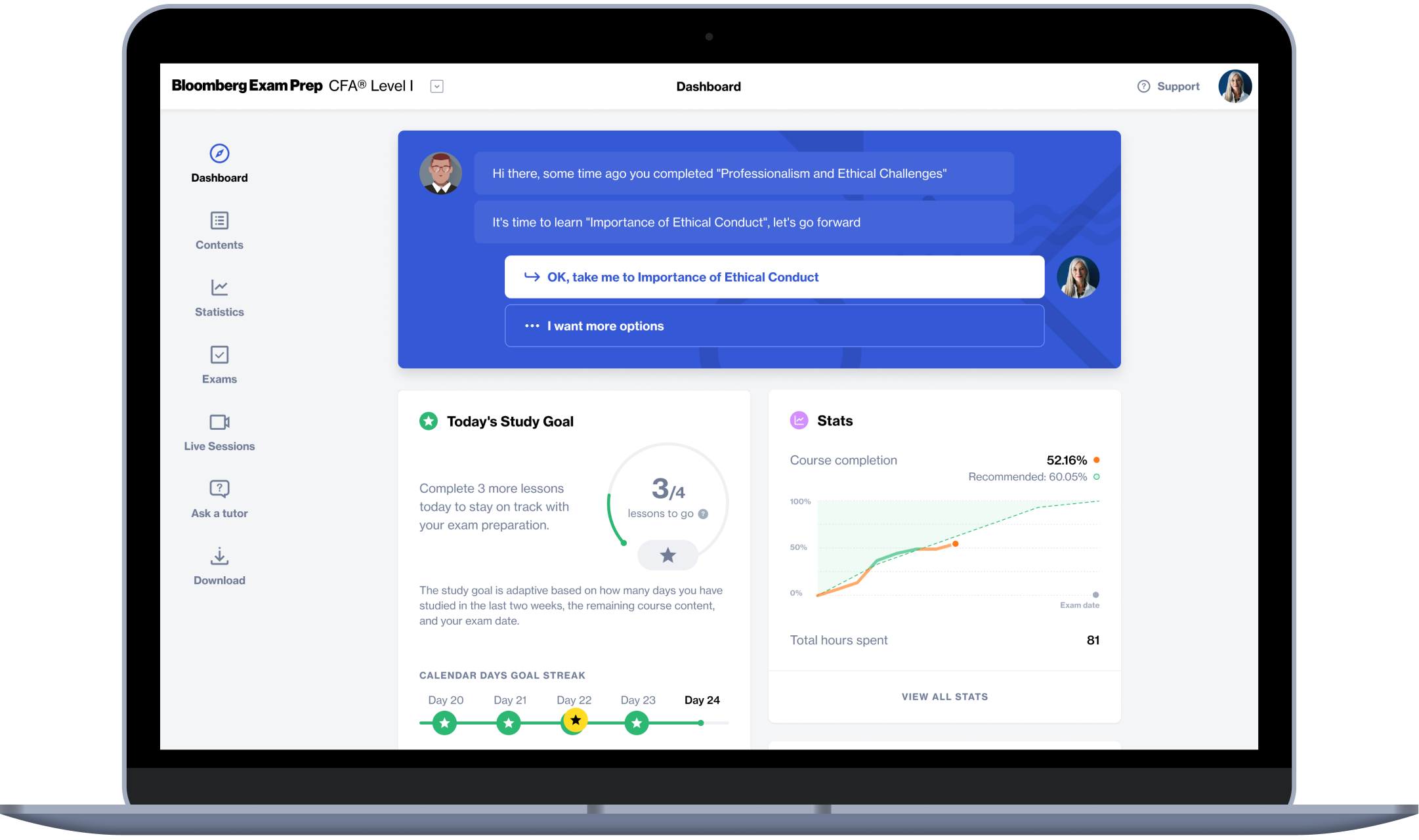 WSO has partnered with Bloomberg Exam Prep to offer a whopping 100 'naners off any CFA exam prep plan. Pick your exam & pass it, guaranteed, by working smarter-not-harder using their premium content & renowned expert tutors.
Their adaptive learning technology will take you straight to the point & help you pass on your first shot. Save 100+ hours compared to the other guys' prep courses, leveraging AI to focus on your personal curriculum target areas. Don't miss out; grab your prep plan today.
Chipotle ($CMG) - Have you ever felt ashamed for wanting a second burrito after nom-nomming your way through your first? It can't be just me, especially after a pretty good quarter amidst a softening consumer who is getting tighter with each dollar in their pocket.
While they missed their revenue estimates by about a percent, $CMG beat EPS estimates, propelling the stock higher.
On earnings news, shares of $CMG were up 14.69% yesterday.
Big Tech ($XLK) - I never thought I would call Daddy JPow a growth whisperer again, but after he took the podium, any earnings season-fueled news towards the upside took off like a bat out of hell. Google, Microsoft, Amazon, Meta. Our favorite pump names from 2021 came back in style in a hurry.
Even the semis got in on the fun, going bananas after the CHIPS act passed the first half of its journey towards being signed into law.
At the closing bell, the S&P Tech Sector SPDR ETF $XLK was up 4.30%.
F45 Training Holdings ($FXLV) - When you look at the earnings from F45 versus what their original guidance was, you have to ask: wtf were these cats smokin'?
Their earnings call was out of left field compared to previously published guidance and sentiment from the fitness company. Sorry, Marky Mark, this was downright bad. I find it hard to believe that this is still a $100mn company.
It's too early to say it, but I would mark these guys as a prime target to move off the NYSE eventually.
On awful earnings and inconsistent guidance, F45 was down a massive 61.54%.
Kraft Heinz ($KHC) - Even after beating earnings estimates, shares of really the only actual ketchup maker for those who know their ketchup cratered.
Profit margins for $KHC started to slim, and both top and bottom line results were short of the goal post that $KHC set about a year ago.
At the closing bell, $KHC was the biggest loser in the Nasdaq, and its stock price closed down 5.95%.
The Rise of the Unicorn and Private Market Access - When the term "unicorn" was coined, there were only about three dozen companies that fit the bill: a business valued at greater than $1Bn that hasn't yet gone public.
Fast forward to today, and the number of companies in the private world with these outsized valuations has ballooned to more than 1100. Mind you, the idea of a unicorn was thought up in 2013-less than 10 years ago.
That's a lot of new applications for what was once a relatively exclusive club.
Private markets afford money managers a playground in which there is a set of different rules. Private companies are under less scrutiny, face less regulation, and have increased flexibility to accomplish their internal mission and vision.
Public companies are subject to more frequent reporting requirements and disclosures that, at times, are bureaucratic hurdles to actually running a business.
Public markets are huge. Think about the S&P 500 and all of its market cap. Indeed, the top ten names by size hold almost a third of the market cap for the biggest 500 companies in the index.
The idea of small-cap investment isn't completely dead in public markets, but the upside is not the same as in private markets.
Think about it. Why else would participants in private markets tolerate decreased liquidity and larger fees? The risk-return possibilities are mas bueno in the private world.
Lately, one of the OG names in the private space, Blackstone, has created real estate and debt funds aimed at private individuals, cracking open access to a once untouchable asset class.
If you're looking to break into this game with small money, it might not be a bad idea; but on the aggregate level, a rapid influx of new capital into any market tends to increase market efficiency while lowering your chances of generating any alpha.
This new trend is just that: a trend. Investors will always look for new opportunities, just like bankers will always look to push new products. That's how it works – the real constant here is change.
"The only investors who shouldn't diversify are those who are right 100% of the time." - John Templeton