8-Handle CPI Print, Low Sentiment | The Daily Peel | 6/13/22
Welcome to Monday. After another down week, we are back at it again. Stonks got crushed on Friday, seeing a major sell-off after another elevated CPI print and the lowest consumer sentiment in the history of Ann Arbor's survey. BTC and ETH sold off over the weekend, and oil is still above $120 a barrel.
At the closing bell, the Dow was down 2.73%, the S&P lost 2.91%, and the Nasdaq lost 3.52%. *Big oof*
Certain skills are indispensable in Finance: using Excel without a mouse, a thorough understanding of the principles of financial statements, and PowerPoint Ninja skills to slay any pitch deck. Set yourself up for success and sharpen your skills with our WSO Foundations Package.
Let's get into it.
Certain skills are foundational for finance professionals
The Kingdom is making a play to buy a professional golf tour, and the PGA is hitting back
Gas is above $7 a gallon in some places and is not looking back, prompting one Mass gas station owner to stop selling gas. Interesting form of protest…
As prices soar and consumers play defense, earnings estimates might be too high
Infant formula shortage continues with babies continuing to be rushed to hospitals
 
Friday - What flies without wings? Time.
Today - For today's BBT, we will slash 100 'naners off of our WSO Foundations Package for the first 20 correct respondents.
What kind of running actually ends up meaning walking?
Shoot us your guesses at [email protected] with the subject line "Banana Brain Teaser" or simply click here to reply!
Another 8-handle? - Hopefully, you had a better weekend than the millions of small businesses in America who are getting squeezed by higher labor prices and increased materials prices with associated COGS expenses.
A soft landing is a rare occurrence. Consider how strongly the Fed executed its easing. This is basically a directional shift approximately 180 out from the fiscal and monetary environment from a year ago.
And it looks like everything that the Fed has done to date hasn't exactly fulfilled the peak inflation storyline like pundits thought about a month ago.
Last week's economic data was, well, not great. The CPI print came in with another 8-handle, and consumer sentiment, as reported by the nerds in Ann Arbor, was lower than it has literally ever been in the history of their survey.
The silver lining is that a depressed consumer means that inflation might eventually cool off. The bad news: it appears that inflation is around to stay for a while as we watch it move sideways.
The consumer is struggling, and the retail names that we have been so critical of in the last few weeks are going to really feel the squeeze. As we have seen these companies cut their guidance, things appear to only be getting worse.
The truth is in the data, and it would appear that the macro headwinds are blowing stronger than ever.
I don't give financial advice, but I am personally buckling up for continued volatility, further valuation compression, and a risk-off rotation in the markets.
You be your own judge, apes. Good luck.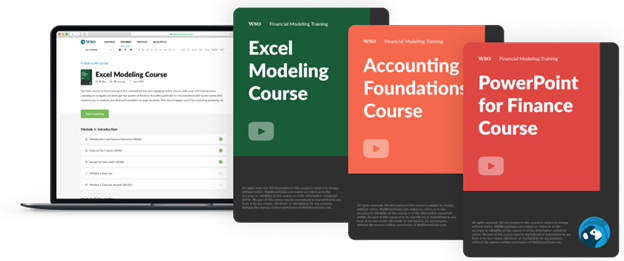 Certain skills are indispensable in Finance. Financial statements are the backbone of fundamental analysis, and Excel and PowerPoint are their love languages. If you want to be successful in this world, knowing the ins and outs of these three foundational topics will make you dangerous in any shop, from boutique to BB.
Dive into more than 100 lessons put together by experienced finance professionals that will help you sharpen the skills you need to build your foundation in Finance.
Consumer Staples ($HSY, $KR, $K) - Kind of hard to write about a bunch of winners when the broader market was down 2.5%. That being said, Friday investors fled into risk-off names that have strong balance sheets and sticky demand even at higher prices.
These names included Hershey, Kroger, and Kellogg, which were up 1.86%, 1.31%, and 1.34%, respectively.
Pinduoduo ($PDD) - Shares of the Chinese internet company have been on fire lately, ripping higher by over 8.6% in the last week alone.
Whether it's regulatory wins, video game licensing, or assuaging fears over delisting, $PDD had a surprisingly great few days in the news and in the markets. On Friday, shares were up 2.13%.
DocuSign ($DOCU) - On days like Friday, this section of The Peel basically writes itself.
Friday's big loser was $DOCU. They posted a $hitty earnings report, a la tragedy, with a net loss in the $27bn range. Their leadership also noted severe headwinds in the coming quarters as they slashed their guidance for the upcoming months.
$DOCU was down 24.53% on Friday. Yikes.
Stitchfix ($SFIX) - Another big time loser from Friday was Stitchfix. After making sweeping announcements about layoffs and slashing their guidance, shares of $SFIX tumbled in pre-market hours Friday.
The online personal styling company is squarely a luxury good, and in a recession, these types of services are some of the first to be removed from the consumers' budgets. Shares of $SFIX fell 18.51% on Friday.
Inevitable Recession? - After hearing from the Treasury Secretary again last week and watching her double down that nothing yet points towards a recession, here at The Peel, we kind of disagree.
Something definitely feels different. Businesses are absolutely feeling the squeeze. Just like consumers, companies are becoming tighter with their next dollar than they were with their last.
The proof is in the data. I would argue that a softening consumer due to red hot inflation and low confidence in the state of the economy is the first culprit. But then it's also time to consider that supply chains are still a bit broken, inventories are definitely out of whack, and asset prices are dipping.
But could there actually be a silver lining here?
Don't laugh. Hear me out for a sec.
Perhaps a recession is good for inflation?
A little bit of GDP contraction might help curb demand and allow prices to stabilize.
It seems as though this process is already starting. Do I think that we will see deflationary pressures as this works itself out? I wouldn't bet on it - but you know me, I'm not a gambler, and I don't give financial advice.
The data that we write about here might be useful to some of you. However, it's important to keep in mind that each metric or snippet of economic data only tells one piece of the story from one angle. That's it. On the aggregate, you need to make your own decisions and follow your own convictions.
There's a spectrum between evacuating into cash and yolo-ing into deep OTM calls. Only you can make that decision. Hopefully, a little bit of color helps inspire some creativity while you make it.
Happy Monday, apes.
"Money is better than poverty, if only for financial reasons." - Woody Allen