A Four-Week Streak Snapped | The Daily Peel | 8/22/22
Markets ended the week lower, closing both down for the day on Friday as well as snapping a four-week win streak. The ten-year treasury yield is back flirting with 3% after moving higher on Friday. WTI Crude is still around $90/barrel.
ETH lost about 15% of its value between mid-last week and Sunday, while BTC is back around 21k.
At the closing bell on Friday, the Dow was down 0.86%, the Nasdaq lost 2.01%, and the S&P shed 1.29%.
We're excited to announce WSO has partnered with Bloomberg Exam Prep to offer a whopping 100 'naners off regular GMAT prep plans. For this application cycle only, use their prep technology to crush the GMAT. Get the score you need to set your application apart. Use this link
Let's get into it.
Friday - Where do fish keep their money?
The River Bank.
Today - It's 50 bananas off of our Excel Modeling Course for the first 15 respondents. LFG!
Which three letters can frighten a thief away?
Shoot us your guesses at [email protected] with the subject line "Banana Brain Teaser" or simply click here to reply!
Did We Bottom? - While many names have participated in a broader market rally in the last handful of weeks, there aren't many talking heads willing to call it; have we bottomed? Is the bear market over?
In retrospect, the time to enter a bear market is indicative of how quickly you'll exit one, and this bear market should take a long time to recover from if past data is any actual indicator of future outcomes.
We know in markets, this isn't always true, but some relationships that we uncover with data are more than just coincidental.
As markets have bounced back in recent weeks, loads of sectors have jumped on board with the rally. That is usually a good sign for a comeback, meaning that it's not just an isolated incident in one niche corner of equity markets.
Even ETH has had a nice little run, recovering from down near $1k all the way up to $2k.
As of late last week, more than 90% of the S&P 500 were above their 50-day moving average. That's a positive sign for a recovering bear market. But does that mean we are actually out of the woods?
The list of questions that I would ask any "expert" would include questions about uncertainty surrounding commodities markets, energy prices, and the global food supply.
Is a deep, dark recession on the horizon for Europe? How uncertain is their energy future across the pond? Could this drive a wedge between the economies of North America and the rest of the Western World? Another unknown is the evolution of the PRC's economy.
Just because stocks have done well here doesn't mean the world's economy is healthy. Globally earnings are still expected to slow. So why would the market entertain a higher multiple? That doesn't make a lot of sense to me.
The good news is that we don't need to answer all of these questions at once. From an investment perspective, you don't need to solve the macro problem to come up with your thesis or write your playbook.
The Best Way to Prep for the GMAT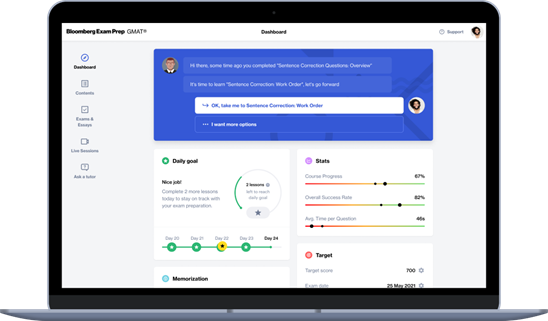 We're excited to announce WSO has partnered with Bloomberg Exam Prep to offer a whopping 100 'nanners off regular GMAT prep plans. For this application cycle only, get the score you need to secure your seat at a T20 or even a Magnificent 7 MBA program.
The admissions process is rigorous & highly competitive. Set yourself apart with a prep plan to master the entire exam curriculum. Leverage adaptive learning technology, premium content and one-on-one tutoring to earn your best score, guaranteed.
Occidental Petroleum ($OXY) - $OXY has been on a tear this year, particularly as energy prices are on the rise. It's up almost 130% since the first of the year, which is a strong gain considering how the broader markets have performed.
But the secret to their stock's success is not just energy prices; it's business acumen. Their leadership and their model are so great that the Oracle of Omaha wants to load up on more of the company. Rumor has it that Warren Buffett might eventually hold as much as 50% of the energy name, and this has sent shares soaring.
On Friday, its shares were up 9.85%.
Warner Brothers Discovery ($WBD) - Shares of $WBD were up 4.09% on Friday, which isn't surprising as HBO Max preps for its big merger with Discovery+.
It's finally a reality: streaming has topped cable subscriptions in terms of viewing time. This was measured in the month of July. It is a little shocking that it took this long, but considering how many boomers there are out there paying $350/month for a bundle from the cable company that includes a landline, I guess we've finally made it.
Coinbase ($COIN) - Even after what has been a stellar few weeks, shares of $COIN plummeted on Friday, closing down 11.27%.
DeFi brands like Hive and Marathon Digital also took it in the face as BTC plunged on Friday.
Investors still are feeling out the Fed and further rate hikes, so it remains to be seen how well both these platforms and the sh*tcoins they allow users to peddle will perform in the coming months.
Meta Platforms ($META) - The artist formerly known as Facebook took a lashing on Friday, closing down 3.84%.
Shares of the advertising giant have been struggling of late, as tech shares, in general, have taken the brunt of this year's pullback.
Late last week, $META received a price target cut from Morgan Stanley, and this was one of the more credible bearish cuts out there.
First, people f*cking hate reels on Insta, but Zuck is pushing them like a rope after eight old-fashioneds. Second, their portfolio of brands is struggling to monetize its user base like the Facebook of old.
An American Homecoming - The C19 pandemic led to many realizations in our daily lives.
Sometimes, takeout is indeed better than being surrounded by people whom you don't know nor about whom you give a f*ck.
Commuting sucks. Whether it's 2 minutes or 2 hours, taking a zoom call in your boxers from your bedside table is way better than going in person to sit in a room where side conversations and scrolling through TikTok videos are discouraged.
An outsized reliance on globalization to keep the wheels of our economy turning is perhaps not the best way to guarantee supply-side stability.
Bringing jobs back to the CONUS is all the rage lately, and not just the jobs but also the processes that generate intermediate goods too.
American companies are on pace to bring more than 350k jobs back to America this year, a number that is probably even a little light because of labor supply challenges here in the States.
This number is the highest reshore rate in the history of this metric, a datapoint that has been tracked by nerds for more than a decade.
Strategists in PE and Economists in both the public and private sectors predict that this trend will not be fleeting. In other words, this move towards a more America-first economy is going to last a good long while.
Some experts argue that globalization is beginning a retrenchment, while others think that this is just the case for companies doing business with the bad boys of the global world order.
Supply chains worldwide have been dealt one tough hand after another for the last couple of years; from C19 to the Russian invasion of Ukraine, this type of volatility is somewhat avoidable if businesses institute additional control over their own processes.
This type of control could potentially alleviate future supply-side disruptions, which honestly have come at a cost greater than the savings of bargain basement overseas labor costs for some industries.
If you're looking to take part in this push, don't be so sure that your participation will actually be required. Just like a tortilla flipper at Chipotle, companies are looking to replace jobs with capex in the form of technology.
From an investment perspective, the future of robotics and system engineering solutions for automating the workplace looks bright. The next decade will be pivotal for working out some of today's kinks, generating a slew of opportunities for new entrepreneurs, ideas, and businesses alike.
"There is little success where there is little laughter." - Andrew Carnegie