Beat, Don't Meet | The Daily Peel | 8/27/21
Silver Banana goes to...

Market Snapshot
Stocks trended lower yesterday amidst a bombing in Kabul and a hawkish Fed view. The Nasdaq led the fall, dropping 0.65%, while the S&P slid 0.58% and the Dow 0.54%. Let's get into it.
Macro Monkey Says
Durable Goods – Hopefully none of your refrigerators break down anytime soon, because you might just starve. In the latest example of the wild imbalance between consumer demand and producer supply, the number of unfilled orders for durable goods has reached a new multi-decade high. Durable goods are things like washing machines, air conditioners, tools, and furniture, and with the supply chain constraints lingering from the pandemic mixed with the fat wallets of consumers (also lingering from the pandemic), retail inventory has become basically nonexistent and backorders keep climbing. I can only imagine there is someone somewhere in the southern U.S. who's AC recently broke and has to wait weeks for a new one. If such a person does exist, let's keep them in our prayers.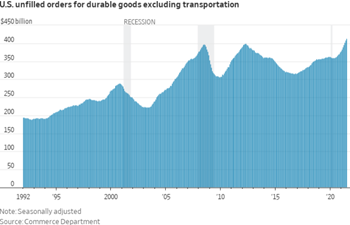 Volatility Visualized – El Salvador, specifically President Nayib Bukele, has taken maybe the biggest BTC gamble yet. On September 7th, the two legal tenders in the Central American nation will be the U.S. Dollar and the extremely volatile digital currency purporting to be the new gold. Below, we can grasp just how volatile this currency is compared to others. Bukele has put the $26bn Salvadoran economy in the hands of a barely more than a decade old asset, as a potential crash in BTC price could jeopardize the country's entire financial system. Within a few years, this guy will either be considered a trailblazing genius or one the most idiotic world leaders we've ever seen. Place your bets now.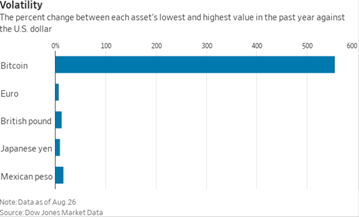 Looking to invest into real estate, but don't want another full-time job?
Make sure to check out Awning, the first real estate investing platform dedicated to the busy investor.
With Awning, you're paired with an expert advisor who understands your financial goals and works with you to find the best rental investments (no matter where you live!). Awning's technology finds the top 1% of opportunities and brings them to you daily. Invest and earn, without the headache!
What's Ripe
Lordstown Motors ($RIDE) – Fraudulent shmaudulent. Who cares when you're getting a new CEO?! That was the attitude of Lordstown Motors investors yesterday, as shares in the EV firm with an ongoing DOJ probe pumped 17.8% on the announcement of new chief executive, Daniel Ninivaggi. It's going to take a lot to fix up a firm under fire by auditors and the U.S. government, but as a former employee of the iconic Carl Icahn, this may be the man for the job.
Snowflake ($SNOW) – Snowflake earnings melted street expectations, sending shares up 7.7%, to its highest in 6 months. Revenue blew past estimates with 104% YoY growth and net loss came in far narrower than anticipated. The Buffet-backed very non-Buffet-esque data warehousing-as-a-service firm also raised guidance, leading to increased price targets and a lot of smiles out in Omaha.
What's Rotten
Autodesk ($ADSK) – It's kind of implied on Wall Street that if you meet rather than beat earnings expectations, you're basically trash. Autodesk clearly did not get the memo as the firm only met projections and then made the fatal mistake of lowering guidance. As a result, investors cried and sent shares down 9.4% yesterday. Maybe take a lesson from Lordstown and just lie next time?
Dollar Stores ($DLTR / $DG) – Dollar Stores are not, have never been, or ever will be, hot. This is especially true after Dollar Tree and Dollar General reported their most recent quarterly earnings and it did not go well at all. Falling 12.1% and 3.9% respectively, Dollar Tree missed on revenue while Dollar General beat, and both firms reported better than expected earnings. But with guidance short of expectations, not much could save them from the fickle minds of the Street.
Thought Banana:
Computer Art – The 170th largest digital currency by market cap, Fetch.ai, has done something really weird. The artificial intelligence lab for blockchain just announced the release of "Colearn Paint." Colearn Paint is an AI-based NFT generating platform that allows users to collectively create and own NFT paintings automatically. Focused on abstract paintings, users can participate in a Dutch Auction to get a portion of the soon-to-be-made NFT, they then can input "randomness patterns" for the artwork, and finally the NFT gets generated and participants split the proceeds from the sale. I warned you that it was weird.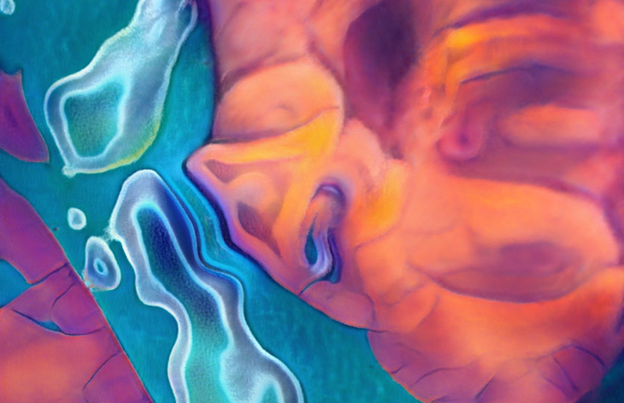 (a picture of the picture-art generated by a computer from Fetch.ai)
"In trading/investing, it's not about how much you make but rather how much you don't lose."
– Bernard Baruch
Happy Investing,
Patrick & The Daily Peel Team
Was this email forwarded to you? Sign up for the WSO Daily Peel here.