BTC To The Rescue | The Daily Peel | 3/2/22
Market Snapshot
Easy W for oil traders and a fat L for equity holders yesterday. That's been the story for the past few weeks, and yesterday wasn't very different. As a result, the Dow shed 1.76% while the Nasdaq dropped 1.59% and the S&P lost 1.55%.
Let's get into it.
Macro Monkey Says
Oil Spill - A major oil spill is incoming, but otters and penguins don't have much to worry about this time. Rather than BP unloading 210mn barrels into the Gulf of Mexico, Joe Biden and the IEA are spilling 60mn barrels into the oil market.
By now, if you haven't seen at least a dozen rundowns on why oil prices have skyrocketed of late, you might want to get your eyes checked. This is one of few, if not the only, commodity that affects everyone, from Saudi billionaires to Jane Street's best oil trader to a 16-year old who just got his driver's license. And it's that broad impact that makes this move by Joey B and the IEA crucial, both economically and politically.
Approximately 50% of the 60mn barrels will come from the U.S. Strategic Petroleum Reserve, while the other half will come from a combination of other IEA nations. Dumping this amount of oil on markets is expected to ease prices, at least a little bit, which shouldn't be too hard with crude trading at a 7-year high of $105/bbl.
Buuuttt… the thing is, 60mn barrels isn't a whole lot. Global markets eat up >91mn barrels per day, so dumping a supply roughly equivalent to 2/3 of that daily demand is unlikely to have a huge effect (and it hasn't, by yesterday's close at least). So, hate to break the news, but it's gonna take a lot to get those pump prices down.
One thing Americans hate more than the metric system is high gas prices, and politicians know this all too well. With midterms coming up in November of this year, Democrats in control of the Presidency and House of Representatives desperately need pump prices reduced by election day. I guess we'll just have to see about that.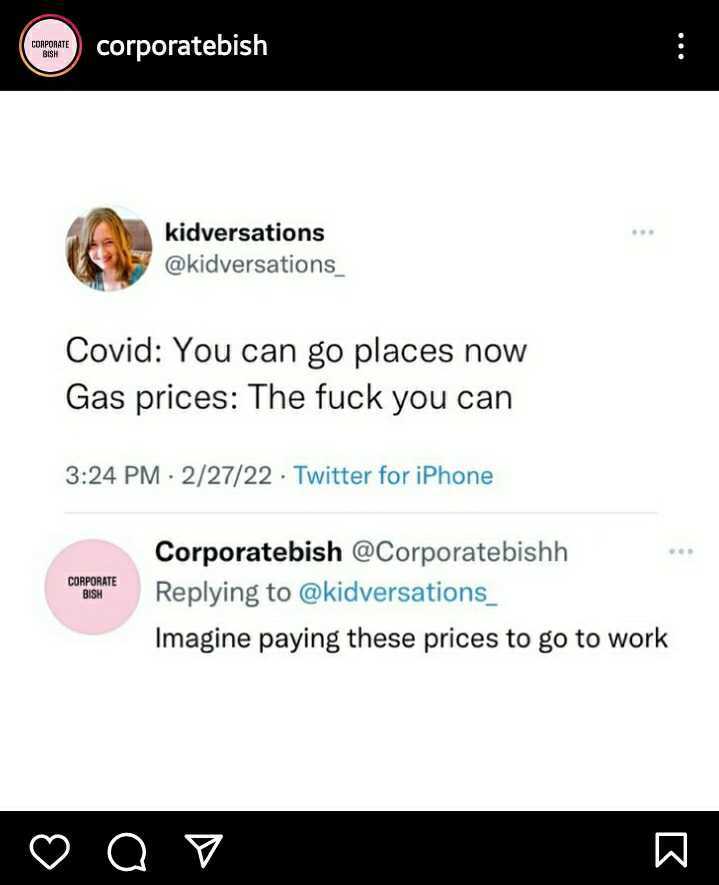 What's Ripe
Target ($TGT) - I've never heard a better description for what kinds of products Target sells than CEO Brian Cornell's comments on yesterday's earnings call, describing Target goods as "affordable luxury." Nailed it, and nailed everything else for the quarter too.
Sales in 2021 finally broke the $100bn mark, with a big boost from the infamous c-virus. Describing themselves as a growth company, Target provided guidance for continued high-single digit sales growth this year. Shares soared 9.8%.
Most notably, however, was Target's unique distribution channel for online orders. 19% of total revenue came from online activity, but 96% of orders were fulfilled in-store, saving gobs of money on delivery.
So it's not just you. Everyone truly loves simply going inside of a Target store.
Lockheed Martin ($LMT) - For the most obvious of reasons, aerospace and defense stocks have soared recently. Lockheed Martin, a ginormous US-based A&D firm, is loving it, up another 5.3% yesterday.
Here, the freshman German Chancellor Olaf Scholz is the true homie. Basically, Germany is ramping up the cash going into its military budget by a lot. Over $110bn (€100bn) will be spent this year alone to "modernize" their military.
Lockheed, and other defense players, are set to get a fat bag. And as of now, the market is guessing that other NATO nations will soon follow suit.
What's Rotten
Cruise Stocks ($RCL, $CCL, $NCLH) - Cruises can be an absolute blast for the whole family. Cruise ships, on the other hand, are little more than floating deathtraps in the middle of the ocean.
Unfortunately, during wartime, the idea of them being floating deathtraps takes precedents. Warfare in the black sea and a lack of access to Russian ports have taken a heavy toll on the industry already.
And yesterday, each of the U.S.'s big three cruise stocks sunk. Norwegian was down 5.2%, while Royal Caribbean sank 8.7%, and Carnival lost a big 7.2%.
Financial Stocks ($XLF) - Tough day to be a bank. It seems like traders and management alike are realizing just how exposed their banks are to Russia and the relevant sanctions, particularly from the SWIFT cutoff.
U.S. banks tumbled as a result. Some are far worse off than others, as exposure to Russian assets varies widely. For one, Citigroup is the most exposed (that we know of), with over $10bn of exposure to Russian markets through sovereign debt, retail banking, and other assets. Sure they're trying to sell these "assets," but no one's buying.
The S&P financial sector ETF, XLF, tanked 3.7% on the day.
Thought Banana
BTC to the Rescue - Like when one door closes and another one opens, when one currency collapses, another one skyrockets… apparently.
Given that it wasn't more than a week ago that we ranted about how BTC and equities are actually correlated and about how BTC is just as susceptible to inflation as any other risky asset, we deserve to get bullied for that. Markets poured cold water on that take real quick this week.
In just the past 24hrs alone, BTC has surged 12.4%, while ETH has seen a gain of 10.6%. It took well over a decade for the S&P to gain 10% from its dot-com bubble highs, and BTC is putting up numbers like that in the same time it takes for the new Wordle to come out.
What is going on? While the jury is still out on just how correlated/uncorrelated/inflation-protected/non-inflation-protected BTC and other digital assets are, one thing they're damn good for is war.
Digital currencies carry the risk/luxury (depending on how you look at it) of not being controlled by a single government entity. That means that no central bank can freeze BTC, so citizens fleeing Ukraine and other regions are going full BTC maximalist on us.
And it makes sense. Another thing BTC and digital currencies are undeniably amazing for is the ease of movement. So when it comes to wartime, it makes sense that people want to load up.
Sidenote: what a trade! Depending on timing, the funds put into BTC over the last 7-days could be up as much as 30%. That'll be a nice surprise for struggling Ukrainian citizens trying to save their cash.
"Risk cannot be eliminated; it just gets transferred and spread." - Howard Marks
Happy Investing,
Patrick & The Daily Peel Team
Was this email forwarded to you? Sign up for the WSO Daily Peel here.