MARKETS
U.S. markets: Since the start of the week, the S&P has lost about 2.5% mostly due to two trade-related tweets.
Bonds: Part of the U.S. Treasury yield curve inverted yesterday for the first time since March. Some investors read that headline as the sign of a looming recession.
Want Morning Brew Daily Served Fresh to Your Inbox?
Drop Your Email Below...

TRADE
From Tweet to Policy

We end the week where we started, feeling all and writing about a trade war between the world's two largest economies. The tariff bump President Trump promised on Sunday went into effect at 12:01am last night when the two sides couldn't agree on a deal they've been negotiating for months.
The bump: The 10% tariffs on $200 billion in Chinese goods are now 25%. That'll affect over 5,700 import categories, but not goods that are cruising the Pacific on their way to the U.S. from China.
How we got here
Trade talks hit a wall in the past few weeks as U.S. officials accused China of backing out of crucial promises (China disputes this). And not even a "beautiful letter" sent from Chinese President Xi Jinping could sway Trump, who'd been hitting China over unfair trade practices well before he even ran for office.
For most of you, trade war headlines have so far mostly been just that-headlines. Tariffs haven't hit most consumer products like they have farmers and manufacturers. But things could change with the tariff hike and Trump's threat to slap tariffs on $325 billion more in Chinese goods.
What happens next?
It's not like the U.S. raises tariffs on Chinese goods and we all go have a margarita. China will respond, which, per the NYT, could include instituting retaliatory tariffs or mobilizing its consumers to boycott American products. That's why most economists consider trade barriers like tariffs a lose-lose. China's stock market agrees.
Of course, President Trump doesn't see it that way. His administration has alleged China's been ripping U.S. companies off, particularly through stealing IP. He views tariffs as the best tool to force China to abandon those practices.
Looking ahead: Negotiators will be hitting the coffee and donuts hard as talks resume today...but under much different circumstances.
UBER IPO

Uber Nestles Into Its Place in History
Uber's monster $8.1 billion IPO today will be one of the biggest in U.S. history and the largest since Alibaba in 2014. Like, your kids will TikTok about this someday.
How'd it get so big?
Milk with dinner. Plus...just waiting it out. Uber's one of the many high-octane startups hitting the public market this year with almost a decade of experience under their belts. Staying private for longer means tapping VCs' increasingly deep pockets and avoiding the Simon Cowells of the public markets.
From 1995-2005, the average age of a company going public was three years.
Now, it's 11 years.
And valuations are also on the up. When Amazon (1997) and Yahoo (1996) went public, they were worth less than $500 million. The average valuation of VC-backed U.S. tech firms going public today is $9.6 billion, and 2019's grand total could top $150 billion.
But even at that size...Uber has tempered expectations in light of rival Lyft's nearly 30% slump from its own IPO price. Instead of the $120 billion valuation some investors floated, Uber landed on $82.4 billion.
+ By the way, we weren't joking yesterday. We'll be near the NYSE tailgating the IPO this morning. Come join or follow along on Instagram.
ENERGY
Occidental Swoops In, Chevron Bows Out
If you're a Texas oil driller, you dance with the one that brung ya...or the one that offers a sweeter deal. Yesterday, Chevron (+3.14%) said it would not submit a new bid to take over Anadarko Petroleum (-3.26%), leaving the much smaller Occidental (-6.44%) holding the keys to a pretty nice ride. Anadarko is a key operator in the Permian Basin, which has helped fuel the recent U.S. oil boom.
Occidental's offer? $38 billion (78% cash and 22% stock) with financial support from one Warren Buffett.
Chevron's offer? $33 billion. CEO Mike Wirth said Occidental was lucky his friends held him back: "Make no mistake about it, we had the financial capacity to easily outbid Occidental," he told Bloomberg. Chevron will receive a $1 billion "breakup fee," which it will use to buy back shares.
Zoom out: This deal makes underdog Occidental the third-largest U.S. oil company and the biggest player in the hyper-productive Permian sandbox. One analyst who will never be a Brew writer called it "the boldest M&A thing that's happened since the '80s."
SPACE
Fly Me to the Moon, Jeff Bezos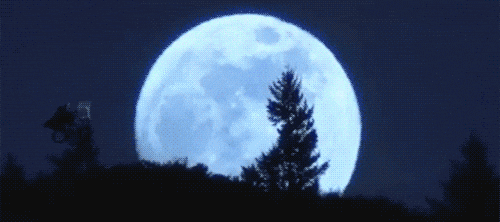 Bezos's private spaceflight company, Blue Origin, just unveiled its Blue Moon lunar lander-step one in creating self-sustaining colonies in space.
At yesterday's presser, Bezos revealed an entirely new way of thinking about space colonization once this planet goes kablooey.
The strategy: Forget distant planets, Elon. Bezos wants to build massive spaceborne structures called "O'Neill Worlds," complete with people, animals, plants, and alive girls.
Getting there starts with "gateways," Bezos said, like Blue Moon.
The lunar lander will be able to transport massive amounts of cargo and run on liquid hydrogen.
It'll get a new engine called the BE-7. That could test fire for the first time this summer.
Zoom out: VP Mike Pence wants astronauts back on the moon by 2024, and someone's gotta get them there. Far less use of the word "Sputnik" this time around, but the money on the line in the 21st century's space race has given the U.S. "perhaps the deepest industrial base for space-launch in world history," as Quartz's Tim Fernholz writes.
QUIZ
Lean Quizine
A stronger TV lineup than the XFL. More caffeinated than Luckin and Starbucks...combined. Actually knows what "camp" means. It's the Brew's Weekly News Quiz.
1. What was Uber's original name back when it was started in 2009? Bonus point: Name its two (2) co-founders.
2. The U.S. has imposed a 17.5% import duty on tomatoes from which country?
China
Mexico
Canada
Russia
3. Who said this: "When you find a problem you have to do something about it, and I think that's where they probably made a mistake at Wells Fargo, and they made it at Salomon."
4. What were the odds that Country House, the de facto Kentucky Derby champion, would win the race?
5. Fill in the blank: Google CEO Sundar Pichai said his company is working on making sure _________ is "fair and works for everyone."
6. Which recently public food company is partnering with the corporation that owns Hooters to offer some...unique burger options?
Answers: 1) UberCab, Travis Kalanick and Garrett Camp 2) Mexico 3) Warren Buffett at his annual shareholders meeting 4) 65-1 5) Artificial intelligence 6) Beyond Meat
WHAT ELSE IS BREWING
Delta (+0.25%) is testing free wi-fi on 55 domestic flights this month. You can do everything for free except the one thing you want to do-stream video.
Bernie and AOC (aka Sen. Bernie Sanders and Rep. Alexandria Ocasio-Cortez) introduced a bill to prevent credit card interest rates from topping 15%.
Harry's, the shaving startup, is getting bought by Schick owner Edgewell Personal Care (-15.72%) for $1.4 billion.
Dogfish Head Brewery, the pride of Delaware, agreed to be acquired by Boston Beer Company for $300 million.
Facebook (-0.37%) co-founder Chris Hughes unleashed quite the op-ed in the NYT. We think the headline says it all: "It's Time to Break Up Facebook."
BREAKROOM
Friday Puzzle
Via Popular Mechanics: A week before Thanksgiving, a sly turkey is hiding from a family that wants to cook it for the holiday dinner. There are five boxes in a row, and the turkey hides in one of these boxes. Each night, the turkey moves one box to the left or right, hiding in an adjacent box the next day. Each morning, the family can look in one box to try to find the turkey.
How can the family guarantee they will find the turkey before Thanksgiving dinner?
Want Morning Brew Daily Served Fresh to Your Inbox?
Drop Your Email Below...

Breakroom Answers
Friday Puzzle
(The solution)