December Half Pointer En Route | The Daily Peel | 11/23/22

Nov 23, 2022 | Peel #344
Give your silver bananas to...

Pretty light market activity Tuesday as traders travel for the holiday. Stocks managed to eke out decent gains as bond yields sank.
Strong retail results have the market cautiously optimistic about a busy Black Friday and holiday season overall.
A half-point increase in December is widely expected, but investors will be tuning in to Fed speeches this week for any hints on the contrary.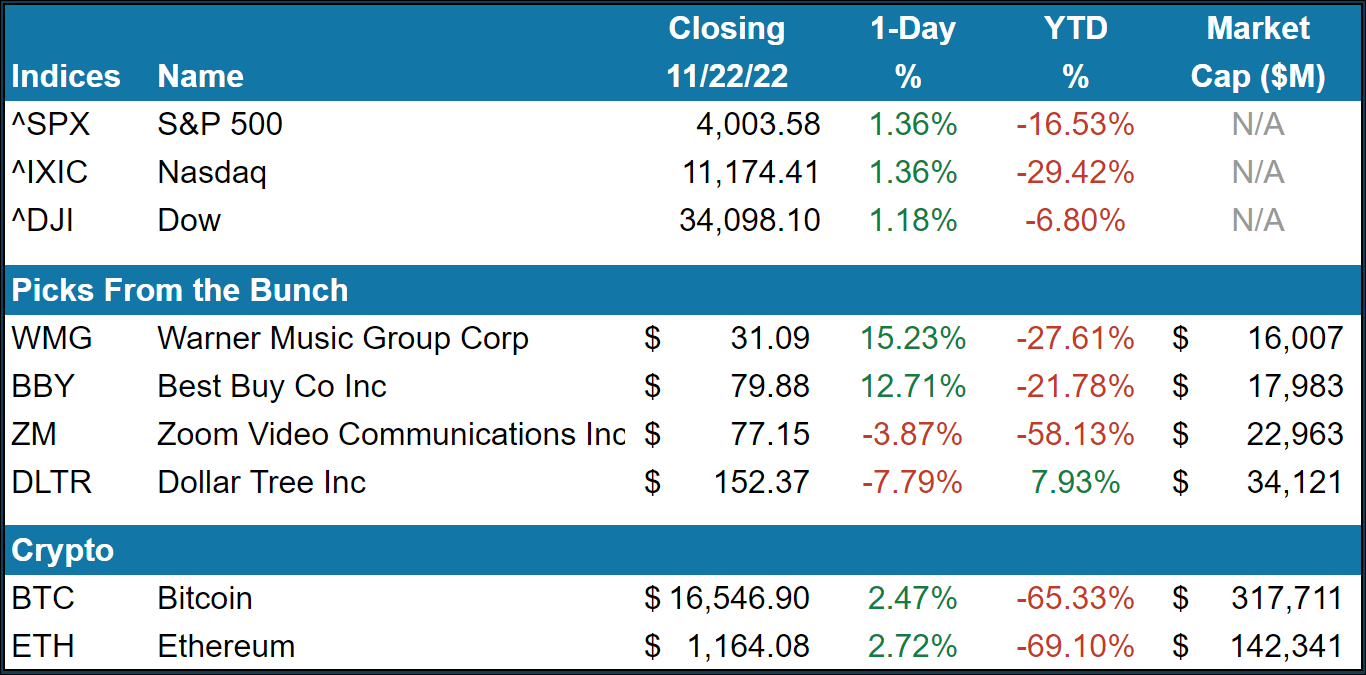 They'll Give You $100 if You Invest as Little as $100...WTF?!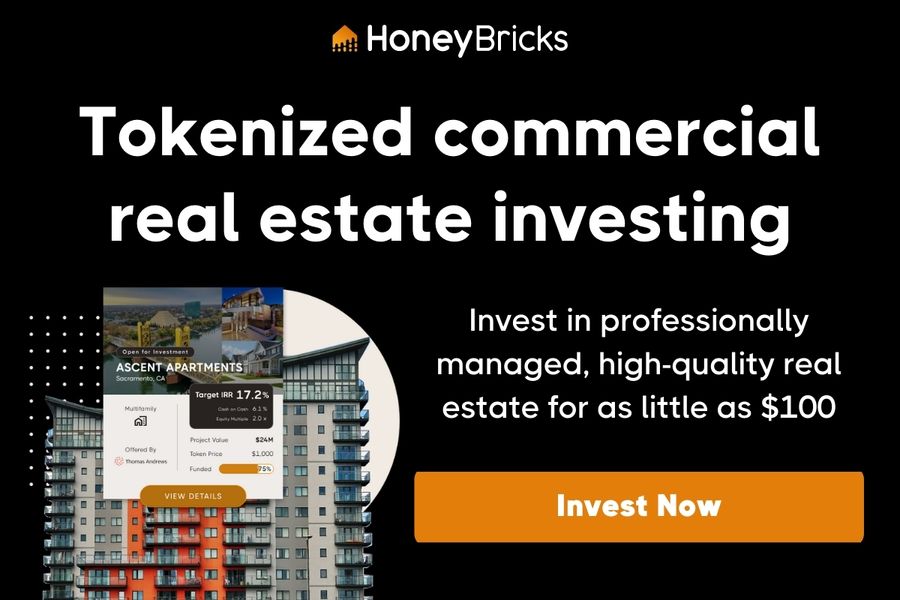 So our newest partner Honeybricks has agreed to give $100 for the first 10 Peel readers that invest $100 or more on their platform (no joke). Yeah, so 100% return out of the gate.... yes, that is insane (the secret to why they would do this is below).
Honeybricks is an awesome way to be able to diversify your portfolio into Commercial Real Estate without having to risk your entire bonus...
Over the last year, real estate has massively outperformed Gold, Crypto, and the S&P 500.
Even if you've been priced out of the housing market, you can still access the passive income and wealth creation that comes from real estate with HoneyBricks. Their tokenized platform for commercial real estate investing will get you in the game.
So don't be a sloth and wait...grab the free Benjamin before 3 other readers do (7 are already in from the first ad we ran a couple weeks ago)...
>>> Invest $100 (or more) to get $100 <<<
...they are doing this because they know once you invest $100 and see great returns that you'll invest a lot more than $100 over time...and everyone knows The Daily Peel readers are future Masters of the Universe...
Red-Blooded Americans Reject Fake Meat
The pitch for plant-based meat is nice and tidy-Americans love meat, but the process from steer to steak is ugly and harmful. Plant-based substitutes promise a healthier, guilt-free, more sustainable alternative.
Back when you could raise billions off of a good idea alone, fake meat companies were booming. But times are a-changin'.
Beyond Meat ($BYND) has had a wild ride since its 2019 IPO-it initially spiked to nearly $15 billion in market cap but is now worth a mere 9 figures
One of its main competitors, Impossible Foods, is still private and has bragged about its recent success, but it recently sent 6% of its workforce packing
The biggest issues facing the market are:
1. The product doesn't taste enough like meat
2. Its health benefits are questionable at best
Until the blind taste test can fool most people, the market will struggle to get off the ground. The tradeoffs just aren't worth it for most people.
A more intriguing pathway might be growing meat cells inside a lab, which are literally the same as real meat down to the cellular level.
If lab-grown production can scale effectively, it could be a win-win all around-less animal abuse, a more sustainable supply chain, and plenty of medium-rare steaks to go around.
Whether brands like Beyond Meat were just too early to the party is still an open question, but they have to turn things around fast to avoid deeper pain.
Warner Music Group ($WMG) ↑ 15.23% ↑
Jack Harlow, Dua Lipa, Lizzo, and Ed Sheeran drove blowout sales in the quarter, showing that stars still dominate the industry despite all the fragmentation
Labels are finally playing nice with Spotify and Apple Music, and $WMG's CEO praised the two for raising prices and supporting the value of music
Best Buy ($BBY) ↑ 12.71% ↑
After slashing FY earnings estimates over the summer, $BBY ramped them back up to the original level Tuesday, sending the stock surging
It's the latest signal that the consumer is holding up better than corporate America expected. But Best Buy is still a dinosaur-its peers like Circuit City and RadioShack are long gone-and will have to keep a close eye on inventory to protect margins
Zoom Video Communications ($ZM) ↓ 3.87% ↓
Just about everything went right for Zoom went the world locked down, but it's struggled to adapt to a world that's opened up
$ZM managed to get household-name status in 2020, but it's woefully outgunned by Microsoft, which will present an uphill battle for the next several years
Dollar Tree ($DLTR) ↓ 7.79% ↓
You'd think dollar stores would rake it in during bouts of painful inflation, but it's a tough balancing act-sales went up in the quarter, but $DLTR's margins are suffocating under higher product costs
Despite beating Q3 profit estimates, the company expects Q4 EPS to barely meet its prior targets, which sent shares plummeting
Trouble Ahead for Tesla?
With the boss away playing with his newest toy, the rest of the underlings at Tesla have been watching their stock options plummet in value.
After rallying off its lows this past May, the world's biggest automaker (kinda) has seen shares sink by over 40% since late September.
With many of its 12-figure market cap peers rolling heads lately, pressure is building to slash costs to prevent the stock from going into freefall.
Issues in China, both on the demand and production side, are setting up a double whammy that's rattling investor confidence
Hedge funds "seem to be shifting to a negative bias on the stock" due to Elon's distractions
Falling oil prices lessen the urgency and incentive for consumers to switch to EVs
Maybe the best news for Tesla is that other EV makers are dealing with a far worse sh*t sandwich. Lucid began the year expecting 20k deliveries and has revised that down to barely 7k. Rivian just had a massive recall and is dealing with reports of safety violations.
It's common for companies to assuage investor concerns by pointing out that they've maintained/gained market share during a downturn, even if revenues are down. It's hard to see any of the little guys gaining headway on Tesla, despite the latter's struggles.
Despite its struggles, $TSLA is still worth more than all other American automakers combined, which goes to show just how frothy things got at their peak.
But the easy money days are over. To stay above $500 billion, a lot more things have to go right.
The big question: Given the struggles of its competitors, will Tesla emerge from the current downturn even stronger, or will distractions allow others to catch up?
Yesterday - I am a word of 5 letters and people eat me. If you remove the first letter, I become a form of energy. Remove the first two and I'm needed to live. Scramble the last 3 and you can drink me. What am I?
Wheat, heat, eat, tea.
Today - It's 30 bananas off the Hedge Fund Interview Course for the first 15 correct respondents. LFG!
Who spends the day at the window, goes to the table for meals and hides at night?
Shoot us your guesses at [email protected] with the subject line "Banana Brain Teaser" or simply click here to reply!
"Someone's sitting in the shade today because someone planted a tree a long time ago." - Warren Buffett