Elon's Making It up as He Goes | The Daily Peel | 11/8/22

Nov 8, 2022 | Peel #333
Can't wait for the Netflix doc on the first few weeks of MuskTwit.
After laying off half the company last week, Elon's asking a few to come back?? And he's losing $4M a day. Absolute chaos on Market Street these days.
Over on Wall Street, stocks powered higher to start the week after a weak October close.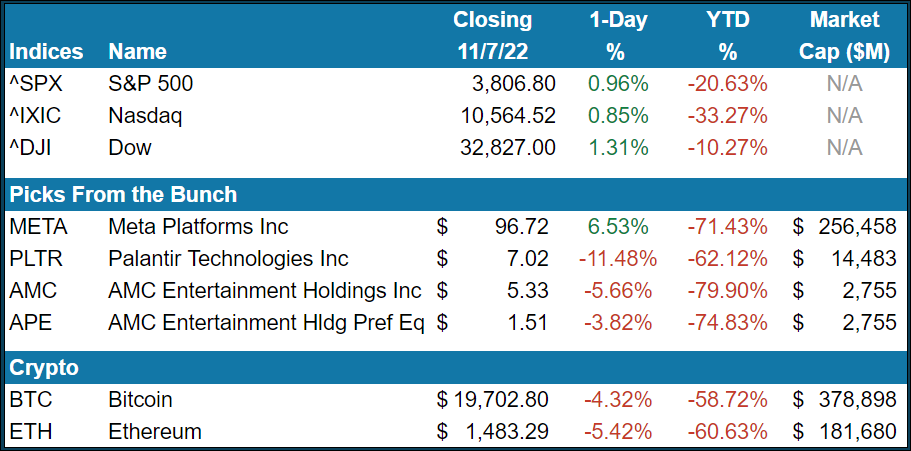 There's a reason that successful founders like Marc Andreesen and David Sacks go into venture capital—it's f*cking awesome.
Huge paydays without grueling hours, wearing Allbirds to work, and having the best entrepreneurs in the world grovel at your feet. What's not to like?
The only problem is breaking in. You think landing a PE interview is hard? Getting into VC is on another level.
To put yourself in the best position possible, you need to know the tools of the trade. That's why we've put together a VC Course that has everything you need to know about the space—cap tables, term sheets, due diligence, and venture fund structure will be second nature by the time you finish the course.
Lessons containing hands-on experience from industry veterans will keep you engaged on your way to becoming a legend on Sand Hill Road.
Because Daily Peel readers are important to us, we're giving out free access to our Excel Modeling Course for the first 50 Peel readers to sign up in the next 24 hours. Don't delay—word's gotten out about this one-of-a-kind course, and spots are filling up fast.
The next Uber is out there, waiting for funding. Sign up today and be on your way to a great lifestyle and huge exit packages.
Digging the Gig
Americans have shown that they'll sooner take on 5-figure CC debt rather than trim their lifestyles.
So, to cope with inflation, more are entering the gig economy.
6% more workers than last October have a side gig in addition to their day job
Zoomers are the cohort that loves gig work the most, with many cobbling enough together to ditch full-time work entirely
Adding part-time workers has helped employers survive the labor crunch somewhat, but there still aren't enough bodies
The U.S. labor market will have to undergo a titanic shift as younger people prefer to juggle several employers rather than be beholden to one
Meta ($META) ↑ 6.53% ↑
A wave of job cuts this week is a drop in the bucket compared to the piles of money Zuck is throwing at the metaverse
But the stock has gotten halved in the last 6 months, and investors are seeing value at these levels
Natural Gas Futures (NG00)
Nat gas has been trading like a meme stock lately, and futures got a big jump after an updated forecast for frigid U.S. temps this winter
Tankers with billions in gas are hanging out in European waters until prices rise, showing how insane the market is rn
Palantir ($PLTR) ↓ 11.48% ↓
$PLTR earned a whopping 1 penny per share in Q3, down from 4 cents a year ago
Big contracts with the military have kept it afloat, but all other revenue sources look light going into 2023
AMC Entertainment ($AMC, $APE) ↓ 5.66%, 3.82% ↓
The Black Panther sequel comes out this week (miss u Chadwick), and AMC HODLers have their fingers crossed for a big weekend
It's been one L after another since $APE shares were issued, and the embattled theater chain needs some good news
Boutta Cop Some Carbon Credits
A sweating planet has gotten short shrift amid all the other global chaos in the past few years.
This week at COP27 in Egypt, leaders will refocus on the pesky warming problem.
China, India, and Russia are noticeably absent, limiting the scale of change that can come out of the conference
Smaller countries will make the case that the biggest economies should pay to help them adapt and mitigate their emissions
Europe's nat gas woes have put the energy ideal and the reality in stark contrast
The big question: Will these talks end with half-hearted pledges again, or can world leaders beat the odds and emerge with some sort of aligned global strategy?
Yesterday — What jumps higher than a building?
All animals can jump higher than a building. Buildings do not jump.
Today — It's 100 bananas off the WSO VC Course. LFG!
Why are manholes round instead of square?
Shoot us your guesses at [email protected] with the subject line "Banana Brain Teaser" or simply click here to reply!