"F*ck Your Puts" No Longer Valid | The Daily Peel | 4/7/22
Yesterday was a good day to be a bear. The S&P, after falling 0.97%, is now below its 200-day moving average. As part of a flattening yield curve, the 10-year Treasury yield is at its highest rate since 2019 at 2.61%. Just like Ron Jeremy's mental health, the growth-heavy Nasdaq declined 2.22%, falling below 14k. The Most Arbitrary of Indices (The Dow, obvi) slid 0.42%. 
Let's get into it.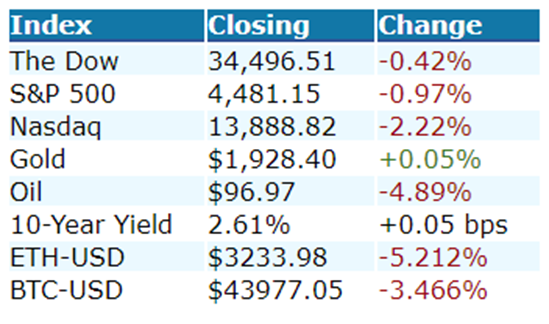 Bear Market Rally Ending? - If you're a fan of Chris de Burgh, these past couple of days have probably looked pretty appealing to you. If you prefer the color green, there hasn't been much to write home about, broadly speaking.
Earnings season is around the corner, and the only two sectors that aren't flat or absolutely wrecked are Energy and Utilities. Last year was a record year for earnings, posting massive corporate profits up and down the S&P500 unlike we have ever seen before.
But $hit happens. War in Ukraine. Global commodities markets in turmoil. Rampant inflation. Daddy JPow and Aunt Janny tightening their metaphorical policy belts. Even in the wake of these influencing macro factors, analysts expect earnings to grow this year and by a respectable 8% at that.
But we all know that's gotta be Ape$hit. The macro environment is persisting. Supply chains are still f*cked. The Yield Curve is relatively flat and getting flatter all the time. The Fed is likely going to become more aggressive with 7 or even 8 rate hikes this year and a rapid unwind of its balance sheet. 
Whispers on the street include chatter about a protracted Bear Market, a potential downturn, and the chance of a less than soft landing from the Fed's tightening cycle.
While many experts do expect Q1 earnings to continue to rip just like the last handful of quarters, there's a significant non-zero probability that earnings growth in this brave new post-C19 world will not persist as analysts are currently estimating. 
As both prices and COGS increase and a potential wage-price spiral is on the horizon, making a buck on the bottom line later this year might be more challenging than the Street currently would admit.
As we get into Q1 earnings, stocks are probably going to move based on sentiment and outlook more so than we have seen since the pandemic changed the world. Sure, earnings will still be sky-high, but the tone and delivery of this round of earnings calls will play a massive role in vectoring share prices. 
This could trigger a slew of downgrades from the analysts tracking the big names; it also might force analysts to revise their estimates for the rest of the year. We just might see some downward adjustments for earnings estimates and related share price updates taking these new estimates into account. 
Pharma ($JNJ, $PFE, $AZN) - A basket of drugmakers was up around 3% on Wednesday. While this 3% boost is not a significant move by any measure, on a day when all we see is red, that's is a relative rip. 
Dollar General ($DG) - Dollar General, one of Jim Cramer's favorite Friday night hangouts, climbed higher on Wednesday, gaining 4.25%. While I usually short everything that comes out of his mouth, Cramer loves $DG for its consistency and value, even at, like, a 24 P/E. 
In the past month, $DG has aped ahead a modest 17% during what seems to be a Bear Market rally. 
Direxion Daily Bull Semiconductors 3x Leveraged ETF ($SOXL) - If you haven't heard of SOXL, two things are true; first, you're prolly not a degen options trader like me. Second, today is your lucky day. SOXL is a triple leveraged ETF that moves at three times the volatility of semiconductors - think SMH but like, Major League Baseball in the early 2000s. 
Semis are down broadly just over 20% YTD, with SOXL taking it in the face down 58% YTD after being down 7.21% today.

JetBlue ($JBLU) - Yesterday, we reminded you how cheap flights to Florida are if you don't care about allowing Macho Man Randy Savage to sit on your lap or paying 7 bucks for a can of sparkling water from a brand you've never heard of. Today, we remind you that there are two sides to every deal.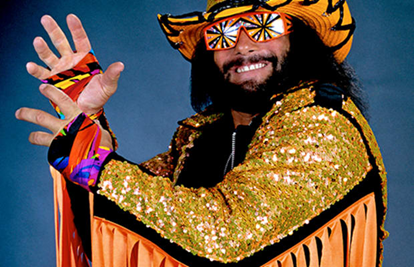 After announcing its bid to acquire budget airline Spirit, JetBlue is down over 15% in the last two days and 8.72% today. Travel stocks are down around 9% YTD, and JetBlue was a standout within that basket. $JBLU was flat for the year up until this week, but after the news, their stock is in a world of hurt.
Don't even get me started about the drama surrounding this potential deal. With Frontier Airlines and its attempt to merge with Spirit further complicating the conversation, the ultra-low-cost airline (read: hot garbage) business is like an episode of Love is Blind. 
Is the Music Slowing? - You've probably been to a party at least once in your life. At parties, there is music. Go figure.
This is an overused metaphor for the financial markets, but if it wasn't true you wouldn't hear it so often: it's hard to NOT dance when the music is still playing. It's literally f*cking science, bro.
Since we bottomed in March of 2020, the music hasn't just been playing. It has been absolutely blaring. For some of you, your time horizon doesn't go back much further than that, but things don't always happen like this. 
This music was not just limited to the equities markets. New asset classes, the advent and proliferation of accessible fintech, blockchain applications, sh*tcoins, NFTs… you get the idea. Even celebrities and TV Personalities have tried to ride the wave.
We hinted at ultra-dove Brainard's bombshell yesterday in our Banana Bits. If the markets had already priced in 7 or 8 rate hikes, we wouldn't have seen the shelling that we just lived through over the last two days. 
Think about this: stonks don't only go up, and Bear Markets can last for more than a month. Ending up in a recession after this tightening cycle is quite possible, particularly when we have an adversarial Federal Reserve attempting to destroy wealth creation capability in an attempt to cool demand.
Recessions are typically preceded by Bear Markets, and we are already seeing something akin to one unfold in front of our eyes. Autos, Homebuilders, Semis – all in Bear Market territory. 
The new dynamic that we are seeing is a central bank that doesn't care about stonks anymore. Daddy JPow is no longer telling you, "F*ck your puts." It's probably the opposite – he's hinting that we should limit long exposure and protect our positions.
This might sound like someone trying to $hit in your Cheerios. On the contrary, we wanted to communicate the word of the day: Caution.
Here at the DP, we don't give financial advice. Even if we did, we wouldn't tell you to punch out of your positions and hide your money under your mom's mattress. But I will tell you how we are approaching this new dynamic: with Caution. 
"See, there have been a lot of economic problems with real estate, but… you don't get off the roller coaster in the middle of the ride." - Ron Jeremy