Friday The 13th On Deck | The Daily Peel | 5/13/22
Futures pointed lower on Thursday morning, and the 24-hour crypto casino has been selling off. Oil is back above 106 dollars, up just like record-high gasoline prices. The 10-yr yield is a full 30 bps lower than earlier in the week, finishing yesterday at 2.87%.
Markets retreated again but pared losses as the day's session closed. At the closing bell, the Dow was down 0.33%, the Nasdaq was actually 0.06% in the green, and the S&P was down only slightly, finishing lower by 0.12%.
Ready for a caffeine kick? Caplinked has joined WSO to offer members "caffeine for quotes". Get a week's worth of Starbucks just for requesting a quote. You could also come away with a $500 Amazon gift card. Fuel up Now
Happy Friday. For today's winner of the banana brain teaser, I will mail you a WSO t-shirt.
Let's get into it.
The answer to Thursday's Banana Brain Teaser was to just toss the ball straight up in the air as hard as you can.
For today's first respondent with the right answer, I will ship you a sick WSO t-shirt, direct to your door. That's our idea of SWAG and service. Let's go!
When combined, which two words have the most letters?
Shoot us your guesses at [email protected] with the subject line "Banana Brain Teaser."
Pain - No, this is not an introduction to a revised edition of 50 Shades of Grey. Pain is probably what your portfolio is feeling, at least in some shape or form.
Interestingly the sell-off that we are living through, Apes, is historical. We haven't seen such a prolonged pullback since the financial crisis that sparked the great recession. Some of the most beloved companies have watched trillions in collective market cap evaporate in the last few weeks.
When you couple the sell-off in equities with moves in crypto and the bond market, I start to think of one thing: capitulation.
So when will we bottom? Did it already happen? Or do you dare try and catch a falling knife? Well, important indicators for capitulation are the two V's: volume and volatility. When you watch a huge volume surge and a volatility spike, that's a decent indicator of capitulation.
Inflated valuations aside, when the VIX is between 30 and 35, there are usually a ton of sellers of volatility at those levels. However, we're not seeing that just yet when it comes to derivative volumes.
I'd argue that we're not at the bottom yet, but it's definitely a trader's market. There's a chance to be a bull somewhere, Apes. Good luck!
Coffee is for Closers – And we're giving it away!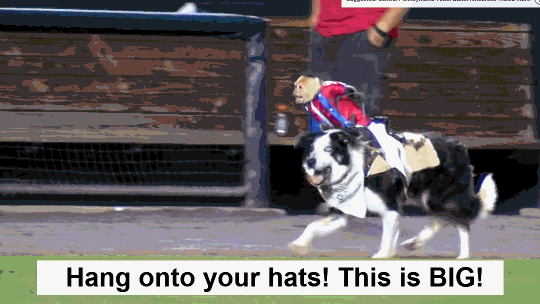 Have we got a deal for you! As an exclusive offer to WSO members, Caplinked will give you Starbucks coffee for the week just for requesting a quote. You'll also be entered to win Amazon gift cards valued at up to $500.
Caplinked is a better platform at a better price. Founded in 2010 by Eric Jackson (PayPal's first head of US Marketing), Caplinked has become a leading option for boutique firms, the largest investment banks, and everything in between.
Tapestry ($TPR) - Shares of the holding company for luxury brands traded significantly higher yesterday, climbing 15.50% higher.
Tapestry is the management arm of Kate Spade, Coach, and Stuart Weitzman, and unlike many of its retail competitors, it had a nice quarter. It beat earnings estimates by almost 25%.
As consumer sentiment moves the wrong way, let's see if people are still spending their hard-earned bananas on $800 purses and $250 wallets in the next few quarters.
Dish Network ($DISH) - Dish Network's stonk traded higher yesterday, finishing the session up 14.60%. I interpret this as a slight bounce, given that $DISH is still down over 37% in the last month.
I dunno if you've ever sub'd to Dish, or if you've tried to host a Super Bowl party when it was raining – because these two concepts are actually incompatible. Looking at $DISH's most recent quarterly results from about six weeks ago, it would appear that generating alpha and $DISH are also incompatible.
The Boeing Co ($BA) - Yesterday's largest loser from the Dow was The Boeing Company. Even after its CFO publicly announced that it looked like things were turning around, the street punished the aerospace giant by pushing its shares down 4.83%.
Boeing looks pretty ripe at these levels. $BA is too big to fail, given its ties to the US defense industry. They're probably one big Department of Defense contract away from a nice little 20% pop, but that's just my $0.02.
Nvidia ($NVDA) - The chipmaker was at the top of the laggard list from the Nasdaq yesterday, closing after giving away 2.74%.
The semiconductor producer already got schwacked for not letting investors know how much of its business was dependent on cryptobros and their sick rigs. Now, after crypto is circling the drain, investors fear that crypto won't ever recover and that this crypto flash crash may hurt $NVDA forever. You be the judge.
Balancing the Books - Congrats to the US Government on running a budget surplus in April, its largest in history.
This number is a record on the right side of fiscal responsibility. The only problem: the Federal Government still has almost a 1.6 trillion dollar deficit on its hands.
1.6 Trillion with a T.
Now, I'm not sure that this most recent surplus is something to celebrate or something of a wake-up call. Celebrating a small surplus for one month relative to a massive national debt is like congratulating yourself that you were able to walk away from the craps table with free validated parking after you're only down 2600 bananas.
In other words, don't let the news of April's surplus fool you; things aren't good for the government's balance sheet.
The future of capitalism in this country rests on our government's ability to ensure free and open markets, both at home and abroad. This isn't a hot take – it's a black-and-white fact.
A loose purse was great when it was propping up asset prices with liquidity for all its friends. Now, it's time to atone.
Let's hope that we can continue to make some progress towards a more responsible federal budget.
"I'm a capitalist, but capitalism without competition IS NOT capitalism." - Joe Biden