Goldman Beat, IBM Bust | The Daily Peel | 7/19/22
Earnings season is in full swing, particularly for the major financial institutions. Futures for the equity markets pointed higher first thing Monday morning. Crude was trying to make a rebound and move back above $100. The yield curve remained inverted.
Markets initially started green but ended the day in negative territory. The Dow lost 0.69%, the S&P lost 0.84%, and the Nasdaq shed 0.81%.
Ready to save up to $2,000 on your summer travel? Stop dreaming and start planning. Try DFC for free if you sign up in the next 12 hours. Think; roundtrip to Hawaii from $197, Madrid from $335, and much more. Offer ends in 12 hours!
Try DFC Now
Let's get into it.
Did you ever wonder where those C-19 dollars went? Well, a lot of them were stolen –and here's 

one of the culprits
More lockdowns: new rounds of mass C19 testing on deck in Shanghai and Tianjin
Summer travel season has finally arrived, and DFC can help you skip some of the madness and get to the good part
The merge trade is on: ETH and stETH appreciation trade is looking good
Everything is more expensive, and the consumer is looking for second and third jobs to pay for stuff
Yesterday - What starts with a T, ends with a T, and has T in it?
A teapot.
Today - For this next BBT, we will chop 50 bananas off of our WSO IB Interview Prep Course. It could very well be the difference between an offer and not.
Translate this into a colloquialism: I RIGHT I
Shoot us your guesses at [email protected] with the subject line "Banana Brain Teaser" or simply click here to reply!
ESG - For the uninitiated, ESG stands for environmental, social, and corporate governance. Why we don't say ESC, I don't know.
Its goal: draw more attention to these three tenets of a sustainable future.
The CEO of KPMG International recently published an op-ed about ESG. His hot take was to advocate for defensible, globally consistent standards when it comes to the metrics that lead us to ESG scores.
Maybe he is hinting at the ESG score of a company like Tesla actually being lower than that of some of the major energy providers whose business is 80% black gold from the ground.
Another interpretation is that KPMG likely makes suitcases full of cash consulting on ESG issues, as well as helping their clients develop ESG frameworks and methodologies for sustained sustainable investing, whatever the f*ck that means. I personally am calling BS.
Bill Thomas' bullsh*t aside, there was an FT piece over the weekend about rethinking ESG for the future. The logic is that energy companies need to have a role in transitioning to an economy with a smaller carbon footprint.
It would appear that the war in Ukraine has opened a lot of people's eyes to the literal obvious: the global economy needs fossil fuels to survive, and this addiction will take more than a 90-day stint-up state to recenter our chi.
One of the challenges in every newly elected government in every country is the commitment to the ESG agenda and an orderly transition towards greener, more Mother Earth-friendly solutions waivers with the whims of whatever politician is running the White House or the Parliament.
There is logically a place for EVs, solar power, wind power, clean nuclear power, and NatGas in our future, but is GM really serious about 100% EVs by 2030?
I support the movement to save the planet. But when China's $20Tn economy runs hot with zero consideration for the rest of the world, why should the West be forced to lead the charge at the expense of economic growth?
Save Up to 90% On Your Next Flight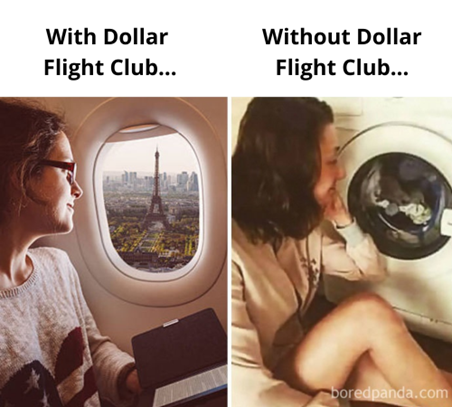 It's time to book your summer and fall travel! What destinations are on your bucket list? You can try DFC Premium Plus+ for free now, but only if you sign up within the next 12 hours.
Think; roundtrip to Hawaii from $197, Madrid from $335, Costa Rica from $205, and many more destinations for up to 90% off.
Join over 1 million happy travelers and join the Club. Act now, this exclusive free trial offer ends in 12 hours!
Goldman Sachs ($GS) - Goldman posted what I'd call a good quarter. Both their top and bottom lines were beats, which is kind of a shock when you compare performance to JP Morgan.
After reporting, their price-to-book is now over 1.0, with a share price just north of $300.
At the closing bell, $GS was up 2.64%.
Airbnb ($ABNB) - Just like Hansel from Zoolander, summer travel is so hot right now. Even in the face of a housing pullback and an inbound recession, we can't seem to stop spending 2k per night for a condo in the Hamptons or an apartment in Mykonos during the summer. And I'm not talking about splitting it seven ways, apes.
Airbnb is seeing growth in long-term rentals. While this hasn't been their banana bread and buttah', as they approach consistent profitability, they'll take all they can get.
Shares of $ABNB were up 3.18% on Monday.
IBM, Inc ($IBM) - Shares of IBM lost ground after their leadership updated their cash forecast during their Q2 earnings call. While results for net income and revenue outpaced analysts' expectations, management adjusted an April 2022 free cash flow number down about 5%.
On the news, even though it was a pretty decent quarter, shares started to slide. $IBM was down almost 5% after hours.
Progressive ($PGR) - Shares of $PGR tumbled on Monday, ending the day lower by 4.99%.
They declared earnings on the 15th, and the blowback frothed over into the new week. Even though they more or less met analysts' estimates for premiums and revenues, their bottom line is down almost 40% year-over-year, and analysts have given the stock a consensus rating of HOLD.
Austerity Mode - Rumors are flying around the city-revenues are depressed, and bottom lines aren't what they once were.
In every business cycle, there comes a time when things aren't as bright as they used to be. This is that time.
Especially with the slow deal flow this calendar year-the highest margin component of the business, mind you-the big boys don't have the cash flow that they did in 2021 during SPAC-mania.
If you're in the industry, you're probably thinking about one thing when you hear things like this: your comp. The whispers are out there.
Sure, there are rumors of base numbers being pumped to attract and retain talent, particularly for jobs in the City, but that doesn't mean things are particularly rosy when it comes to comp.
I've seen both emails from insiders and finmemers shitposting about the pending bonus-pocalypse.
It's logical. There was a recent Financial News article about IB compensation at Morgan Stanley, and similar parallels were drawn to the shrinkage in JP Morgan's IB business.
Fees are down. It's hard to pass out fat bonuses when you're making considerably less money.
What does this mean for you? Well, if you were planning on a big bonus to get you your first Rolex and a fall trip to Europe, maybe think again.
Talk about getting kicked when you're down. First, you lose 20% of your portfolio, and then you lose 20% of your bonus.
It's not the end of the world. Rumor has it that Goldman is planning a boost to first-year analyst comp, and this will likely force a wave of pay raises up and down the street.
This might make up for a bonus cut for the younger folks, but if you've been counting on your bonus to finance your lifestyle, it might be time to think again.
"You must deliberately protect yourself against serious losses." - Benjamin Graham