Haters Gonna Hate | The Daily Peel | 4/12/22
There was a murder on Wall Street yesterday. Don't worry, Jamie Dimon and Bill Ackman are safe. It was just the 10-year yield absolutely bludgeoning Big Tech to death. Yields rose to pandemic-era records while equity markets broadly sold off in anticipation of the highly-anticipated economic data and earnings releases to come this week, including CPI today and bank earnings the rest of the week. 
The Nasdaq closed down 2.18%, while the S&P tumbled 1.69%, and the Dow finished 1.19% lower.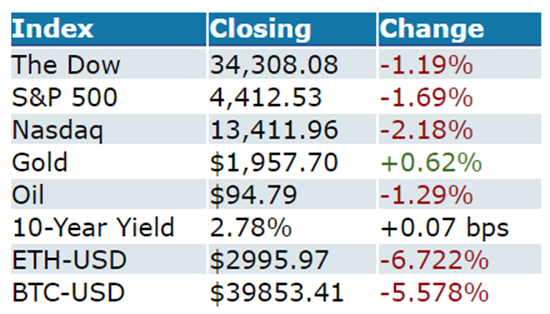 Let's get into it.
Haters Gonna Hate - As if economists and their predictions haven't disappointed their parents enough already, now they want to make enemies out of everyone. According to a WSJ survey of 75 "expert economists," the odds of the US economy entering a recession over the next 12 months are mooning. 
First, let's address the elephant in the room. Being a survey, this is one of the most garbage methods of data collection possible. Everyone knows the saying "garbage in, garbage out," and surveys, with their potential for inaccurate or dishonest answers, certainly fit that bill. They're better than nothing (usually), but just take it with about a million grains of salt.
It's not all doom and gloom, but it's certainly doomier and gloomier than I personally care for. On average, the 75 economists surveyed see the odds of the US entering a recession in the next 12 months as around 28%. That's up *bigly* from the 18% figure registered from this same survey in January and the 13% seen at this time last year.
Moreover, economists took an ax to their 2022 GDP growth projections. Last year at this time, the experts guessed that Q4'22 GDP would grow at an annualized rate of 3.6%. Now, that guesstimate has been slashed by nearly a third to 2.6%.
Doesn't sound great, but remember, we're not betting the house on these numbers or anything. I mean, the same survey has the participants predicting things like the closing 10-year yield and CPI all the way out to 2024. Odds are they're better off predicting the 2024 Super Bowl score, but we can still gain some insight on what this means for us now.
First of all, history shows that when bearishness increases, especially among the economic overlords, recessions do tend to become more likely. Bearishness is almost as contagious as C-19, so when these overlords say the end is near, that tends to spook other market participants and civilians alike and becomes a self-fulfilling prophecy. An example of how this might play out could be something like this:
Economists say scary times are coming   →   Market watchers spread the word until the average American hears it   →   Consumers get scared and decide they need to save more in preparation of a downturn   →   That decrease in spending leads to lower growth and eventually a recession.
Isn't economics fun? If that doesn't make total sense, just be aware that bearishness is becoming the new cool thing. Not to say that there isn't a reason for it, because there certainly is, but for the first time in a while, bullishness seems to be the contrarian take. 
Keep those bananas safe, apes.
OpenDoor ($OPEN) - It's a little weird that during one of the hottest housing markets in US history, a company like OpenDoor would watch its value plummet by 80% over the course of a year. 
Apparently, the Street agrees, saying, "enough is enough," yesterday and boosting $OPEN by 7.01%. 

There was legitimately zero news, so naturally, the Street went crazy for it. Textbook dip-buying if ever seen it, but are the hands of these buyers diamond, or paper?
Sailpoint Technologies ($SAIL) - As my parents did for me when I was in elementary school, PE shops are throwing out the big bucks in order to hang out with the cool kids.
Who are these cool kids, you ask? Well, cybersecurity stonks, of course. And yesterday's lucky winner was Austin, TX-based identity and data management firm Sailpoint as PE big boi Thoma Bravo announced plans for a real nice buyout valued at $6.9bn.
Sure, Sailpoint investors got a 29.16% boost yesterday, but the real takeaways here are 1) cybersec is hot AF, and 2) Putin's War hasn't totally killed LBOs (yet).

Nvidia ($NVDA) - Analysts on Wall Street have way too much power. I mean, seriously, how can one random guy's opinion eviscerate $30bn in market cap?
Insane. But nonetheless, that's what we saw with Nvidia on Monday. Baird analyst Tristan Gerra issued a total 180 in his opinion on the stock, chainsawing his price target from $360 to $225. 
Basically, Gerra argues that chip demand is slowing and Nvidia is likely seeing an uptick in order cancellations, especially from Europe and Russia. On the supply side, Gerra says China's lockdowns will f*ck chip production even more.
Shares lost 5.20% on the report. BTFD?

That Was Weird - Uh yeah, hey Elon, quick question - what the f*ck was that? 
This guy buys up 9.2% of $TWTR, files a 13G (late), saying he wants to be a passive investor, then files a 13D, saying he'll be active, while he and Twitter's CEO tweet that he'll be joining the board, and then he decides not to join the board?! Mans just loves to troll.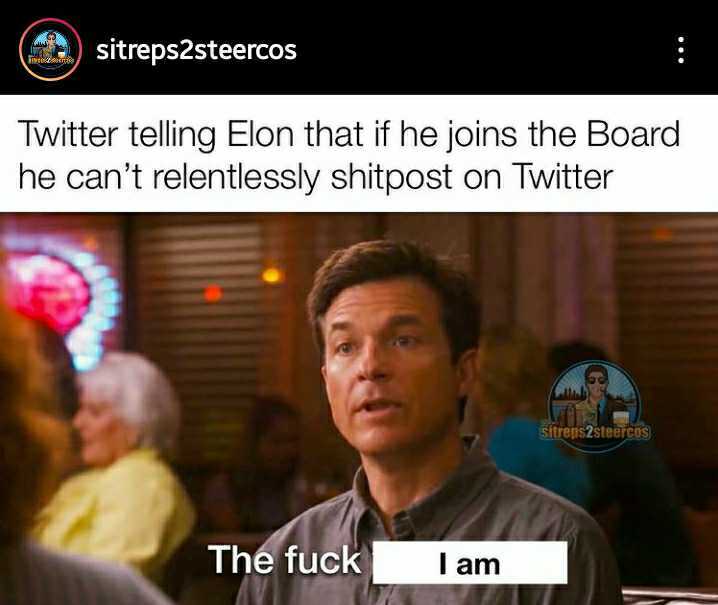 So yeah, after all that drama, CEO Parag Agrawal announced via Twitter late on Sunday that Musk has declined to join the board of Twitter.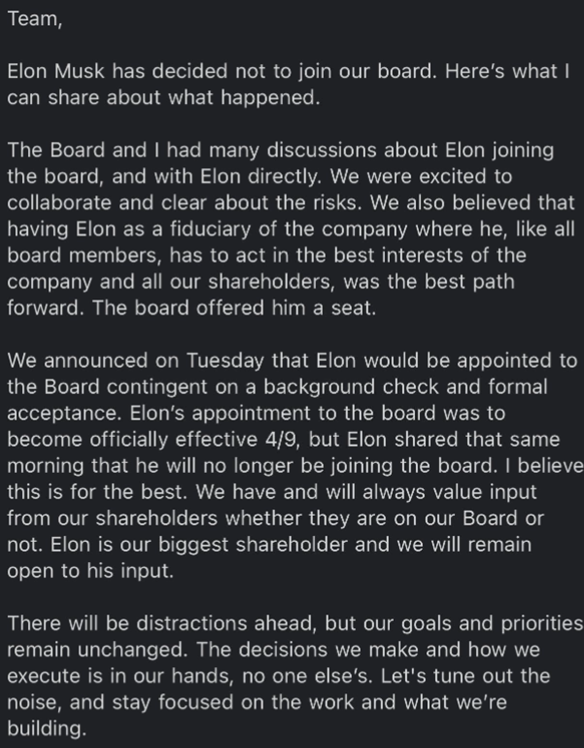 Keep in mind this memo was Tweeted out was just 5 days after this:
Just a lil' embarrassing. Investors didn't seem too shook, however, as $TWTR shares finished yesterday up 1.69%, while the rest of tech absolutely ate monkey sh*t.
Speculating on Musk's intentions, while fun, is a complete waste of time at this point. 
The only takeaway is that it seems like even Elon doesn't know what he wants to do with his newly acquired influence. Like, he didn't drop $3bn just to get an edit button added, right? 
Clearly, free speech on the platform is still the name of the game. But what exactly that means for the platform, business, employees, shareholders, and users is anyone's guess. 
The conspiracy theory du jour is nice and simple, suggesting that Musk likely just wants to be able to still publicly $hit on the company despite owning 9.2% of it. Kind of a weird kink, but hey, we don't judge.
But with the way Musk operates, I'm sure he'll tweet out some cryptic, meme-laden monkeysh*t in an attempt to signal his "intentions" soon. Otherwise, stay tuned for the trolling.
"An economist is a mixture of 1) a businessman without common sense, 2) a physicist without brain, and 3) a speculator without balls." - Nassim Taleb