Monday Morning Quarterbacking | The Daily Peel | 4/11/22
Happy Monday. Friday was a mixed day for markets. The business end of Bitcoin 2022 in Miami is a wrap. The US Treasury Bonds Yield Curve flirted with inversion. Your major indices were mixed. The Nasdaq, 2022's king of volatility, shed a modest 1.34%. The S&P was relatively flat, down a mere 0.27%. The Dow, Friday's only real winner, was up 0.40%, thanks to modest gains by Home Depot ($HD), Goldman Sachs ($GS), and J.P. Morgan ($JPM).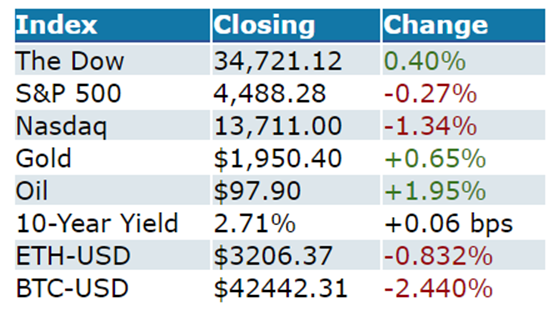 Let's get into it.
Prices Never Go Down - We have a big series of announcements to look forward to this week; notably, on Tuesday, the government will release a slew of consumer price index reports. We also can look forward to learning more about Fed Gov Lael Brainard's views on the current inflationary situation and the labor market.
If there's one thing that's typically true, it's that ston- sorry, prices only go up. Think about it. Sure, the price of gas fluctuates. But that's because its price is pegged to the costs to ship and refine a fossil fuel commodity that is priced in a global marketplace. But consumer goods usually only get more expensive. 
This is a generalization about modern, globalized economies that aren't suffering from rampant currency valuations and pricing swings. 
Once your Powerade soda has shrink-flated into a 28 oz container from a 32 oz container, you probably won't ever see the old packaging on the shelves again.
When the price of an Arizona Iced Tea finally moves to $1.09 or $1.19 or whatever, you'll never see a 99 cent can of it again.
Once your ground beef costs $10/lb instead of $8, there's historically no great way to force prices back down.
Politicians and government bureaucrats won't tell you this: prices won't be going down. All they can hope to do is moderate the rate at which they go up. This isn't f*cking rocket surgery, but it is a tough pill to swallow.
Unpopular opinion: things aren't pretty when it comes to inflation. Today, we are likely in a macro environment that has higher inflation of the USD than in decades. We've been spoiled by low interest rates and a strong dollar, and now it's time to atone. 
Doom and gloom, blah blah blah… it's not the end of the world. 
The Fed's job is to make monetary policy decisions that facilitate full employment while controlling inflation. This ensures that labor as an input resource is available to producers while facilitating growth through a beneficial interest rate environment. 
Ironically, today's tight labor market could be hurting the Fed's feeble attempts to wrestle with inflation. As we mentioned last week, an ultra-tight butth*le labor market can introduce inflationary pressures into an economy. In other words, having millions of job openings and none of the talent to fill them is another supply chain shortage, this time just in the supply of the talents and skills producers need.
In an environment like this, prices only go up. They won't come back down. Your rent went up? Sucks to suck. Your grocery bill is higher now than a year ago? Get used to it. Your utility bills have risen? I'm sorry, go make more money. 
This week we will hear about consumer prices. I'm particularly honed in on the CPI year-over-year numbers coming out on Tuesday at 8:30. The numbers are supposed to actually be worse than the last time they were published, rising from 7.9% up a half-percentage point to 8.4% based on the median estimate for the metric.
Get out your popcorn; if it's outside of expectations, we might see some fireworks in the financial markets this week. 
Occidental Petroleum ($OXY) - In a sea of losers, energy stands out as a sector of winners for this calendar year. Occidental Petroleum is part of that A-team.
Another favorite of the Oracle of Omaha, the once battered down energy-growth company was up by 7.14% on Friday. After circling the drain for most of 2020 and early 2021, $OXY is up more than 150% in the last year and almost 100% for the year. 

In addition to his big buy of $HPQ, Buffett also increased his stake in $OXY to around 15% of the company. Is this Grandpa Sociopath ever wrong?
Epam Systems Inc ($EPAM) - After getting the stock market equivalent to dropping the soap in a prison shower, Epam put together a nice little rally at the end of the week, ending Friday up 10.13% for the day and recovering from really bad Monday and Tuesday sessions.

Epam's leadership finally mentioned that it would sever ties with Russia, just like everyone. In other news, it turns out that giving Putin the finger is now considered ESG.
Even after making some small progress this week, Epam has still gotten absolutely shelled in the last year, down almost 60% from its late 2021 highs.
Robinhood ($HOOD) - Aside from being a trash company run by questionable human beings, Robinhood's share price looks like Rocky's face after his first bout with Apollo. For all you uncultured Gen Z degens, it ain't pretty. Look at that chart. Yikes.
A retail investor's wet dream, $HOOD sh*t the bed on Friday, down 6.88%. Since its public debut during what we will probably call one of the biggest booms for IPOs ever, $HOOD is down almost 70%. Sorry, Vlad, but no one likes the stock right now.
Nvidia ($NVDA) - As analysts predict that demand for semiconductors will slow, shares of $NVDA stumbled on Friday, down 4.50%. Other victims of this chip-shaming were $INTC and $AMD.
Nvidia's stonk is in the toilet. As we mentioned on Thursday, it is down over 30% from its late 2021 highs. 

Thought Banana
Ideas Change the World - It might sound like the team at the Peel is pessimistic about the state of the economy and the macro forces that are affecting our portfolios and our bank accounts. This isn't necessarily the case. We just like to peel it as it is. 
You might think my statements on prices only going up are full of sh*t. I contend that I'm not wrong because if you were right, you'd have my job. Read a book: prices historically tend to rise over time. 
One exception to this trend is with advanced technologies. As tech proliferates into new markets or to new user groups, supply chains become more established, manufacturing gets cheaper because of the benefits of economies of scale, and technology progression makes tech cheaper, usually acting as a rising tide for all goods that include some common component or type of functionality. 
A great example of this is the Apple II personal computer. Introduced in 1977, this bad boy retailed on the low end for $1298. In today's dollars, that's almost six grand. 
The Apple II was self-contained. It housed its own electronics, keyboard, power supply, and memory. It was an engineering marvel for its time. Over its 16-year lifetime, the Apple II ended up in the hands of more than 16 million consumers. 
Now consider the iPhone that you probably have in your pocket (sorry, no green bubbles, please). Compared to the Apple II, it:
Has more memory, storage, and compute horsepower
Grants you access to the internet
Gets you connectivity to unlimited apps in an applications store
Has a handful of cameras with more functionality than you probably need
Makes phone calls over cellular and wireless
Sends both SMS-based and IP-based text messages
Has all the functionality of the original iPod, a device that debuted in 2001 and retailed for $650 in today's dollars
The Apple II comes up short in so many categories compared to today's iPhone. In real terms, it cost 5x the cost of Steve Jobs' most prolific invention. Then why was it such a game-changer for the world of consumer electronics?
The Apple II started a personal computing revolution. That's why. While the Apple II didn't give you immediate, unfettered access to millions of hours of p*rn like your smartphone does, it brought something both novel and useful to the everyday consumer rather than just software developers, businesses, or computer nerds. 
The first time you do something that is novel and complex, it's really expensive. This is why the Apple II cost a sh*tload of money. But over time, these ideas proliferate and change our lives.
Innovation and the advancement of novel concepts and ideas help make products cheaper and better for the consumer. For every tech sector for the last 25 years, except cable, TV, and radio service (these are cartels!), prices have gone down while product quality has gone through the roof by whichever metric you pick.
Smartphones are more reliable. Gone are the days of putting your newly bricked iPhone in a bag of rice.
TVs are more capable. Now you can really see the blackheads on your favorite trash reality star's nose. Looking at you, Mark Moran of FBoy Island.
Quality is now, well, higher quality. 1080p, fifth-generation, high refresh rate, digital surround sound, high bandwidth, low latency… these used to be selling points of new products. Now, you probably wouldn't consider a product without them.
Ideas change the world, particularly the ones that make your everyday life a little bit better. Here's to hoping that the next generation of innovators and idealogues provide society with something that makes an everyday staple cheaper and more accessible. 
"I like the stock." - Keith Gill, aka "Roaring Kitty" amongst friends, or, as he is professionally known, u/DeepFuckingValue