NFTeenie Babies | The Daily Peel | 5/12/22
Futures were flat yesterday until the CPI print was released. Markets started off on the wrong foot, and when the dust settled, bulls couldn't maintain key levels at 4k for the S&P and 11.5k for the Nasdaq. The 10-year yield ended the day under 3%, and the VIX retreated slightly to 32. The Dow lost 1.02%, the S&P retreated 1.65%, and the Nasdaq lost 3.18%. Ouch!
For today's Banana Brain Teaser, I will get you access to our world-class resume review service for 20 bananas off if you're in the first fifteen to respond with the correct answer. Congrats to our winners from yesterday.
Looking to springboard your career into venture capital? Learn everything you need to know about cap tables, term sheets, due diligence, venture fund structure, and more from elite VCs with successful track records in WSO's VC Course.
Let's get into it.
Inflation kept chugging along at more than 8% year-over-year as of last month's data
While other industries continue to expand, tech is slowing its hiring
TerraUSD has officially blown up. I thought you apes said it was stable…?
The future of everyday life starts with scalable, novel ideas now. Figure out how to identify and monetize them.
NFTs just might be the next Beanie Babies, and not in a good way
Madonna is pumping out her own NFTs, but even we don't dare to link you to an image of them. This has to be the top, right?
The answer to yesterday's Banana Brain Teaser was "your breath." It's more challenging to catch the quicker you move.
For today's first 15 winners, I will get you access to our world-class resume review service for 20 bananas off the list price. Here we go again:
How can you toss a rock as hard as you can and have it return directly back to you? This is without bouncing off anything, and there are "no strings attached." No one else is involved to help.
Shoot us your guesses at [email protected] with the subject line "Banana Brain Teaser."
Good News and Bad News - Well, Apes – there's good news and bad news after reading yesterday's CPI print.
First, the bad news: inflation is still kicking your wallets in the nuts. Year-over-year inflation came in at 8.3%, which was worse than the 8.1% that was the consensus prediction. Additionally, the month-over-month Core CPI was worse this month than last.
The good news: it would appear that peak inflation is behind us and that the rate of change for the CPI is trending in the right direction.
After the news, the 10-year yield traded briefly back above 3%, showing that the print weighed on sentiment amongst investors.
What could this mean? Well, investors might consider the Fed's current Hawkish stance not aggressive enough to get inflation under control. This could lead to a continued adjustment in investors' sentiment, further pricing in additional 50 bps rate hikes… or worse.
Even if the Fed's current plan is good enough for markets, inflation is at a 40-year high. Pent-up demand, supply chain challenges, and increased liquidity on the average Joe/Joe-ette's balance sheet mean pricing power for anyone who produces a product or delivers a service.
I don't know what the future holds, but I am considering the apocalyptic ramifications of inflation remaining in the 8% range for the next few CPI prints even with consistent aggressive rate hikes and quantitative tightening from Daddy JPow.
If you thought that these last few trading sessions were rough, I've got news for you. If this trend continues, things could get ugly in a hurry.
Springboard Your Career Into VC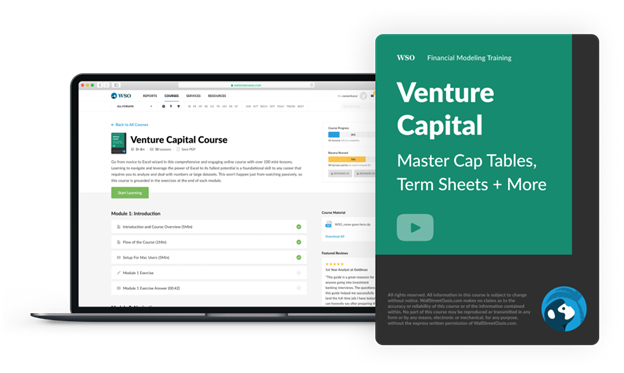 Excited about getting in on the ground floor of the next big idea before it hits the mainstream? If you're looking for an exciting career searching for outsized returns for the next revolutionary concept or product, VC is the place to be.
Springboard your career into venture capital with WSO's VC Course. Get hands-on experience from over 100 lessons that will help you master cap table modeling and term sheets like a pro VC.
Learn from experienced industry experts with proven track records to position yourself for success in a career in VC.
Check out the full course here
Electronic Arts ($EA) - EA sports had a record year in their FY22. On this announcement, their share price was up 7.97% yesterday.
$EA's leadership is bullish on the future, and they are expecting to completely revamp its intellectual property over the next few years.
Congrats to EA on a stellar quarter and a strong fiscal year.
Roblox ($RBLX) - Roblox didn't have the best quarter. They lost more money than they said they would, and revenues were not as strong as they could have been.
That being said, something on their call must have been absolutely amazing because they were up over 10% when markets were green this morning. As the day went on, $RBLX shares retreated. But consider yourself lucky if you can close up 3.36% on a top and bottom line miss any time this earnings season.
Coinbase ($COIN) - Coinbase posted a surprise loss. For a growth company, this has been the kiss of death this earnings season.
On the news, $COIN dropped 26.40% yesterday. Bizarrely, Coinbase now has a market cap of just north of $11bn with over 6 billy in cash, cash equivalents, and receivables. Is this a buying opportunity?
Lucid Group ($LCID) - Shares of the EV maker were down 13.10% yesterday.
I didn't see any real news, but I can confirm that they don't turn a profit just yet. Even after reaffirming their 2022 guidance earlier this week, their stock does appear to be overvalued, given some of the headwinds out there today.
Fingers crossed that the makers of the Dream Edition are not just dreaming about their valuation.
Days Gone By - I dunno about you, but I love a good bidding war. There's something inherently exciting about them. If you've ever participated in an auction, you probably understand what I mean.
For the last two years, we have seen bidding wars in both the labor market and the housing market. Employees have held the keys during employment negotiations, similar to the seller's market we have lived through since the Summer of 2020.
As the Fed tightens, the growth spigot will be turned off in a lot of places. This eventually will loosen up the labor market. At the same time, inventories will rise for home sales.
It won't happen overnight, but job seekers will no longer have all the leverage anymore, and we won't see qualified candidates job-hopping left and right for better pay, benefits, and hybrid or WFH flexibility.
As mortgage rates climb, you're probably not going to see as many homebuyers qualified for mortgages for homes above the median home price and in the jumbo category. Depending on the location, this will stifle some of the intense competition we have seen amongst you savages as you try and buy anything with running water and a place to sleep.
Finding housing has kinda sucked since 2020, but this too shall pass. Finding a flexible gig with great pay and benefits has been easy for knowledge workers and digital nomads, but, sadly, this too also shall pass.
If you're a graduating college senior, you might be a lucky winner at the confluence of many of these factors. If you don't already have one, it'll be easy to find a job if you've got decent grades at a decent school. This is true for even non-targets.
The demand for rentals has already slowed. You will likely be a beneficiary of a cooler rental market wherever you end up working.
Your starting pay will be significantly higher than any other graduating class ever, somewhat thanks to inflation. Some of you with the right skills and employers will start with salaries in the low six figures.
Compared to other graduating classes in the last few decades, this doesn't sound like a bad way to kick off your career, even if it might be at the start of a recession.
"Time in the market beats timing the market." - Ken Fisher