Not a Boom Time | The Daily Peel | 8/25/22
Markets started the day lower but bounced back after lunch.
Joey B is at it again, canceling student loan debt. He is also restructuring income-based repayment plans, capping loan payments at 5% of monthly income.
WTI Crude again had a strong day, moving back towards $95, while the treasury yield curve remained inverted.
At the closing bell, markets were basically flat. The Dow was up 0.19%, the Nasdaq was up 0.41%, and the S&P moved higher by 0.30%.
Interested in gleaning both the big picture & the finer technical details of leveraged buyouts? Our WSO LBO Modeling Course will teach you the fundamental theories of LBO, as well as the importance of cash flow, debt, taxes, and scheduling.
Check it out here
Let's get into it.
Yesterday - First, I am dry; then, I am wet. The longer I'm wet, the stronger I get. What am I?
Tea.
Today - It's 80 bananas off of our LBO Modeling Course for the first 15 respondents. LFG!
Matt is the fiftieth fastest and the fiftieth slowest runner in his school. Assuming no two runners are the same speed, how many runners are in Matt's school?
Shoot us your guesses at [email protected] with the subject line "Banana Brain Teaser" or simply click here to reply!
Tight Labor Market, More Inflation - It doesn't take a rocket surgeon to recognize that a tight labor market adds some inflationary fuel to the fire that is slowly but surely eating away at every dollar in your pocket and taxing the poor and middle class.
Apparently, we got fat and happy during the 2020 lockdowns, gorging ourselves on stimmy checks, enhanced unemployment benefits, and a generally calamitous round of government spending.
We were so into the stimmy checks that we decided we were either above returning to work or that our worth had increased.
Today it seems like everywhere is hiring. Go into a coffee shop, a burger joint, or an ice cream place; you're pretty likely to see a "Help Wanted" sign tacked on the door.
It's not a joke that finding good help is hard. Finding good help at 2020 prices is damn near impossible. That's why businesses are raising wages at a pace that is almost pacing inflation.
Think about this: jobs meant for high-schoolers are paying $20 an hour, the 2020 FTE of making 40k with two weeks of time off.
If you have literally any skills at all and you live in an urban area, you can score a $50k/year job working in a grocery store or at a hardware store. We're talking no degree, no certifications, just a couple of years of experience and some people skills.
As labor became more scarce, employers decided to raise wages. Work-life balance? Quality of Life? Additional benefits? Nah, f*ck that noise; here's an extra 6 bucks an hour.
It's a possibility that this strategy may not work out well for the economy. Wages at these levels help embed inflationary pressures deep into our labor market's DNA.
Job openings are at record highs. And unemployment, even amidst skyrocketing interest rates, is hovering near all-time lows.
How much worse can it get? Well, probably still going to get worse before it gets better.
WSO's LBO Modeling Course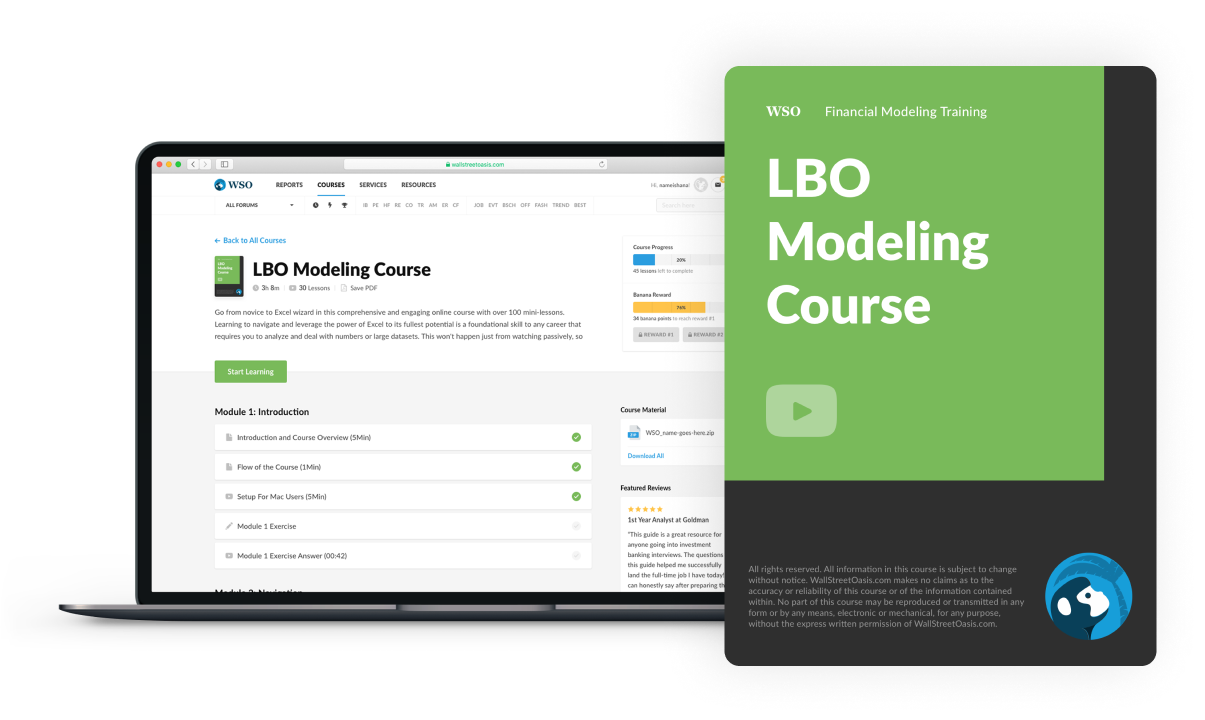 If you're looking to learn both the big picture and the finer details of LBOs, check out the WSO LBO Modeling Course.
Our course will teach you both the fundamentals as well as the importance of cash flow, debt, taxes, and scheduling through refined learning modules and applied case studies.
Our students have landed and thrived at the biggest firms on Wall Street after getting practical training from quality instructors with LBO experience.
Cruise Lines ($CCL, $RCL, $NCLH) - The cast of usual cruise line characters led the S&P higher yesterday, as these names experienced a strong pop.
This week, $CCL succeeded in rolling over its debt and staying afloat a while longer, while all three cruise lines have recently upped gratuity fees that help pay workers aboard the floating petri dishes.
At the close, shares of $CCL, $RCL, and $NCLH were up by 5.35%, 7.62%, and 8.45%, respectively.
Peloton ($PTON) - Peloton finally caved and struck a deal with Amazon; the Street absolutely loves this idea.
Now, $PTON has a storefront with its low-end bike, gear, and accessories available via Amazon's website. This likely makes their stuff more accessible to millions of buyers.
On the news, shares of Peloton climbed 20.36%.
Advance Auto Parts ($AAP) - Shares of the auto parts retailer retreated 9.62% on Wednesday as inflation slows spending at their stores.
$AAP also updated guidance, and it was by any measure lackluster.
Investors are being rather impatient with this name, beating them up and in a hurry.
Petco ($WOOF) - I've never really considered this, but it turns out that owning a pet is somewhat of a luxury.
As the consumer enters economic retrenchment, so goes our affinity for pets, pet toys, and pet food. That's a decent way to cut down household expenditures, but it's bad for Petco's business.
Petco's leadership cut its guidance to reflect these facts of life, and the Street did not take too kindly to the cut. Shares of $WOOF dipped 8.84%.
Limp Consumer Outlook - Macy's and Nordstrom are the latest in a line of retailers to slash their guidance for revenues for the remainder of this fiscal year.
Citing a softening consumer, these big retail names are concerned that they won't make as much money in the second half of the year, especially as macro headwinds hit consumers where it counts most: at home.
Soaring energy costs at the pump and for utilities are going to take a bite out of all of our checks. This is going to leave less room for discretionary spending.
Right now, the battle against old inventories has already begun, right under our noses. There are fire sale-esque movements across the sector looking to offload goods that were overstocked when retailers were riding high.
E-commerce and internet shopping played a key role in our lives during lockdowns. The opposite side of that coin is inventory management.
Just like the piece we ran here about bicycles and excess inventory, clothing and home goods retailers have far too many of the types of goods that far too few of us actually want to buy.
This is going to eat into revenues and take a chunk away from earnings, which probably explains why some of these consumer-focused cyclical names are already slumping after the bear market rally earlier this summer.
Businesses are going to look to clean up their balance sheets in the coming months. Cash is usually not king when it loses value against inflation's ultimate tax, but in a downward trending economy, some cash on hand can help weather the economic sh*tstorm that is on the horizon.
There is no doubt that the consumer is softening. Even as gas prices dipped below 4 bucks a gallon and wages increased for millions of Americans, this summer has not exactly been a boom time when it comes to discretionary spending.
We will keep you updated as more data flows in. For now, we see the writing on the wall in the coming months, and it ain't pretty.
"To get what you want, you have to deserve what you want." - Charlie Munger