Not A Slow Burn | The Daily Peel | 5/10/22
Futures on Monday morning indicated a continued selloff in US equities. The 10-year yield went above 3.2% before markets opened. BTC and ETH are selling off just like the Nasdaq. WTI slid over $7/barrel, and energy stonks followed suit.
The S&P closed below 4000 handles for the first time in over a year, ending Monday down 3.20%. The Dow lost 1.99%, and the Nasdaq gave back another 4.29%. So in case you've been asleep, stonks have been brutal for like five weeks in a row now.
You've been warned: Miso Robotics is partnering with 10 of the top 25 quick-service restaurant brands to test their autonomous kitchen assistants that boost margins 3X. Take a bite of this opportunity. Invest now
For today's brain teaser, we will unlock our Excel Modeling Course for 50 'naners off the list price for the first ten apes who respond with the correct answer. Show us what you've got, Apes, and then we will show you the Excel skills you need to advance your career.
Let's get into it.
The answer to yesterday's Banana Brain Teaser was that it was three people: a grandmother, a mother, and a granddaughter.
For today, we will unlock our Excel Modeling Course for 50 bananas off the list price for the first ten apes who respond with the correct answer. Here we go:
If I had three eggs, and a thief gave me four eggs more, and then my rooster laid five eggs, how many eggs do I have?
Yield Curve Reactions - The last time the 10-year yield was at these levels was in the Fall of 2018. That's almost four years ago.
But when you take a look at the 10-year for the last 40 years, we've been in a bull market all this while. Indeed, these yields have trended lower since the Volcker days.
But what determines treasury yields? Well, it's complicated.
On the surface, there are four things in the equation: growth, inflation, the Fed funds rate, and the Fed's balance sheet. Seems easy, right?
These four factors all swing together, so to speak. They're a rather incestuous mixed bag of correlated economic factors.
I care about movement in the 10-year for two real reasons:
It's a good proxy of investor confidence in the economy.
It's a good gauge of the pain that growth names will experience in servicing their debt as the 10Y yield rises.
We are entering a new economic cycle coincident with a changing profit cycle. Earnings most likely peaked in Q4 of 2021, and we are just getting started in one of the most aggressive Fed tightening cycles of all time. This tightening could plunge the economy into an r-word if we're not already technically in one.
An r-word wouldn't be good for stonks; but the trends that we have seen in tech, SaaS, and digital transformation are going to get smashed either way - even though novel technologies are good for the advancement of society and make doing business easier and more efficient, companies in the space have gotten fat and happy off of loose policy and liquidity.
These tech names have been propped up by next-to-free money more or less since the dot com bubble. But what's next?
Well, as the business cycle continues to evolve in step with the unwinding economic cycle, I will use the yield curve as a gauge for growth's viability in the market.
Now You Can Invest In A New Era Of Food Automation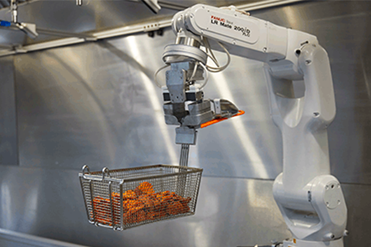 Miso Robotics is taking on the $73 billion quick service restaurant market with autonomous kitchen assistants that boost margins 3X. They're starting with huge brands like White Castle that just announced plans to install Flippy 2 at 100 locations. But Miso isn't stopping there. You can still invest in this company before it breaks through the rest of the industry.
Moderna ($MRNA) - One of the leaders in the slumping Nasdaq yesterday was the mRNA vaccine-maker Moderna.
On no apparent news, shares of $MRNA rose modestly, closing up 1.04%. Let's face it, the Nasdaq got crushed again, so there's not really a lot of "ripe" to write about here.
3M ($MMM) - The leading gainer in the Dow yesterday was 3M. The big dividend play was up 1.86% yesterday.
Again, this was another move on no apparent news. It's not like it was a huge jump into the green, but in all reality, 3M is a stalwart industrial stock; we might be watching investors flock towards what they view as a safe haven in a bear market.
Rivian ($RIVN) - I've been told by everyone here at WSO to stop talking about Rivian because it's obvious that I f*cking hate them.
Rivian played a role in crushing both Amazon and Ford's most recent earnings reports, responsible for their part in multi-billion dollar losses for both companies. This weekend, Ford's lockout period officially expired, so $F's management decided to flood the market with approximately eight percent of its stake in the EV maker. JPM-Chase also reported that it would be selling another 13-15 million shares for another unknown seller.
On the news, $RIVN was down 18% pre-market and closed down 20.88% on Monday afternoon. This is a nice cherry on top of a 77.8% backslide year-to-date.
Energy ($XLE) - Monday's biggest losers had a couple of things in common: lots of your favorite energy-related names, and they spent a lot of time circling the drain as WTI gave back more than 6.7%.
Energy is up more than 40% for the year, but that doesn't mean Monday was pretty. $XLE fell 8.27% yesterday.
Will Retail Traders Recover? - Being a wise investor happens to be an easy gig when stonks only go up. Think about it; when the bulls are running, it's pretty easy to just grab a horn and ride along.
Just a hypothesis: most retail traders are on the long side of the market, and their portfolios typically consist of only shares owned in a few handfuls of companies, indices, or ETFs.
My guess is that elaborate diversification allocations and complex, multi-leg options strategies for downside protection and risk management might be a touch elusive to the newly minted retail trader.
Everyone was doing it. Robinhood, those sanguine fintwits, forced us to start talking about retail trading; WallStreetBets forced us to never forget about the little guy.
After combining something akin to gaming & trading coupled with $hitloads of newly found free time during WFH, we all became stock market degens, coo-coo for the next snap-trade that would go to the moon.
Who can blame the little guy for getting emotionally attached? When stocks were literally just ripping higher and higher and higher for months on end, there was some serious Fear of Missing Out amongst those who didn't have access to the market just yet.
Dollar after retail dollar poured into meme stocks and growth names.
And as the 10Y yield has risen, growth names have taken a dump, and retail investors' portfolios have moved in correlation with this metaphorical dump.
In a broad market downturn, for an investor that only holds long positions, there are indeed very few places to hide.
If you were squarely in tech growth names and missed the bus on a rotation to value and energy earlier this year, you might be down 50% YTD. Those are shitcoin-esque returns.
This type of soul crushing is not conducive to helping produce a sustained motivation for retail traders to continue dumping their hard-earned bananas into stonks. Succinctly put: our aforementioned FOMO is drying up.
I have no doubt that r/WallStreetBets, as a movement and probably a way of life, will survive, just like I know that even if their share price goes to basically zero, even Robinhood will continue to enable access to payment-for-order-flow-captive capital markets for the average joe/joe-ette.
The question really becomes: will your portfolio survive?
"The standard of living in America has to decline." - Paul Volcker