Not Gonna Budge | The Daily Peel | 11/21/22

Nov 21, 2022 | Peel #342
Give your silver bananas to...

The staredown between investors and the Fed resulted in tiny gains to end the week.
Better-than-expected retail data had the market ready for some Christmas cheer, but shaky earnings forecasts and climbing long-run rate expectations soured the mood.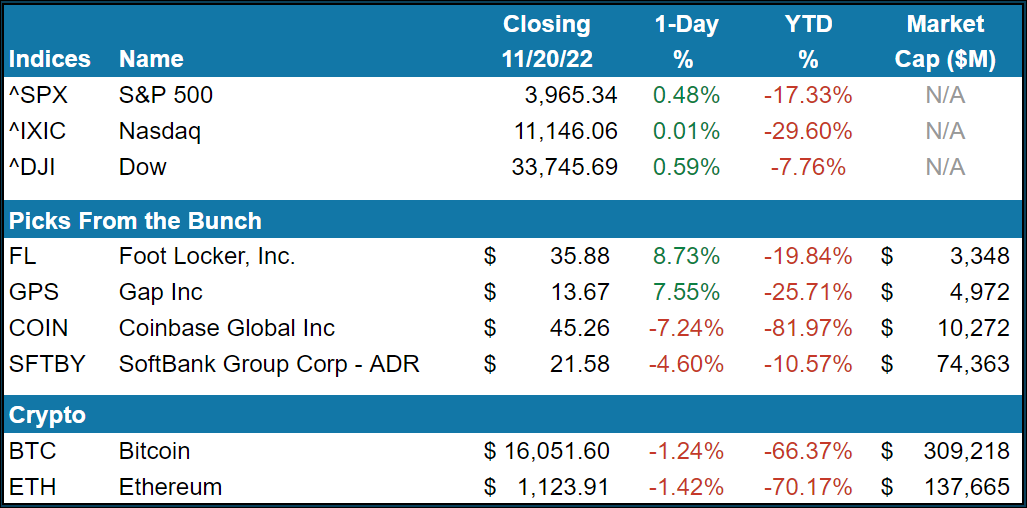 $50 UberEats Just For Requesting Quote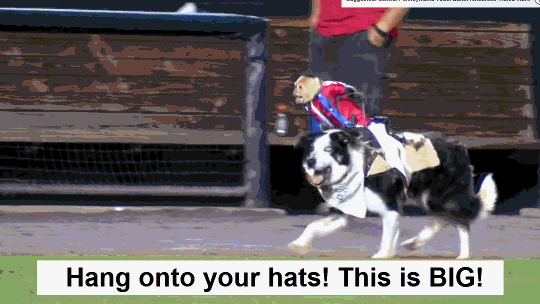 We got a good one today-Caplinked loves Daily Peel readers so much that they're handing out tons of free stuff just for filling out a form.
Here's the deal-request a data room quote, and you'll automatically get:
50 bucks at Grubhub or UberEats
Entered to win free WSO swag
Entered into a raffle for 100 bananas at Amazon
Yea, we're serious. It only takes a few seconds to fill out their form, and you'll get 50 grub bucks. Can't beat that ROI.
Caplinked is an awesome data room that's easy to use, and has all the functionality you need to stay in the good graces of your MD. Whether your client is a sovereign wealth fund or a mom & pop shop, their digital data rooms have the tools you need to get the deal done.
If you work in banking, you know how stressful all-nighters during a merger can be. Sensitive data needs to be kept under wraps, but mistakes can happen when you're running on adrenaline and Red Bull.
They're the fastest growing data room for a reason. Clients rave about the quality and simplicity they bring to dealmaking.
This offer expires soon, so take a few seconds between Slack pings and request a quote today!
Frigid Winter Ahead for Housing
Kinda wild that something as allegedly stable as housing has been such a seesaw in the U.S. We went from widespread foreclosures in '08 to a buying frenzy about a decade later, and now home sales are down for a 9th straight month.
It's easy to point to individual culprits:
Mortgage-backed securities made lending way too easy and set people up for predictable foreclosures. Alright, lesson learned!
Rock-bottom mortgage rates and the aftermath of C-19 sparked a buying frenzy that got way outta hand. Got it, we need higher long-run rates, and way more houses built
Now it's 2022, and still-sky-high prices mixed with 7% mortgages have made the monthly payment exorbitant for the actual house you get
Home sales have fallen off a cliff, and builders don't want to break ground until demand comes back.
F*ck it, I give up.
Maybe the endgame is that. Unless you have millions in assets, you're a renter for life. JPMorgan is betting on an outcome that looks something like that after its recent investment in built-to-rent homes.
Is this the best we can do? A whipsawing market that's so hard to get your head around that we all just end up renting forever?
Perhaps cratering demand will push some sellers to give in and lower prices. Many listings haven't budged on their asking price, despite a doubling of mortgage rates. That basically means you're paying significantly more each month for the same amount of house.
If sellers are content to kick back and wait for a rebound in demand, the housing winter could stay cold and dark for a while. It's not like we're building homes left and right to fill in the gaps.
Fingers crossed that we can get some kind of long-run balance here. Otherwise, might want to lock in some long-term renters insurance.
Foot Locker ($FL) ↑ 8.73% ↑
Hypebeast resellers have taken hold of the upper echelon of the sneaker market, but $FL is happy to play at the lower levels
The company is dependent on Nike for 60% of its sales, and no amount of inflation can prevent buyers from wanting to Be Like Mike
Gap ($GPS) ↑ 7.55% ↑
Gap is doing just fine after its breakup with Ye, and it's the latest retailer to show it was able to dump huge amounts of inventory in the quarter
It's pumping the brakes ahead of the holiday season, but the Q3 beat is a welcome respite after weeks of chaos
Coinbase ($COIN) ↓ 7.24% ↓
$COIN initially looked like it could sidestep the FTX contagion, but analysts are expecting all crypto exchanges to lose investor trust in its wake
FTX's new CEO, who previously unwound the Enron fraud, hinted that FTX's situation is even worse. Until there's regulation in the space, expect crypto stans to move holdings off exchanges and into cold wallets
Softbank ($SFTBY) ↓ 4.60% ↓
Masa wanted to get his beak wet in some of Softbank's tech investments and set up personal side bets that have blown up spectacularly
CFO Yoshimitsu Goto said, "we need to go full-on defense" after a horrendous year. Despite it all, Masa's net worth stands at over $12 billion today…unreal
How Many People Does a Tech Giant Really Need?
For the past decade or so in Silicon Valley, Big Tech has been vacuuming up engineers left and right, even if there hasn't been a clear need for the extra bodies.
But when you're Google and have billions that you can throw at moonshot projects, you might as well fill their time trying to make internet-beaming hot air balloons or a pill that detects cancer.
The fantastic HBO comedy Silicon Valley portrayed the "rest and vest" culture well, as newly hired Hooli engineers were sent to pretty much f*ck off on the roof for the day
Many a TikTok from Meta/Twitter staffers have shown days filled with matcha lattes and foosball rather than actual work.
Elon's kicking everyone out and ending the party. That could either lead to a massive collapse of Twitter or show the industry that you can operate an insanely profitable tech conglomerate with waaaay less people.
In a ZIRP world, when you have free money to burn, it makes sense to scoop up talented engineers to make sure they don't head to a competitor or start a company that disrupts your business
That equation changes when you actually have to turn a profit and can't just fund infinite growth with Monopoly money
The "extremely hardcore" work environment that Elon has implemented at Twitter was broadly rejected by existing workers, to the point where management was scrambling to keep key talent
If a tiny, intensely focused team can keep Twitter alive and turn a profit while doing so, expect other tech companies to follow suit. Nothing pads a bottom line like slashing swaths of 6-figure employees.
At the same time, we talked last week about how the American labor market has long-run structural issues, and axing big chunks of your workforce could come back to bite you.
One thing is clear-stop posting f*cking TikToks about how cushy your tech job is. It's making everyone look bad. Just enjoy your free kombucha on the roof in peace.
The big question: Can Elon pull off an epic turnaround of Twitter with a skeleton core of employees? And if so, will other tech companies follow suit to claw back some of their equity losses?
Yesterday - Take away my first letter and I remain the same. Take away my last letter and I remain unchanged. Remove all my letters and I'm still me. What am I?
A mailman.
Today - It's 50 bananas off the Consulting Interview Course for the first 25 correct respondents. LFG!
You go at red, but stop at green. What am I?
Shoot us your guesses at [email protected] with the subject line "Banana Brain Teaser" or simply click here to reply!
"Our job is to find a few intelligent things to do, not to keep up with every damn thing in the world." - Charlie Munger