Place Your Bets | The Daily Peel | 1/30/23

Jan 30, 2023 | Peel #388
Happy Monday, apes.
Is it ever really a Happy Monday? Probably not, but hey, at least last week closed on a good note. Maybe we can keep those good vibes going today.
US equity markets were dripping in green from small-cap tech to large-cap financials, with just a bit of red in between.
Bond yields gained at the same time that the dollar danced around just shy of the 102 level for the DXY. Turns out y'all still haven't made your minds up about this week's Fed meeting, but we still got 2 days to prepare, so get ready.
Let's get into it.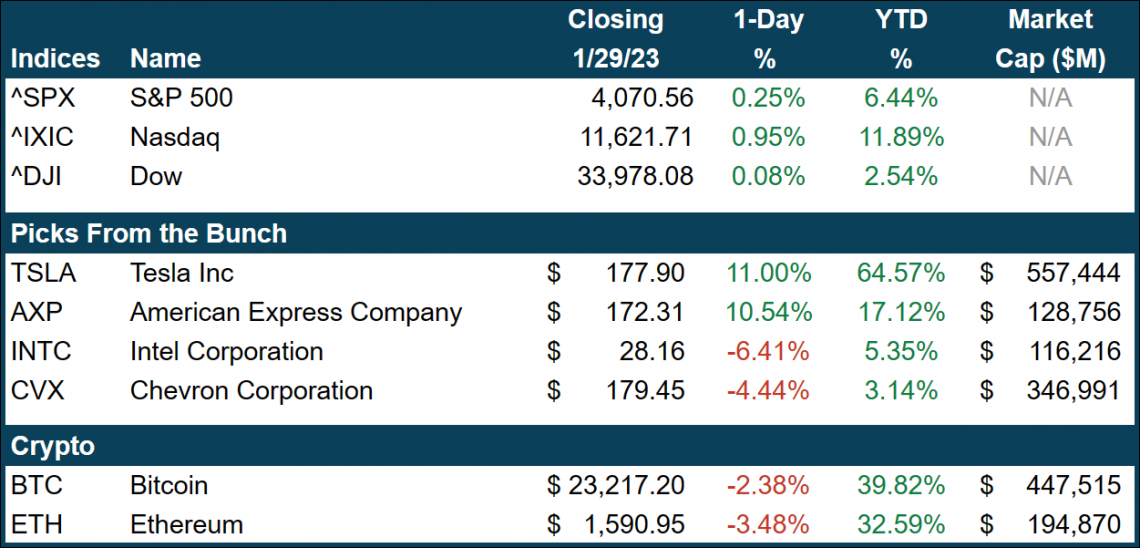 Talk the Talk of IB With Our M&A Modeling Course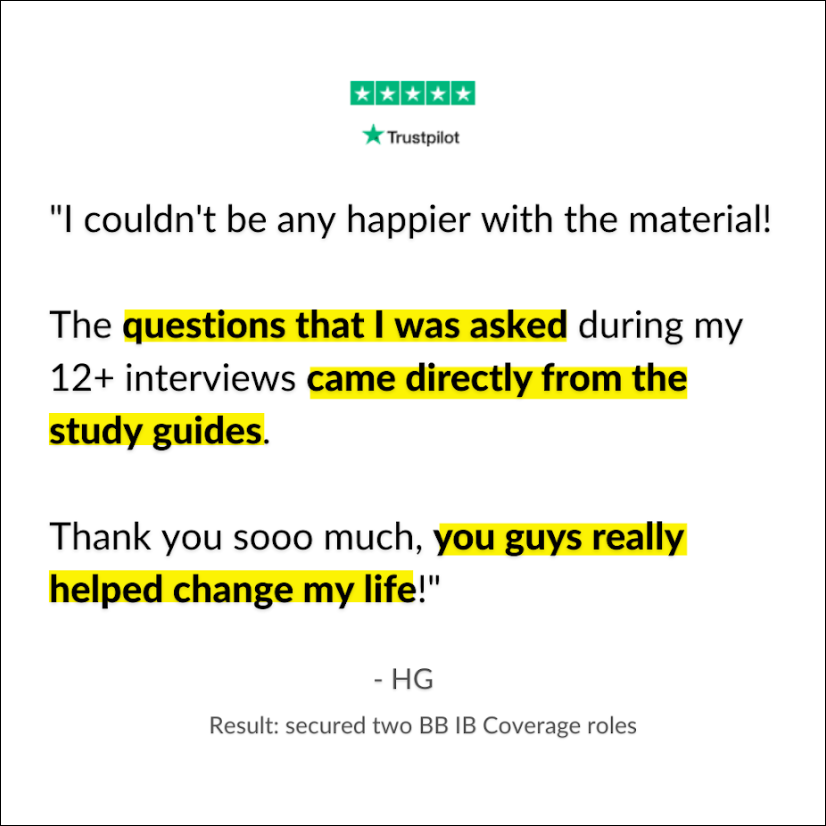 Hey there, future investment bankers! Tired of being rejected by the big dogs in finance? Say goodbye to those blues and hello to WSO's IB Interview Course!
We will show you how to slay those tricky interview questions and ace your dream job. Our 300+ questions and 70+ hours of videos will help you master the technical and behavioral interviews, plus insider tips from banking veterans, and you'll be 100% prepared for anything they throw your way.
What's more? You'll even find yourself landing more interviews with our proven resume templates and LinkedIn tips. And with the WSO Company Database, you'll get exclusive access to compensation, interview insights, and employee reviews for hundreds of banks.
For the first 3 readers to sign up in the next 24 hours, we're giving free access to our Accounting Foundations Course!
Don't miss out on this chance to level up your finance game.
Quiet Entrepreneurship
If you're a TikTok addict like myself (unfortunately), you're well up to speed on all this talk about "quiet quitting."
But while the boomers use this trend to feed the fire of their "every young person is lazy" narrative (like every older generation throughout history says), nobody is talking about the exact opposite phenomena occurring right now as well.
Skip down to Data Peel real quick.
You back? Perfect. That Data Peel chart shows a massive uptick in new business formation brought on since the pandemic. I don't know about you, but I'd say starting a business is the exact opposite of "quiet quitting."
That's not to imply that all the job leavers out there are the next Steve Jobs or Sam Bankman-Fried (lol), but during times of economic hardship, we often see the formation of new businesses pump through the roof.
Anecdotally, Airbnb, Uber, Stripe, Slack, Square (aka Block), Instagram, WhatsApp, and even BTC itself were all founded in the throes of the GFC. Hard times make strong companies, or however the expression goes.
You get the point now (I hope). Since mid-2020 and continuing up until now, the New Business Formation rate has held relatively steady on a higher plateau than pre-pandemic. Maybe it's WFH, maybe it's all the layoffs, or maybe it's just OnlyFans, but something in the air seems to have changed.
In December, New Business Formation rates did tick down slightly from November across almost all US regions. The one where it didn't? The same one that everyone's moving to-the great American South.
While the big upswing in New Business Formation bodes well nationwide, it's particularly beneficial for the region hogging all the entrepreneurs. Cities like Atlanta, Miami, Charlotte, Raleigh, and Nashville have seen both an influx of people and, along with that, an influx of new business.
Historically, those two factors have been leading indicators for a multi-year, secular trend of positive data ranging from employment figures to general well-being among the population.
This is one of those trends that won't move markets on a daily basis but leads to economic growth over the long term-our favorite kind of economic growth.
To speculate wildly for a moment, coming out of the GFC, California and the North East (aka Boston and NYC) hogged all the new businesses. As a result, we got a whole lot of new SaaS, fintech, and biotech firms.
Coming out of the South, especially in regions like the Research Triangle in North Carolina, we could see an outsized amount of new agritech or industrial companies, for example.
There are a lot of possibilities, and it's not like the South is dominating so much that the rest of the country will be left behind. NYC, SF, Boston, and Chicago, to name a few, will likely remain on trend, which is great for them, but it's particularly advantageous for the previously named cities like Miami and Raleigh.
Maybe it's WFH, maybe it's inflation, or maybe it's just OnlyFans, but as entrepreneurship is seen as the key to the American Dream, this is a huge sign that the Roaring '20s 2.0 could be a lock. Place your bets now.
Tesla($TSLA) ↑ 11.00% ↑
Would you say this past week was your personal best week since May 2013? No? Well, in that case, you're definitely not Tesla stock.
Shares have been PUMPIN' recently, gaining well over 60% so far just this year and almost 40% in just the last week. Earnings dropped recently and were nothing short of stellar, but generally when Tesla reports actual good news, shares dump as a result of profit-taking.
Not this time. Elon is absolutely balling out as traders buy up shares in fear of missing out on the next record-setting run (they hope) and because the stock is still down over 50% from all-time highs. You buying the dip?
American Express ($AXP) ↑ 10.54% ↑
What's more American than credit card debt? That's right, absolutely nothing. And American Express-along with their shareholders-is loving it.
Friday was earnings day for the financial services/airport lounge giant, and although the firm's profits did fall nearly 10% YoY, the company is still killing it compared to these other card issuers (aka losers).
The firm's revenues have ballooned 32% over just the past 5-years after adjusting for inflation. Despite spending nearly $20bn on rewards and benefits for members in 2022, the sales those benefits drove far outweighed any costs.
That's because American Express loves rich people. Have you ever been in line in Harry Styles's "Pleasing" store or something and realized the line next to you was moving way faster? Yeah, that's the line for AmEx card holders. Merchants have to pay a hefty fee to the company for customers to use their cards, but as AmEx holders spend an average of 3x that of regular (broke) customers, it's all well worth it, apparently.
Intel ($INTC) ↓ 6.41% ↓
If Intel was in a middle school lunch room, AMD and Nvidia would be slapping food off its tray and pouring milk down its back at the same time.
Yup, the firm's earnings were that bad. Intel posted a 32% decline in YoY revenue and a >$650mn loss for the quarter. I wish I could type emojis on this thing because the green-faced puke emoji would sum things up better than me.
"No words can portray or explain the historic collapse of Intel," said one analyst at Rosenblatt, portraying and explaining the historic collapse of Intel.
Basically, the stalwart chipmaker has too much production and way too much inventory proportional to its demand. I guess that's what happens when you're the third-string chipmaker in a year when PC sales tumble faster than Kanye West's career.
Chevron ($CVX) ↓ 4.44% ↓
The downside of being massively successful is that if there's an instance where you take an L, that L is as fat as TCU in this year's natty game. The bigger-or more successful-you are, the harder you fall.
Chevron, along with its shareholders, learned this the hard way last week. Just days after announcing what is almost definitely the largest proportional share buyback in history, the stock was off nearly 4.5%, all thanks to earnings.
The thing is, they weren't even bad. They just weren't spectacular as the Wall Street consensus for a $4.33 EPS priced in. When that figure came in at $4.09/sh for the 4th quarter, shares sold off in a tizzy.
Don't start feeling bad for the oil supermajor just yet, though. The firm's share price is still up 50% since kicking off 2022, so they're doing just fine.
Are You Down? M(e) 2
What if I told you that in 2022-a year steeped in record-setting inflation-the supply of money in the United States actually shrank?
Well, it did, for the first time ever. Read that again. There's no typo or anything like that. The data we have suggests that the M2 money supply actually fell in 2022 for the first time ever since we've been counting.
There's a lot more to it than it sounds, but according to recent studies, that is the case in the United States. For starters, the M2 money supply is essentially all of the liquid cash in the US economy. The cash in your wallet, savings & checking accounts, CDs, money market funds, and other short-term savings vehicles are all included. Think of it loosely as basically anything that is cash or could be converted into cash in like 24hrs or so.
Monetary purists have the idea that growth in the M2 supply is the fundamental driver of inflation. New school economists tend to argue that is not the case, as the supply of money ballooned from 2008-2021 with very little inflation over the period.
Clearly, they were right that the galactic-sized growth in the money supply during 2020 and 2021 did lead to the inflation we all ate in 2022. But at the same time that inflation spiked, the supply of money actually shrank.
See? Not that easy, huh, Adam Smith?
The only thing that we can say with any kind of certainty around this is the fact that a decreasing money supply bodes well for disinflation. As JPow and the gang continue their crusade for higher rates, we can only hope that they're paying attention.
As it stands, we are currently in the midst of 1) the fastest rate hike cycle in American history, 2) the first decrease in the M2 money supply in American history, 3) $95bn of quantitative tightening per month, and 4) a long-term tech disruption cycle that lowers costs for almost everything. All of those working together point towards one thing: deflation.
To be clear, this is also pure speculation. In monetary policy terms, we're treading unknown waters. Sure, in the short-term, we do need to get inflation to chillax below that seemingly divine 2% target, but expanding our view beyond the next election cycle, worries of deflation abound.
As bad as inflation is, deflation is much worse. Deflation halts an economy, full stop, as consumers think, "I'll just buy it next week because prices will be lower anyway." Spending stops, the velocity of money stops, and we all start hoarding cash like our lives depend on it.
We're not trying to sound any alarms here, but it's important to keep all the possibilities in mind, particularly that of the worst-case scenario. Look at Japan. They've had negative interest rates since the beginning of time; it seems like in a desperate attempt to spur inflation out of fear of the effects of deflation. If the US has to follow the same playbook, well, the global economy will look a lot different.
The big question: Will M2 money supply keep decreasing in 2023 and beyond? If so, what kind of trouble does that spell for the US and global economy?
Friday - They fill me up and you empty me, almost every day; if you raise my arm, I work the opposite way. What am I?
A mailbox.
Today - It's 100 bananas off the WSO's IB Interview Course for the first 5 respondents. LFG!
A sundial has the fewest moving parts of any timepiece. Which has the most?
Shoot us your guesses at [email protected] with the subject line "Banana Brain Teaser" or simply click here to reply!
"Whenever I see a stock market explode, six to 12 months later you are in a full blown recovery." - Stanley Druckenmiller
Happy Investing, Patrick & The Daily Peel Team
Was this email forwarded to you? Sign up for the WSO Daily Peel here.