Pound and Out | The Daily Peel | 9/27/22
Stocks attempted a rally after last week's bloodbath but ultimately closed in the red. Just too many headwinds.
Across the pond, investors continue to dump the British pound on fears that tax cuts will add fuel to soaring inflation. UK bond yields spiked accordingly.
This week, we'll get August's new home sales, consumer sentiment data, and, most importantly, $BBBY earnings.
At the close, the Dow fell 1.11%, the Nasdaq dipped 0.60%, and the S&P dropped 1.03%.
Certain skills are indispensable in Finance: using Excel without a mouse, a thorough understanding of the principles of financial statements, and PowerPoint Ninja skills to slay any pitch deck. Set yourself up for success and sharpen your skills with our WSO Foundations Package.
Let's get into it.
Yesterday - I'm where yesterday follows today, and tomorrow is in the middle. What am I?
Dictionary.
Today - It's 100 bananas off of our WSO Foundations Package for the first 15 respondents. LFG!
There is a barrel with no lid and some wine in it. "This barrel of wine is more than half full," says the woman. "No, it's not," says the man. "It's less than half full." Without any measuring implements and without removing any wine from the barrel, how can they easily determine who is correct?
Shoot us your guesses at [email protected] with the subject line "Banana Brain Teaser" or simply click here to reply!
European Chaos - It's been a helluva ride for Europeans this year, but the last few weeks have been especially crazy.
In just the last month, you've had:
A new monarch for the first time in 70 years
A new British prime minister that's resurrecting Thatcher and slashing taxes
A hard-right candidate win Italy's general election
Soaring energy costs
An escalating war in the east
By comparison, us Americans have had it easy with a measly stock market freefall and sky-high inflation.
There are so many factors at play across the pond right now that it's hard to keep track of how they're affecting each other.
Are UK bonds selling off on a darkening economic picture, inflation fears, or a bit of both?
Are the results of Italy's election impactful enough to move markets or change the near-term fortunes of the European economy?
Wtf is going to happen with Russia and Ukraine this winter, and how will energy markets be affected?
Hold on to your berets. It's going to be an interesting couple of months over there.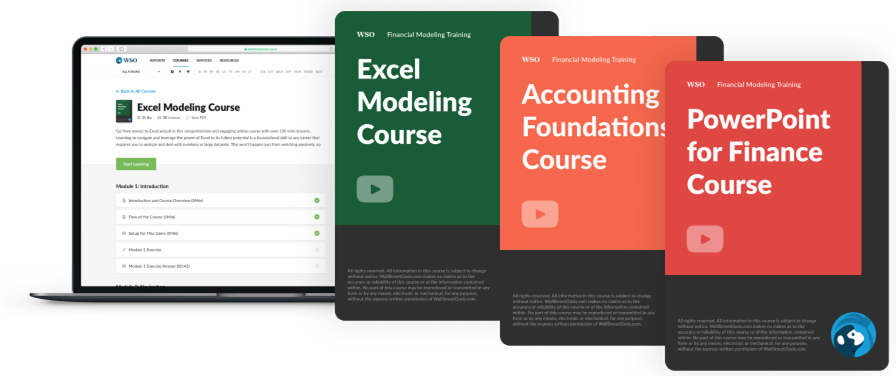 Certain skills are indispensable in Finance. Financial statements are the backbone of fundamental analysis, and Excel and PowerPoint are their love languages. If you want to be successful in this world, knowing the ins and outs of these three foundational topics will make you dangerous in any shop, from boutique to BB.
Dive into more than 100 lessons put together by experienced finance professionals that will help you sharpen the skills you need to build your finance foundation.
Casino Stocks - The likes of Wynn, LV Sands, and Melco have been ripping throughout the last month on whispers that China could be easing C-19 restrictions, opening up the golden goose that is Macau.
A new e-visa program will make it easy for mainland Chinese to visit and gamble in the resort city, which would be a game-changer.
The moves in these names underscore just how important Macau is to their businesses.
At the end of the session, $WYNN was up 11.99%, $LVS rose 11.81%, and $MLCO gained 25.47%.
Chegg ($CHGG) - Bargain bin hunters liked what they saw with Chegg Monday on the backs of a bullish analyst report.
It's given back all of its C-19 bubble gains and then some, as in-person learning has returned, and strong opportunities abroad present some nice upside from current levels.
$CHGG was up 9.08% by the end of the day.
AMC Entertainment ($AMC) - Just a matter of time before AMC turns into APE Capital.
The embattled theater chain lives and dies based on retail investment.
They're tapping into that well again with the issuance of hundreds of millions in APE preferred equity as they stare down a stark future.
Paper-handed apes saw through the move and dumped shares en masse.
$AMC closed the day down 14.46%.
Carvana ($CVNA) - The car vending machine company IPO'd in 2017 at about $15/share.
At its peak in Aug 2021, it hit $360. It's now back at $24 and sinking by the day.
Even for a meme stock, that's an epic rollercoaster ride.
Bulls would say this is the time to get in, but slowing sales and a cash inferno point to trouble ahead.
By the end of the day, $CVNA was down 6.57%.
Who Wants a Factory Job? - If you look at most rich countries today, they've followed a pretty standard economic progression:
Move much of your rural, farming population into cities where they can get better-paid manufacturing jobs
Open up your economy to foreign companies, allowing them access to your domestic consumer market
Nurture homegrown companies to compete on the world stage
Transition to a high-paying service economy and outsource manufacturing to a country on a lower rung of the ladder
It's pretty incredible how standardized this process has become and how well it has worked.
But that's not to say it'll work forever. Manufacturing is slowly but surely shrinking in importance to the global economy as people do more things digitally and robots make more stuff.
That means that the middle-income ladder could be getting pulled up from poor countries, especially in Africa, which has the demographics to catapult its economies like China or the other Asian Tigers were able to.
The news of China overhauling its Belt and Road initiative adds to this concern. It has already spent bookoo bucks on the program, with the intention of building up manufacturing capacity across developing countries that would benefit its own economy eventually.
The big question: will manufacturing remain the lynchpin for economic growth, or will something else take its place?
"Investing should be more like watching paint dry or watching grass grow. If you want excitement, take $800 and go to Las Vegas." - Paul Samuelson