QE-squared | The Daily Peel | 12/21/22

Dec 21, 2022 | Peel #363
Happy Wednesday, apes.
It's the one-week anniversary of the last time we heard from JPow, and I just gotta say I miss him already.
Despite the 50 bps hike, the global economy has completely collapsed just yet (right?), but markets did largely continue their risk off trade yesterday.
Stocks fell, yields gained, and currency markets have gone a tad wild thanks to the homies over in Japan (more on this below).
Our favorite indexes ended yesterday in the green. The S&P rose 0.10%, the Nasdaq 0.01%, and the Dow 0.28%.
Let's get into it.
Diversify Your Porftolio With Farmland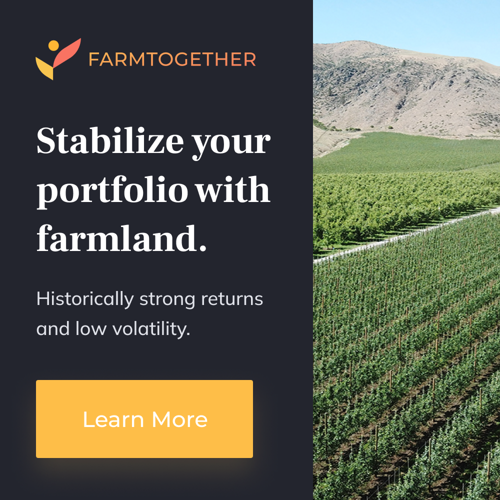 Despite the turbulent year we've experienced, including record inflation and substantial volatility across the financial markets, farmland values continue to surge. In fact, the average value of cropland across the country rose sharply by about 14% in 2022. Interested in adding farmland to your portfolio? For a low 15k minimum you can now invest through FarmTogether. 6-13% Target Net IRR.
The BoJ Give the B-'Okay' on Looser Yields
Japan is kind of like the US's much smaller, older, and far more indebted cousin. We can't really do much to help, but it's okay because neither one really wants our help anyway.
But when we see signs like yesterday, that little bit of remaining hope reignites. Late Monday evening (early afternoon on Tuesday in Japan), the nation's central bank announced plans to relax just a little bit on its notorious yield curve controls.
Background: Since Fall 2016, the Bank of Japan has allowed itself to buy unlimited (and ungodly) amounts of the nation's debt in an effort to ease monetary policy conditions.
QE haters in the US would've died 10 times over if the Fed did anything remotely close to this. But for the past 6 years, this has been par for the course in the Land of the Rising Sun.
The ability to buy n amounts of bonds allows the BoJ to essentially eviscerate market demand for these instruments and thus keep yields and rates ultra-super-mega low, to use a technical term.
Those artificially low yields and rates ensure a few things. First, for a country with debt ~2.6 times its GDP, keeping the rate on your interest payments as low as scientifically possible is probably a decent idea to not bankrupt literally everyone. Second, ultra-easy monetary conditions provoke inflation, something Japan hasn't smelled since the '80s.
Now, wanting inflation may sound strange in this day and age. But the reason the Fed targets 2% annual price gains is that the alternative is much worse.
Minor inflation allows for a growing economy and ensures that price-based demand today is higher than tomorrow.
When you have deflation, no one buys anything because it'll be cheaper tomorrow, leading to a truly devastating cycle much more detrimental and harder to remedy than rising inflation.
So, to keep debt payments low and deflation at bay, Japan has enacted what inflation doves in the US can only imagine: a target of 0% on its 10-year yield.
But what happened? Why is everyone tweaking, and why did Japan's yen rise against other currencies for the first time since the days of the Samurai?
Basically, the BoJ announced it would chill on its egregious bond purchases to allow yields to fluctuate between -0.5% and 0.5%, up from the previous -0.25% and 0.25%.
This is a sign that the BoJ is moving away from the monetary policy equivalent of Pablo Escobar burning dollar bills to heat his house and towards a policy that would make Adam Smith gag just a little less.
While it's not a huge change, it's the fact that there was any change that's the true shock. No one saw this coming, hence the 10-year Japanese bond yield jumping all the way to 0.46% and the yen's once-in-a-blue-moon rise.
Often in markets, the direction is what matters, not the level itself. Just the fact that Japan is starting to wean off the opioid of ultra-super-mega QE is a sign of changes to come. We'll see…
Steelcase ($SCS) ↑ 9.60% ↑
You may not have heard of this weird little stock, but I guarantee you've sat on their products before.
Furniture maker Steelcase posted hella strong earnings yesterday, leading shares to surge almost 10% on an otherwise dreary day.
Operating income shot up by roughly a third while sales grew way faster than they're supposed to for a damn furniture company.
"More companies going back to the office = more office chair sales" makes sense in hindsight. Damn, apes, that should've been an easy one to call. But I guess making predictions is hard...
Moderna ($MRNA) ↑ 5.94% ↑
From saving the world to saving portfolios, that's the story of the lil company from Cambridge.
No major news dropped, but shares did get a rating bump from analysts at Jeffries. Investors appear to continue on their joy ride since last week's data dump from a surprisingly positive cancer treatment study.
FuelCell ($FCEL) ↓ 18.71% ↓
For maybe the first time in 2022, we seem to have had an actual proper reaction to an earnings report. The only problem is that it cost shareholders nearly 1/5th of their investment.
FuelCell Energy manufactures…fuel cells…but apparently, those fuel cells have fallen out of favor faster than SIlly Bandz in 2012.
Both top and bottom line figures missed miserably. EPS, in particular, came in at a disgusting 57% lower than estimates, while the top line missed by "only" 11%. Still, those weak numbers still represent 180% YoY sales growth for the quarter. Wall Street is pretty high maintenance, to say the least.
Tesla ($TSLA) ↓ 8.05% ↓
Here's something you almost never hear about Tesla: shares hit a fresh 52-week low yesterday. The EV giant has shed roughly well over half-a-trillion dollars in market cap just since Musk announced he wanted to buy Twitter.
Don't even ask me about the YTD figures. Like Twitter's rollout of the Blue verification system, it's gone about as bad as it possibly could.
Yesterday's crash was likely a combo of the triumvirate that's been bullying shares all year: Musk's new crush on Twitter, economic conditions in China, and the dumping of shares by the goddamn CEO.
Go ahead, I dare you to name something that could possibly make this worse.
Back at It Again
To quote the way-too-slept-on rapper JID, "we 'bout to rob a Wells Fargo."
Well, I hate to break it to you, JID, but the Consumer Financial Protection Bureau (CFPB) beat you to it…by a lot.
One of the largest and oldest banks in the United States, Wells Fargo, has been through the sh*tter lately, to put it lightly.
The firm is still subject to hefty penalties stemming from the scumbaggery they engaged in back in the mid-20teens, but as the losses in our portfolios know all too well, old habits are hard to break.
Yesterday morning, news broke that the banking titan was hit with a faaat $3.7 billy fine in response to even more scumbaggery the firm engaged in, this time involving auto loans, mortgages, overdraft fees, and other avenues where it's easy to take advantage of average Joe clients.
45% of that fine is going directly into the CFPB's wallet (lucky bastards). The remaining is allegedly going directly back into consumers' wallets. Whether that actually occurs on any kind of reasonable timeline is anyone's guess.
My guess, you ask? Well, I hope you weren't banking on this check to buy your Christmas presents…for the next few years.
Redressing customer losses is almost exclusively a long, arduous process where it's almost as if the banks don't want to give customers their money. Weird, right?
Just this past October, Wells set aside a cool couple billy for expenses dedicated to just breaking all the rules.
Still, this fine is nearly double that, and management has already issued guidance of a Q4 operating loss slightly shy of the faaat fine.
16 mil custom accounts are in question. Practices include gross negligence in servicing things like auto loans and mortgages, leading to avoidable repossessions if the firm had just done its job. Safe to say Wells would've been cut by Bill Belichick a long time ago.
And because I know you're wondering, yes, that 45% of the pie I mentioned is the largest in the CFPB's history.
Like the kid that was addicted to chewing gum in elementary school, Wells is what we so sweetly call a "repeat offender."
Shares only fell 2% on the day, however, suggesting investors simply just don't really care. I mean, it's Wall Street, so we can't really expect much else.
The big question: Banking is already one of the most heavily regulated industries in the world. Will never-ending scumbaggery such as this trigger any more meaningful legislation anytime soon?
Yesterday - A sundial has the fewest moving parts of any timepiece. Which has the most?
An hourglass (all those tiny pieces of sand).
Today - It's 100 bananas off the WSO's Real Estate Modeling Course for the first 10 respondents. LFG!
What are the next three letters in the series "OTTFFSS"?
Shoot us your guesses at [email protected] with the subject line "Banana Brain Teaser" or simply click here to reply!
"I have learned that the great opportunities are the places that have been neglected, where other people are not looking." - Sir John Templeton
Happy Investing, Patrick & The Daily Peel Team
Was this email forwarded to you? Sign up for the WSO Daily Peel here.