Rate Hike Inbound | The Daily Peel | 6/15/22
Futures pointed towards positive territory yesterday morning, but nothing compared to the persistent, abusive beatdown that we've watched since late last week. Towards mid-day, markets had basically given back any morning gains. ETH traded below 1300 bucks, and BTC was flat at around $22.5k.
At the end of the day, the Dow was down 0.50%, and the S&P had lost 0.38%. Not that you can call it the big winner, but the Nasdaq was up 0.18%.
Are your Excel skills holding you back? Are you still using a mouse when you do your analysis? If you're looking to master the tools that will make you successful as a finance professional or technical communicator, look no further than WSO's Excel Modeling Course.
Let's get into it.
Yesterday - Take one out and scratch my head. I am now black but once was red. What am I?
A match.
Today - For today's BBT, we will slash 30 bananas off our Excel Course to help you finally use the most proliferated software in finance without a mouse. If you're in the first 20 correct respondents, we will hook you up.
What can you keep but cannot share, and once you share it, you can't keep it anymore?
Shoot us your guesses at [email protected] with the subject line "Banana Brain Teaser" or simply click here to reply!
75 bps on Deck? - The Fed kicked off its 2-day policy extravaganza yesterday, and we can expect an announcement of their decisions later today.
The Fed is between a rock and a hard place. Daddy JPow doesn't want to make it seem like their policies are at the mercy of the market, but they also don't want to force capitulation.
Let's face it: raising interest rates aggressively to kill inflation is destructive to demand. There will be repercussions from a sustained tightening cycle.
There is some inertia to keep the 50 bps rate hike schedule on the table, but I think that the Fed and its leaders know that inflation is actually running hotter than even the most recent numbers are saying.
I saw a funny tweet yesterday calling for Daddy JPow to raise rates quickly to crush inflation while introducing a recession only to aggressively cut rates to protect us from a recession. Someone responded to that tweet saying that this strategy is akin to pounding shots at the bar and then driving home at 90 mph to ensure you're parked before you're actually drunk.
While you can't fight the Fed, you can control where your money goes during volatile times. Usually, the most boring stonks tend to do pretty okay in a recession. P&G, McDonald's, Utilities, Alcoa, Dow… not sexy names, but they can help weather the storm and maybe pay a little bit of dividend income.
These names tend to have strong balance sheets and tried-and-true business models, even in highly inflationary or slow-growth economic environments. While the rest of the market can sink, these names tend to preserve their value and can keep your portfolio afloat. But you know you'll never find financial advice here.
While it might not be the time to completely rotate into a more defensive position (I couldn't tell you even if I thought it was!), it's worth considering a strategy to pivot towards capital preservation instead of stacking up gainz.
WSO Excel Modeling Course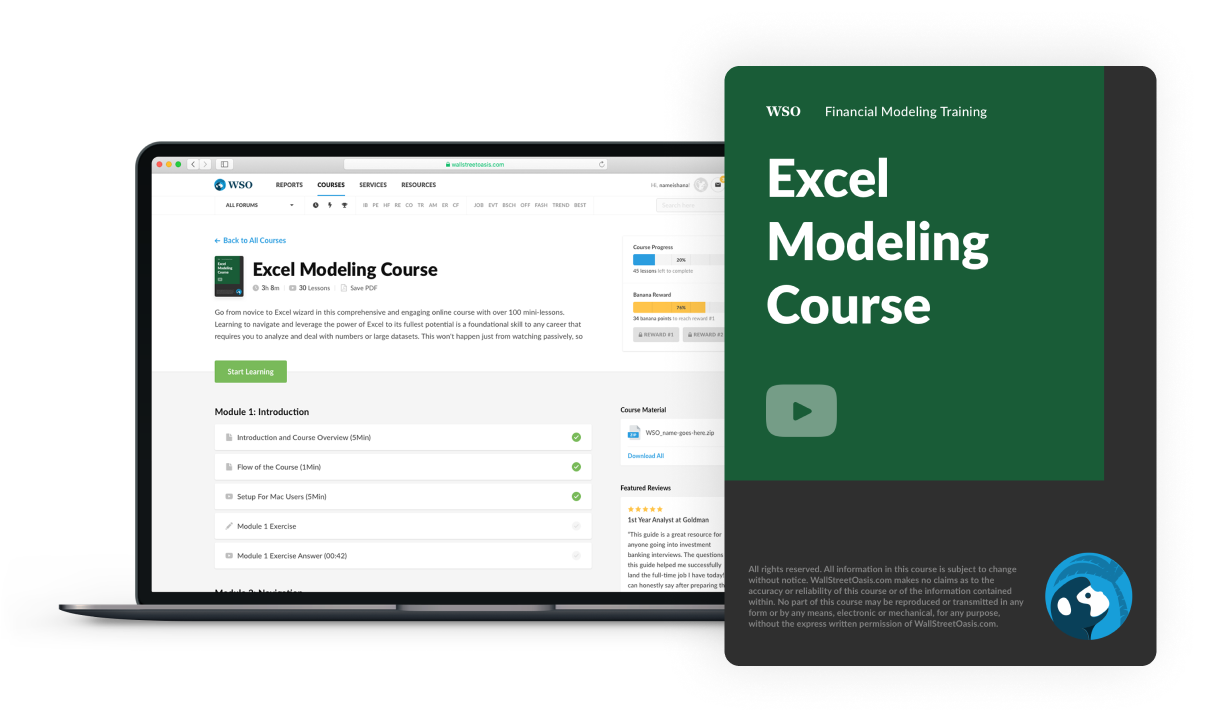 Being an MS Excel power user will separate you from your peers. In finance, we communicate through analyses and data, and Excel is ubiquitous across the industry.
With more than 105 lessons, hours of videos, and ten realistic modeling exercises, WSO's Excel Modeling Course will help you master the skills that you need in the most prestigious jobs in finance.
Sharpen your skills; from the basics of efficiently navigating a spreadsheet to logic or functions all the way to advanced analytics, our Excel Modeling Course will set you up for success.
FedEx ($FDX) - This is about as good as you can hope for our struggling FedEx, paying like $7 a gallon for diesel in their trucks and who knows how much for JP-8 in their jets. Shares of $FDX skyrocketed on news that the shipper was boosting its dividend and entering a deal with activist DE Shaw & Co.
$FDX also plans to cut expenditures and re-work executive comp. It sounds like they're attempting to batten down the hatches for the upcoming hurricane Jamie (Dimon). On the news, $FDX ripped higher by 14.38%.
Chinese Internet Names ($KWEB) - Shares of $PDD, $JD, and $BIDU all moved significantly higher yesterday, sending the $KWEB Chinese Internet ETF higher by 6.66%.
Looking at the data, $KWEB has seen significant capital inflows this week, and it might be poised to pop. Or it might not be. I'm not a fortune teller.
Pool Corp ($POOL) - After receiving a price target slashing, the most appropriately named company in the S&P shed 5.27% yesterday.
I don't know about you, but people don't buy as many luxury goods in a recession, especially not ones that require financing during a tightening cycle. $POOL weighed down the S&P yesterday as the market remained in bear market territory.
Exelon Corp ($EXC) - With crude trading at about $121 bucks yesterday, it was hard to believe that an energy/utility company was one of the big losers on the day amongst the Nasdaq's darlings.
Apparently, it's hot outside, and some of Exelon's infrastructure likely won't be able to handle the heat, so to speak. This might lead to summer brownouts or power loss, all together. Yesterday, shares of $EXC lost 3.14%.
Back Up the Truck - Well, here we are again.
A lot of you have seen gains that you accumulated in the last two years evaporate.
Broadly speaking, many investors have tons of cash on the sidelines. Even with raging inflation, we thought it better to keep our money-losing like 7% a year because of crappy monetary policy was better than losing 10% a month because of valuation compression.
The Nasdaq is down by a third this year. That means a lot of market cap has gone the way of the dinosaurs. But does it mean there's a buying opportunity on the horizon?
I think that we still have ways to fall. The Fed is downright adversarial. Even if we have compressed significantly, have we moved just to fair value, or are companies on sale?
Some of the talking heads that are more bullish think that we are only at fair value. I tend to agree, but I don't think we're at bargains yet. That being said, look at the forward P/Es of mega-cap tech or the price-to-book value of the big banks.
If you've followed stonks for the last decade, you could argue that you haven't had a buying opportunity like this in at least two years.
The markets could go lower, and I personally expect to see that happen. I do have a number in mind where I am thinking about backing up the truck. But hey, you be your own judge.
Depending on your time horizon, a pullback can be a good thing. If you think we are approaching a bottom, don't let a bargain pass you by.
"'No brilliant idea was ever born in a conference room,' he assured the Dane. 'But a lot of silly ideas had died there,' said Stahr." - F. Scott Fitzgerald, The Last Tycoon