Rosy Earnings, Mid-Week Reversal | The Daily Peel | 8/4/22
Futures pointed higher on Wednesday morning, and markets did not disappoint. Stonks surged on better-than-expected earnings and some decent economic data. Oh, and there was no WW3 because of Pelosi's visit to Taiwan.
Not to toot our own horns, but our lead trader at WSO Alpha had a great month in July, watching our Alpha portfolio gain more than 16%. This sounds kind of meh compared to market performance, but it beat other aggressive benchmarks by about 50%.
At the closing bell, the Dow was up 1.29%, the S&P was up 1.56%, and the Nasdaq climbed 2.59%, reversing a two-day slide earlier this week.
Network with top-ranked part-time, online, and hybrid MBA programs, such as Northwestern Kellogg, Chicago Booth, Duke University, Boston University, Carnegie Mellon University, Georgetown University, and more, on August 17th! Learn more
Let's get into it.
Monkey Wanted: The Daily Peel is Hiring
TDP is looking for a newsletter writer. If you're interested, we'd love to hear from you!
If you're a great writer with a sense of humor, check out our job posting here. To apply, please author a draft copy of the Peel and send it plus a resume to [email protected].
Yesterday - A purple house is made from purple bricks. A black house is made from black bricks. A white house is made from white bricks. What is a greenhouse made from?
Glass.
Today - It's 150 bananas off of our Elite Modeling Package for the first 10 respondents. LFG!
No matter how much, how often, or how little you use me, you change me every month. What am I?
Shoot us your guesses at [email protected] with the subject line "Banana Brain Teaser" or simply click here to reply!
A Tale of Two Economies - In the words of James Bullard from yesterday morning live on Squawkbox, Recession is in the Eye of the Beholder.
If you listen to the White House's Press Secretary KJP, any Fed president, or most mainstream media outlets, you will hear vehement denial of a recession.
There will be much to do about a strong consumer, huge savings rates during the pandemic, and lots of liquidity on the average American's balance sheet.
I find it especially bizarre to hear from Daddy JPow that interest rates at this point in the game are close to neutral and that we are not in a recession. For the uninitiated, this means that interest rates are high enough that they're not "accommodative"-they don't encourage borrowing or excess spending.
Indeed, public-facing voices from the government's perspective are in a mode in which delivering assurances about a healthy state of the economy is the modus operandi. My response to most of these bureaucrats: have you listened to a f*cking earnings call?
Businesses, by their nature, operate in the real economy. Even though it might appear so from an employee's perspective, corporate leadership is not in an ivory tower.
Unlike some of you whose only exposure to it is playing COD with your bros, these cats are "in the sh*t" fighting for their livelihoods and those of their shareholders. CEOs have shifted their messaging drastically and done so in a hurry compared to late 2021.
Listen to your boy Zuck's most recent guidance: "I expect us to get more done with fewer resources." How about Sundar Pichai basically declaring that Google needs to get things done with "greater urgency, sharper focus, and more hunger than we've shown on sunnier days."
Companies with the means to do so are collecting and internalizing data on productivity of remote workers with the hopes of trimming the fat.
In the immediate term, many Fortune 100 companies have instituted hiring freezes or increased scrutiny in the process, and these same names have rolled out cash conservation programs more stringent than the EPA.
Whether it's declaring that the consumer is softening or that Americans are trading down for less expensive versions of the same types of consumption items, I think the message is clear from earnings calls this quarter: the economy is slowing. We are moving towards austerity mode and in a hurry.
To steal a phrase from the CEO of Axon Enterprise Inc., Rick Smith, and, I guess, a retired entrepreneur named Ned Stark, "Winter is Coming."
Trade down, a retail concept in which the consumer switches from a more expensive good to a cheaper one in the same category, is the least of our worries. The well that was pandemic stimulus is drying up.
CEOs aren't optimistic. My take from listening to several dozen earnings calls is that economic growth is not assured in the short and medium terms.
For my readers, I challenge you to ask, what's the disconnect between business leadership and government bureaucrats?
Network with top-ranked part-time, online,
and hybrid MBA programs on August 17th at
The MBA Tour Spotlight on Degrees for Working Professionals!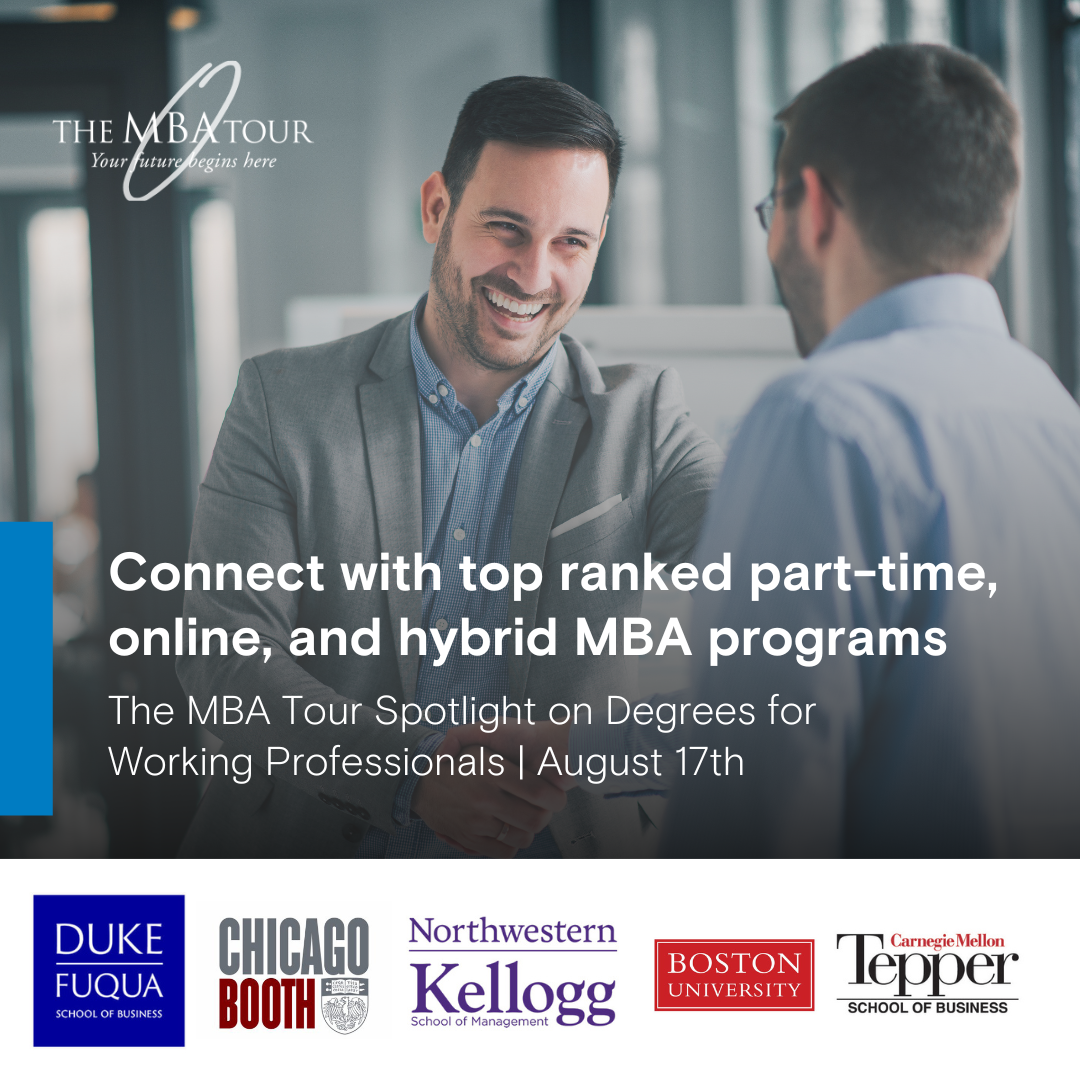 Don't miss your chance to network with Chicago Booth, Boston University, Carnegie Mellon University, Duke University, Georgetown University, & more.
Moderna ($MRNA) - After providing solid guidance given the strong vax demand as well as beats on the top and bottom line, shares of $MRNA ripped higher yesterday, finishing the day up 15.97%.
Because of vax demand, their leadership is predicting even stronger profits in Q3. The Street absolutely loved the news, sending shares soaring.
PayPal ($PYPL) - Here's another beaten down stock that had decent earnings. PayPal ended up posting some solid earnings this week, sending shares way higher.
After a beat on the top and bottom lines, as well as bolstered guidance, $PYPL was up 9.25%.
Match Group ($MTCH) - If you enjoy watching stonks get kicked in the teeth, read on. Apparently, even as the world reopens and we are back on our sh*t looking for strangers, Match Group is struggling.
Well, revenue is up, but growth is significantly slowing for the broker of online love. Investors didn't like this news, so they decided to crush $MTCH's soul.
Shares closed lower, down 17.56%.
Energy ($XLE) - Shares of many energy names were down yesterday, including Chevron as the largest laggard in the DJIA. With WTI Crude plunging down to almost $90 per barrel, there's no surprise that many energy names had a rough day.
Yesterday, shares of $XLE moved south by 2.87%.
No Victory Laps Here - Did I mention that I am not impressed with $HOOD's business model? Payment for order flow at the expense of the retail investor is the exact opposite of some sort of woke, progressive notion of the democratization of investments or markets.
Pick your poison and your vernacular.
From $69 to $9 per share, The Daily Peel has been what some would describe as hypercritical of Robinhood, and some of those critiques are 100% valid.
Downloading the app and yolo-ing money into Robinhood is way easier than many other investment platforms. Robinhood made investing incredibly accessible, even though the idea that everyone looking to invest has a smartphone is somewhat elitist.
At least on the surface, Robinhood seemed to attempt to at least teach investment basics; however, we aren't equipped to really assess this component of their business. You have to make that judgment for yourself.
These potential positives being said, it's hard to look past the shortcomings of Robinhood. Money laundering? Cybersecurity regulation violations? These are literally the basics that any app that would accept personal financial information from users is required to follow.
Not Robinhood. They're so bad at it they have been fined $30 millie from the NY Department of Fin Services because they followed the law so poorly.
It makes you wonder: what else are they doing that is below the bar?
In the last 18 months, these cats have hired a lot of knowledge workers, aggressively staffing many, many jobs that are likely not value added.
Hence the staffing cut. In their earnings call, they announced a cut to almost a quarter of their staff. That's effing huge. A 23% headcount slash is massive, and it points towards huge operating problems.
I worry about the RH investor. If $HOOD goes the way of Celsius, how will the average investor get their money out?
As I said, we're not taking a victory lap here. We are concerned for the average investor. Only time will tell. Hopefully, if you're an RH trader, your money is safe inside of $HOOD's coffers.
"It's not how much money you make, but how much money you keep, how hard it works for you, and how many generations you keep it for." - Robert Kiyosaki