Rough Start | The Daily Peel | 7/12/22
Futures Monday morning pointed lower, likely on fears that earnings season is probably going to suck. Crude retreated in the morning, ending the day at $103.52.
Markets had a bit of a rough Monday. The Dow lost 0.52%, the S&P lost 1.15%, and the Nasdaq was down 2.26% when all was said and done.
There's a general fear that a recession is on the horizon and that earnings compression is right around the corner. This week's headline CPI consensus estimate is 8.8% year-over-year, another 40-year high. Aren't you glad Monday is over?
Piestro's robotic pizza pods have won over $580Mn in preorders from restaurants like 800 Degrees and FAST FIRED. They won't be the last as these fully-automated pizza kiosks enter malls, stadiums, and more. Become a Piestro shareholder before July 28th.
Let's get into it.
Yesterday - A man was walking in the rain. He was in the middle of nowhere. He had nothing and nowhere to hide. He came home all wet, but not a single hair on his head was wet. Why is that?
The man was bald.
Today - For today's BBT, we will chop 50 bananas off our Python Fundamentals Course for the first 20 correct respondents. That's half off, Apes, to master the most ubiquitous programming language there is these days.
Where are the lakes always empty, the mountains always flat and the rivers always still?
Shoot us your guesses at [email protected]etoasis.com with the subject line "Banana Brain Teaser" or simply click here to reply!
What You Wanted Was What You Got - Let me play devil's advocate: for those of you who have argued for a $15 minimum wage since like 2018, is that $15 number still where you're anchored?
For years, everybody has called for wages to rise, especially amongst what economists hastily call the working poor.
Wages have shot up in the last couple of years, and pretty rapidly, I'd say.
The starting hourly wage has never looked so good. Whether you're unskilled or a high schooler without any experience, your first paycheck has probably never looked better.
There's one problem with what these cats are seeing in these first checks, and if you have a little bit of finance and economics education, you probably already see where I'm going.
This is merely an increase in nominal wages. In real terms, wages haven't kept pace with inflation.
In other words, no one is celebrating an average salary in the 80k region when all of a sudden the cost of living moved 30% higher somehow.
The truth is in the data; real earnings have decreased in the last year, even as nominal wages are on the rise, just hoping to keep pace with inflation.
Another negative with this nominal wage growth situation is that it is inflationary. It's kind of like the saying, "the faster you go, the faster you'll be going." When wages keep going up, so do prices.
This is bad news for this upcoming FOMC. Coupled with a miraculously tight labor market, it's likely to see another fat rate hike.
Inflation is still raging. There are two big reports coming out this week, consumer and producer price index data. They happen to coincide with the Fed's next powwow.
We don't know where the numbers will land, but you bet you a** that ours is on the edge of our seat.
Time's Almost Up To Invest in the
Pizza Chefs of Tomorrow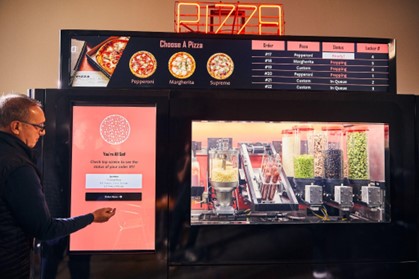 Robotics pizzerias from Piestro are linking with fast-growing restaurant brands to make the perfect pizza, faster. Here's why:
Half the traditional labor cost
3X the potential profit margin
3 minutes to cook a tasty pie
It's no wonder 800 Degrees, WingZone, and FAST FIRED have preordered a combined $580Mn in Piestro's compact, fully-automated pizza pods.
Invest in Piestro before their funding round closes on July 28th
Digital World Acquisition Corp ($DWAC) - Shares of the Orange Man's SPAC soared on Monday, climbing 20.11%. The inside scoop is again related to Elon.
Now that the Twitter deal has fallen through, investors fled to $DWAC to pump the social mediate alternative. What a ride, apes.
AZZ Inc ($AZZ) - The metal coatings company based in the DFW area posted better than expected earnings on Monday, sending shares higher. At the close, $AZZ was up 2.39%.
They have a funny name, but apparently, they had a good quarter compared to last year at the same time. It makes me wonder how many similar YoYs we will see this earnings season.
Dish Network ($DISH) - Here's more Elon-related news for you, Apes. Shares of $DISH lost ground on Monday, giving back 6.92%.
New fears are being whispered left and right that $DISH and its parent company are in a battle with Musk over frequency authorization and licensing. Since we know that Elon usually gets what he wants, I'd be shaking in my boots too.
Alibaba ($BABA) - Chinese tech stocks retreated Monday after news of new fines and regulatory challenges hit the Street.
Investors are also concerned about the viability of these Chinese companies under a zero C-19 policy, given new outbreak fears.
$BABA, one of the most recognizable tech names from the PRC, was a huge loser on Monday. Shares went down 9.45%.
Earnings Season on Deck - A few weeks ago, Jamie Dimon warned of an inbound hurricane. As he was saying this, we were smack dab in the middle of some serious valuation compression, particularly as liquidity concerns entered the chat and growth was all but dying.
That might have just been the overture of this dastardly symphony.
Everything tends to return toward the mean. For those of you who don't math good, the mean is the average.
In 2021, earnings for the S&P climbed 47% YoY. While this isn't a shocker, so to speak, given 2020's lockdowns and governmentally forced economic slowdown, it's not sustainable.
The earnings forecast for 2022 called for a mere 8% increase in S&P earnings for the year. Oh, man… what I wouldn't do to see this.
There's a good piece in Barron's today about earnings estimates being in la-la land. I'm of the mind that estimates need downward revisions and in a hurry.
In case you can't read through the lines, I'm not optimistic about the immediate future of big companies making money hand over fist.
I think that's okay. You can formulate your own opinions on it, but if you're reading us here, we'd like you to appreciate the nuance.
We are probably through the first step of the pain, which is a regression toward the mean. That was PE or valuation compression.
The next step, which usually coincides with an economic slowdown and a bear market (sound familiar?), is earnings compression, which has a tendency to adjust stock prices lower as well.
The bond market is screaming that a recession is coming. We've seen an inversion of the treasury yield curve, and the two-year yield has moved markedly higher. It doesn't take a PhD in astronautical engineering from MIT to notice that bond markets are hinting at a recession in the next 6-24 months.
Can we survive it? Yeah, I'm sure we will. Our portfolios might take a bit of a haircut, but there is indeed some good news.
Buying stocks at all-time highs doesn't leave a lot of room to run. I'm happy to scoop up some quality names that are fueled by returning value to their shareholders as opposed to generating hype.
Think about it: you make most of your money in a bear market, but you usually don't realize it as it's happening to you.
"You don't need to be a rocket scientist. Investing is not a game where the guy with the 160 IQ beats the guy with 130 IQ." - Warren Buffett