#Scandalous | The Daily Peel | 10/1/21
Silver Banana goes to...

Market Snapshot
Like Dustin Lynch, the market is seein' red, as the Nasdaq sank 0.44%, the Dow lost 1.59%, and the S&P followed suit, losing 1.19%.
Speaking of suits, get your Chimp-ass looking almost human with the ridiculously nice shirts and suits from BlankLabel. Of course, we at The Daily Peel are trying to coin them as "the new GQ", so why not be a trendsetter and jump on board early. You have to check out BlankLabel, don't sleep on this one.
Let's get into it.
Macro Monkey Says
Gov't Stays Gov'ting - For the first time maybe ever, the U.S government met a deadline. Lawmakers narrowly avoided a midnight triggering of a government shutdown that would have ensued today. While the deadline wouldn't trigger immediate defaults, it would have left government agencies and employees without funding until a resolution was reached. Miraculously, the Senate passed a bipartisan bill extending the debt ceiling deadline to December 3rd, 2021 with a vote of 65-35.
The House passed the bill and Presdient Biden's signed on just hours before funding would have lapsed. Joey B was ready with his freshly inked quill for days in anticipation of signing this kind of stop-gap bill, halting a government shutdown...at least for the next two months. Unless some of the 12 regular appropriations bills for FY'22 get in the next 63 days, we'll run it back soon.
Quarterly Wrap - Congratulations, kings - you survived another quarter. Although your portfolio may not have, you physically did survive, and as Buffet says: "in order to succeed, you must first survive." Let's talk about what happened. Branson and Bezos kicked things off strong with various space flights that served half as cool demos for their company's capabilities, and half as midlife / masculinity crises. China absolutely dominated the news cycle with a bunch of draconian laws that would cause Civil War 2.0 here in the States. The Delta variant really f*cked up a bunch of supply chains, whose issues we'll likely be dealing with for a while. Inflation, a fiery housing market, and a crypto trading hamster all lead us to where we are now. Heading into the final quarter of 2021, we have tapering to look forward to along with potential for even more of a spike in government spending. We hope to see you on the other side.
Body shape change during COVID?

Body shape change much during COVID?
So has everyone else's. Whether it's Zoom or back into the office, time to step it up before your next call with the MD.
Blank Label makes award-winning custom shirts for < $100, be paired with an expert Menswear Specialist, and receive complimentary alterations.
What's Ripe
Virgin Galactic ($SPCE) - Finally, Branson's having a good day again. Virgin Galactic soared 15.2% on a classic piece of "not good, but could've been a lot worse" news. The FAA announced yesterday that they are ending their investigation into the aerospace firm's deviation from the agency approved flight path, as the deviation was planned but not communicated to the FAA. No big fine here, instead the money turned into pure capital gains, baby.
Lordstown Motors ($RIDE) - Not sure how this is good news but Lordstown rose 8.4% yesterday on news of the EV company's plans to sell an Ohio based factory to Foxconn. In another example of not-good good news, Lordstown's desperation for cash is off the charts, selling this factory gives them more cash to give investors when they inevitably dry up. Either that, or traders are just glad to reduce the company's footprint in Ohio. And honestly, I get it.
What's Rotten
Bed Bath & Beyond ($BBBY) - The one stop shop for all your college dorm needs seems to no longer be that, as Bed Bath & Beyond plummeted on news of an absolutely horrific quarter. Adjusted earnings came in at $0.04/sh against $0.52/sh expected, an over 90% miss. If that doesn't make you sick, perhaps knowing revenue fell 26% from last year. Remember last year? I don't, but I'm told there was a literal pandemic that stopped people from shopping in stores. Shares dropped 22.2%.
CarMax ($KMX) - No, not that annoying fox from the commercials, this is the Virginia based vehicle retailer, Carmax. Anyway, now that we got that out of the way, shares plummeted 12.6% yesterday. The firm made the huge mistake of missing earnings, and even worse, they used the charlatan-based buzzword "omni-channel"...can't be a good sign. Margins came up short and revenue was $1.1bn under Street expectations.
Thought Banana:
Vlad and Ken at it Again - Robinhood and Citadel's relationship can best be compared to that of Monica Lewinsky and Bill Clinton. Just like good ol' Bill, Citadel CEO Ken Griffin "did not have any private matters' with Robindhood CEO Vlad Tenev. What was completely obvious at the time, yet adamantly denied in testimony, has now emerged as actually probably true. Documents from the ongoing court case around the GameStop...thing…reveal that executives are nothing more than really good BS'ers. The most damning evidence comes from a recently released internal Robinhood message in a company group chat from COO Jim Swartwoth that reads "you wouldn't believe the convo we had with Citadel, total mess." If that doesn't spell it out, I don't know what does. Twitter users are going crazy with "#CitadelScandal", trending as of late. Judging by the Tweets shown below, Citadel is not happy. As usual, litquidity has the right idea.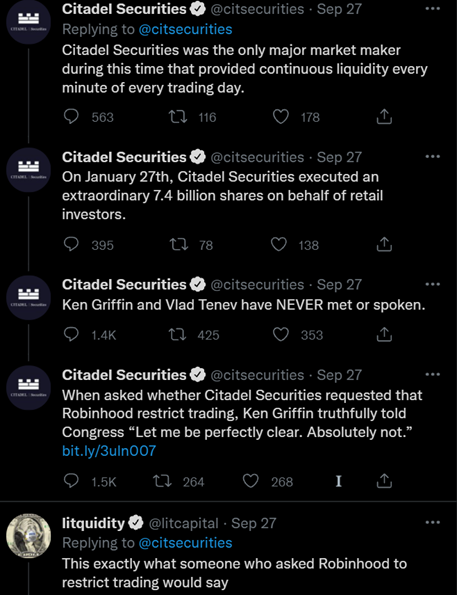 "I mean I'm not smarter than the market, but I can recognize a good tape and a bad tape. I recognize when it's right and when it's wrong and that's what my strength is."
- Jim Cramer
Happy Investing,
Patrick & The Daily Peel Team
Was this email forwarded to you? Sign up for the WSO Daily Peel here.