Shaky Tether and Non-transitory Inflation | The Daily Peel | 12/13/22

Dec 13, 2022 | Peel #357
Give your silver bananas to...

Happy Tuesday, apes.
The party begins at 8:30 am. You may be reading this after that. If so, November's CPI has finally dropped; and if it's past even 9:30, the market might just be going stupid.
Yesterday, the market was vibing, gaining almost across the board. But that all could change today and especially tomorrow as JPow and the FOMC meet to raise rates yet again. Fingers crossed.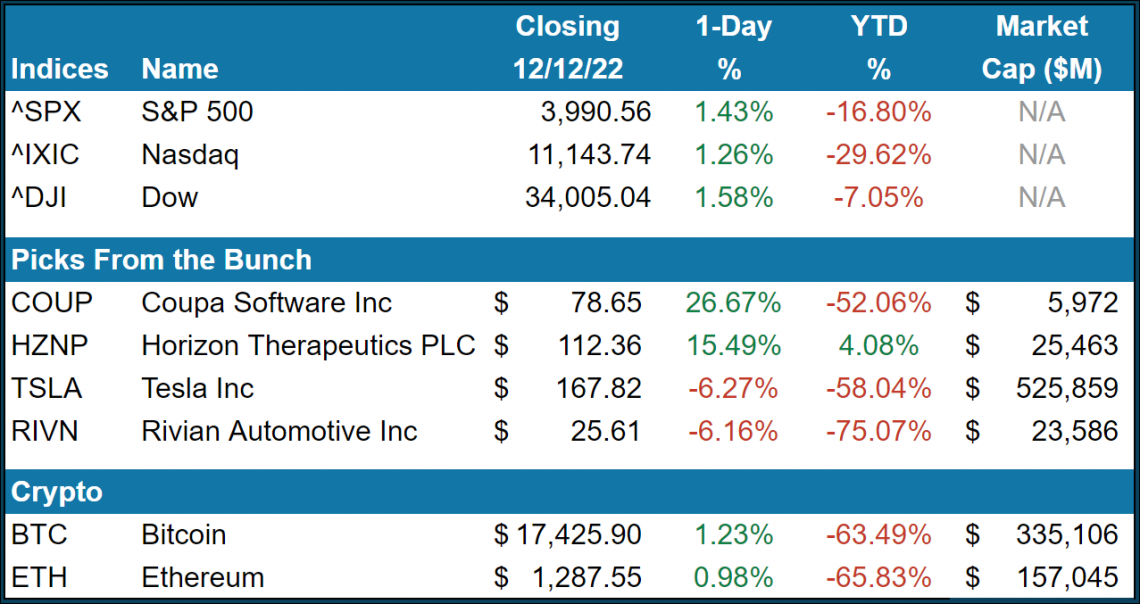 Bring the Bourbon Boom to Your Portfolio
The world's elite-those that jet off to Davos and St. Moritz every year-have assets all over the place. Sure, they've got stocks and bonds like the rest of us Joe Schmoes, but they also have alt assets like art and wine that keep them diversified.
These hard assets have a lot of benefits-they tend to appreciate over time, and people have a connection to the craftsmanship involved.
If smooth bourbon is more your speed than art and wine, CaskX is the platform for you. America's native spirit has seen a surge in popularity lately, and experts see the trend continuing.
Our friends over at CaskX are letting you get in on the action, allowing you to participate in the gains without needing to keep barrels in your garage. Because they know Daily Peel readers will love their platform, they're giving out a free bottle of bourbon to one of the first 50 Peel readers to schedule a consultation in the next 24 hours.
Yup, we're serious.
The stock market has been nuts in the past few years. If you want a real, tangible asset that steadily gets more valuable over time, it's time to get in on the bourbon game.
Rates, Inflation, and Yields - Oh My!
2022 has been the year the Fed pivoted…and I don't mean from C-19 era monetary policy; I mean a total vibe shift not seen since pre-2008. We talk about it a lot, but with the most consequential CPI and Fed meeting yet (until the next one) coming up this week, it's worthwhile to take a walk down memory lane.
Believe it or not, we entered this year with an effective Fed Funds rate of 0.08%. Right now, it sits at 3.83%-a 4,687.5% increase-in just 11 months!
If that was a stock, we'd all be rich. Unfortunately, all it has done is tank our stocks, murder the housing market, and make me cry on more than one occasion. Was it worth it?
Probably. Inflation began creeping up as far as last summer, and almost immediately, analysts and (surprisingly) economists rightly called that inflation was absolutely not transitory. The Fed needed a few minu-months to think about it and only stopped actively buying mortgages in March of this year.
CPI peaked at a median of about 9.22%, a level not seen since the pre-Volcker days of the high inflation early '80s. Like him, JPow declared war and went to work, jacking up the FFR at a rate never before seen in the history of the central bank.
Now, mortgage rates sit at well over 6%. Just a few months ago, that same rate was well below 3.5%. For context, a $350k house at 3.5% is $1,225/month. At 6%? That's $2,100/month.
But despite all that demand destruction in housing, Powell has struggled to have that coincide with the real target: labor markets. The cost of labor (by wages) in the US has spiked since the pandemic began, a rare winner in the world of viral infestations. Still, this only serves to moon inflation even stronger.
And while last month we got a mild reprieve, with CPI falling to 7.7%, your guess is as good as mine for what gets dropped today at 8:30 am. Regardless, all signs point to another rate hike following on Wednesday. The question of a 50 bps hike vs. a 75 bps hike would've seemed ludicrous just a year ago. But then again, so would a bullish reaction to nearly 8% annual inflation. But hey, oil went negative, so…I guess anything is possible.
Horizon Therapeutics ($HZNP) ↑ 15.49% ↑
Through a field of acquisitions yesterday, Amgen's (-0.67%) $27.8bn buyout of Horizon Therapeutics stole the spotlight as the top story.
The far larger Amgen has been eyeing this deal for some time, looking to integrate Horizon's rare disease drug repertoire into its own bottom line. Amgen faces expiring patents on key drugs like Otezla over the next few years, so the timing here is as clutch as David Ortiz in 2004.
And investors weren't even mad. Usually, after an acquisition, the buyer's share price plummets, usually due to overpaying. Here Amgen's 20% premium only led to a less than 1% fall, while Horizon spiked 15.5%. Can't be mad.
Coupa Software ($COUP) ↑ 26.67% ↑
Speaking of acquisitions, Coupa Software's sellout to PE giant Thoma Bravo got investors excited too. Thoma Bravo plans to pay a massive 30% premium at $8bn to take the firm private, so we'll just wish them luck.
Shares of the cloud-based business management platform Coupa exploded during the pandemic. But since then, it's been ugly. But but, this price decline is likely exactly what provoked deal-hungry Thoma Bravo to swoop in, and after today's over 25% gain, no one's complaining.
Are all these acquisitions announced yesterday, including BDT's buyout of Weber Inc, a sign of companies calling the bottom? No…it can't be…
Tesla ($TSLA) ↓ 6.27% ↓
Falling to the second richest man in the world, getting booed at a Dave Chappelle show, and Tesla shedding 6.3%...it's been a rough week for Elon.
Shares largely sold off as investors become vomitose with Musk's Twitter distraction. Regardless of how we feel about the acquisition, it's understandable that Tesla shareholders might be a bit upset that their messianic CEO is off playing Pin the Tail on freedom of speech.
Meanwhile, recent data from YouGov is clear. Tesla's popularity among the general public is falling. The firm's greatest asset, its brand, largely powered by Elon, could be shaking.
Rivian ($RIVN) ↓ 6.16% ↓
Aaand for a completely different reason, carbon copy Rivian also saw shares dive more than 6% yesterday.
But, shareholders can blame their own CEO, too. The hot EV maker announced a rough breakup with (former) partner Mercedes Benz, indicating the pair will no longer produce high-end EV offspring at this time.
As far as breakups go, however, this one seems about as amiable as they come. Both are open to getting back together down the line, but for now, the timing's just not right.
Can Tether Weather...It Better
Apologies for the corny rhyme, but it just fit so beautifully. Anyway, most of you have likely heard of the stablecoin called Tether. And with that, most of you have likely heard the debate about it, commonly known as "Is it a sh*tcoin?" Well, let's see…
In July 2014, the cryptocurrency "Realcoin," Tether's precursor, was launched. By January of the next year, it was officially listed on the Bitfinex exchange, a subsidiary of iFinex.
Despite all that complexity already, Tether (aka USDT) has been one of the most relied-upon stablecoins in the industry. For the uninitiated, stablecoins are essentially proxies for $1 USD in crypto markets, designed so 1 [stablecoin] should always = $1.
As of last night (bc who knows what could happen), USDT was the third largest cryptocurrency in the world, obviously behind BTC and ETH. But allegations are swirling, and have been for most of its existence, that the firm isn't exactly-what's a good word-honest about the "assets" backing the coins' value.
Originally, the promise was 1 USDT would always be backed by $1. However, this is confirmed to be no longer the case and hasn't been for a while.
The problem now is that as the tides of crypto liquidity and subsequent bullishness recede, market participants are starting to examine exactly who might be swimming naked, as Warren Buffett would put it.
For example, Tether and Bitfinex originally hid their relationship. Or for another example, Tether was ordered by the NY Attorney General to produce monthly "attestations," which are basically just lowkey audits. And, of course, the "stable" coin has lost its peg to the USD before, which just kinda destroys the whole reason it exists, no?
Now, in the latest edition of shady allegations, Coinbase CEO Brian Armstrong has sounded the alarm on Tether. The exchange now offers free conversions of USDT to the second largest stablecoin, US Dollar Coin, or USDC. To be fair, Coinbase itself is basically a co-founder of USDC, so raising an eyebrow at this is absolutely valid.
For now, not much is known. Tether has a reputation as a sketch ball among tokens, but it also has plenty of supporters. Time will tell if they, or anyone else, is swimming naked.
The big question: What happens to the broader crypto market if the world's largest stablecoin and underbelly of token trading goes kaboom?
Yesterday - You measure my life in hours, and I serve you by expiring. I'm quick when I'm thin and slow when I'm fat. The wind is my enemy.
A candle.
Today - It's 30 bananas off the Hedge Fund Interview Course for the first 15 correct respondents. LFG!
An old man dies, leaving behind two sons. In his will, he orders his sons to race with their horses, and the one with the slower horse will receive his inheritance. The two sons race, but since they're both holding their horses back, they go to a wise man and ask him what they should do. After that, the brothers race again-this time at full speed. What did the wise man tell them?
Shoot us your guesses at [email protected] with the subject line "Banana Brain Teaser" or simply click here to reply!
"The most important of these rules is the first one: the eternal law of reversion to the mean (RTM) in the financial markets." - John Bogle