Someone Call John D. Rockefeller | The Daily Peel | 11/30/22

Nov 30, 2022 | Peel #348
Happy Wednesday, apes.
JPow speech day is upon us. While the next day of the rate hike reckoning remains a few weeks away, Fed Chair Powell has decided he simply cannot wait that long to shake things up. He goes live at 1:30 pm, and I, for one, could not be more excited.
Meanwhile, Congress will stage a vote to very likely put an axe to planned rail strikes, and China is still China-ing its way around a crazy year. What a time to be alive.
Let's get into it.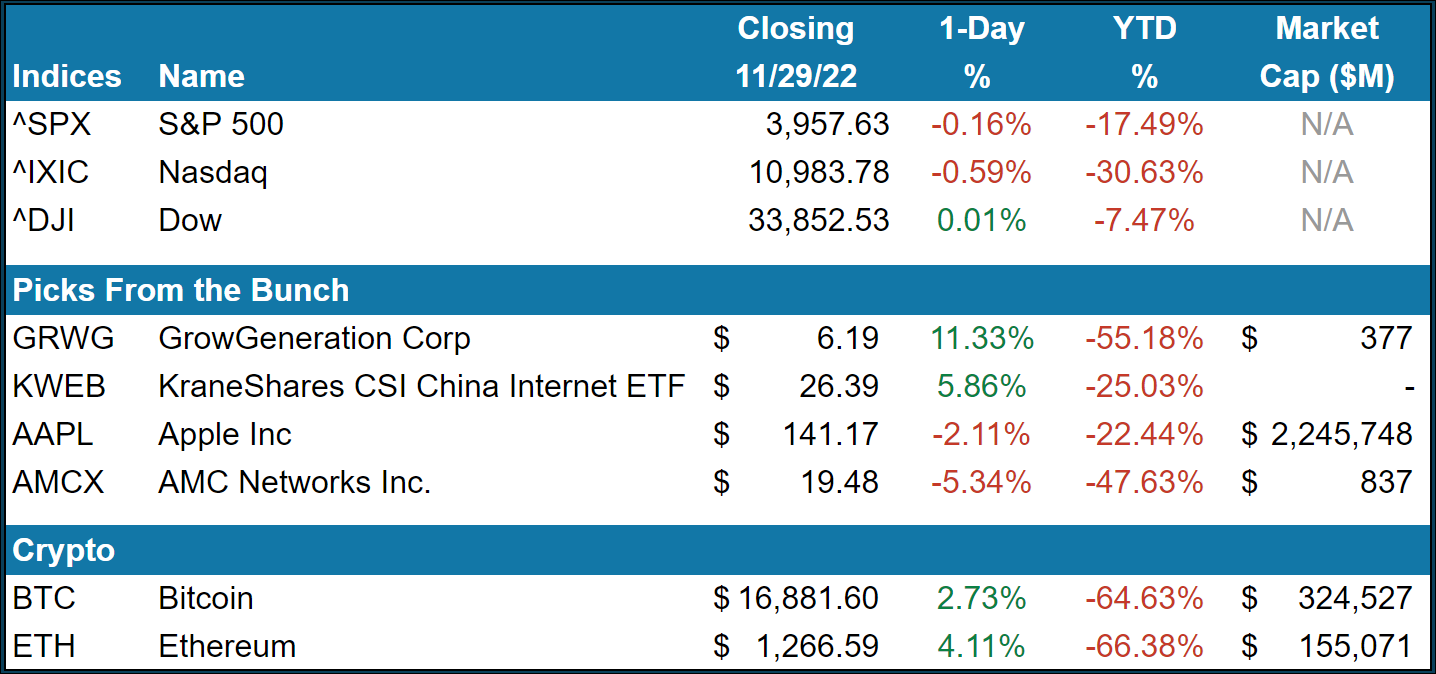 If You Want to Work in PE, You Need to Understand LBOs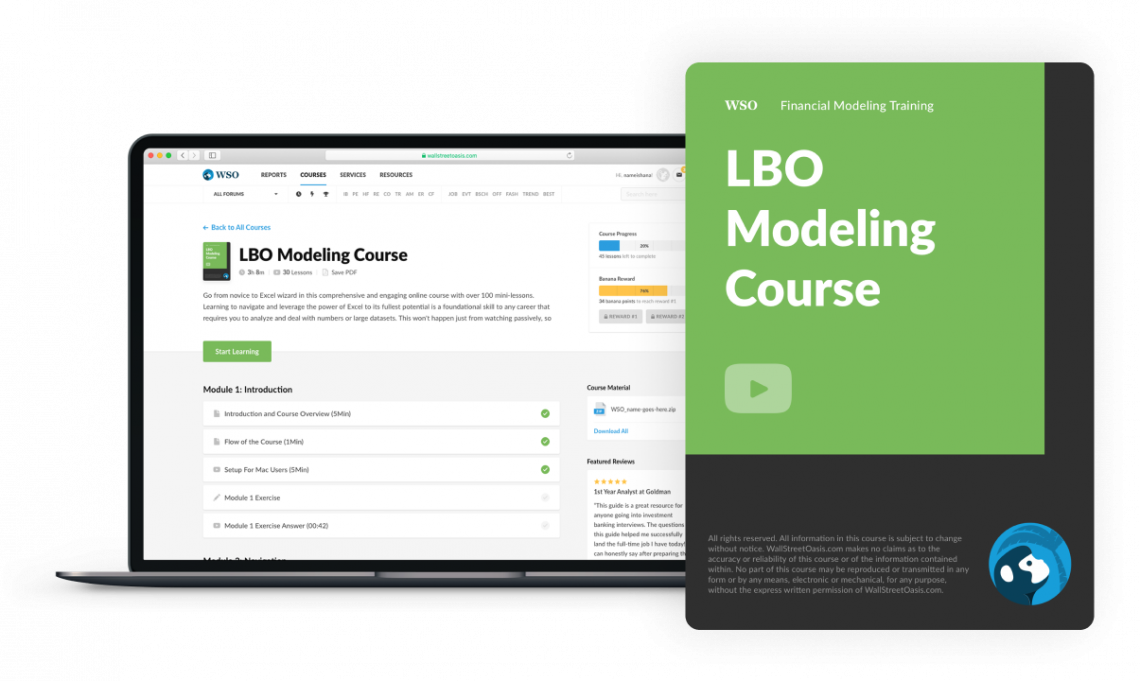 If you heard "walk me through an LBO" in an interview tomorrow, how would you answer? If a long pause followed by some bullsh*t explanation is the best you got, we have a course for you.
Understanding LBOs is essential for working in IB. But these things are complicated to get your head around-knowing the implications of leverage, modeling IRR, and other intricacies take time to learn.
That's why we created the WSO LBO Modeling Course. Through interactive video lessons that contain sample models from well-known companies like Nike, you'll lock down key concepts that'll be relevant to an IB analyst gig.
Since we know Peel readers will get a ton out of the course, we're also giving out free access to our Excel Modeling Course for the first 50 Peel readers to sign up for the LBO course in the next 24 hours. Yup, we're not kidding-learn how to model an LBO, then slice and dice it in Excel, or the price of one course.
Other candidates are brushing up on their skills as we speak, and you can't afford to wait. Sign up today and be on your way to making it rain in IB.
I'm (not) Working On the Railroad…
Quick! Someone call John D. Rockefeller; the rail workers are at it again.
On Monday, President Joey B burst onto the scene in his classically old grandpa way to sound the alarm on a looming, large-scale strike by railroad workers across the US. You might think railroads don't matter all that much in the 21st century because literally no one besides your weird friend cares about trains, but to the economy, they're a key artery.
The background: Unions and the Democratic Party go together like Chamath and SPACs. And these best buddies usually work toward a common goal. Now, as rail unions negotiate new contracts with their company overlor-I mean owners, sh*t is hitting the fan.
And by hitting the fan, I, of course, mean that Congress plans to vote later today on whether or not the strikers will have the support of the government on their side. Spoiler alert: it's looking like a no this time.
But this about-face by Democratic leadership on Monday seems to only have the soon-to-be strikers more up in arms. This led to President Biden and Speaker Pelosi saying things like "Congress, I think, has to act to prevent it. It's not an easy call, but I think we have to do it. The economy is at risk" and "I don't like going against the ability of unions to strike but weighing the equities, we must avoid a strike," respectively.
Potential side effects of a strike include (but are not limited to):
$2bn in economic value lost per day
Loss of 765,000 jobs in weeks (almost 3x that of October's US job growth)
Congress's planned vote today will be a major influence on the ultimate outcome of the Taylor Swift-esque relationship between railroad companies and their employees. Lesson learned: Don't sleep on trains.
GrowGeneration ($GRWG) ↑ 11.33% ↑
As notorious fans of getting high while your portfolio does too, we can't help but love to see pot stocks pop off-and that's exactly what hydroponics supplier GrowGeneration did yesterday, gaining over 11.3%.
Weirdly, the stock is up well over 85% since the midterms. I say "weirdly" because their last earnings were little more than slowing sales, margins drying up, and the literal CEO giving off a major "yeah, it's gonna get worse from here" vibe.
But hey, numbers don't lie.
Chinese Internet ($KWEB) ↑ 5.94% ↑
Talk about a complete 180. Yesterday, traders, investors, and journalists alike were utterly tweaking over concerns around unrest and C-19 in China. Today?...
A complete shrug-off. Concerns eased on PRC officials ratcheting up the crackdown, and investors appeared to be going full-blown "greedy when others are fearful" here.
Apple ($AAPL) ↓ 2.11% ↓
But, with every action comes an equal opposite reaction (or something like that). Yesterday's news out of China was great for $BABA and $JD, but Apple investors had the opposite feeling.
Shares dumped 2.11%, which is quite the fall for a $2tn giant like this. It wasn't only ongoing woes at Chinese-based Foxconn factories weighing them down, but Elon Musk himself has chosen violence against the computer company. Stay tuned.
AMC Networks ($AMCX) ↓ 5.34% ↓
No, not the AMC stock you lost last spring's beer money on. This AMC is actually a real stock, although clearly not a great one either.
AMC Networks is basically a bunch of TV channels and a sad attempt at a streaming network. Think The Walking Dead, Portlandia; you get it.
Shares took a 5.3% dive yesterday on layoff announcements and everyone's sudden realization that absolutely no one still watches those shows.
12-month percentage of change in the United States Consumer Price Index (CPI-U) in October 2022 by expenditure category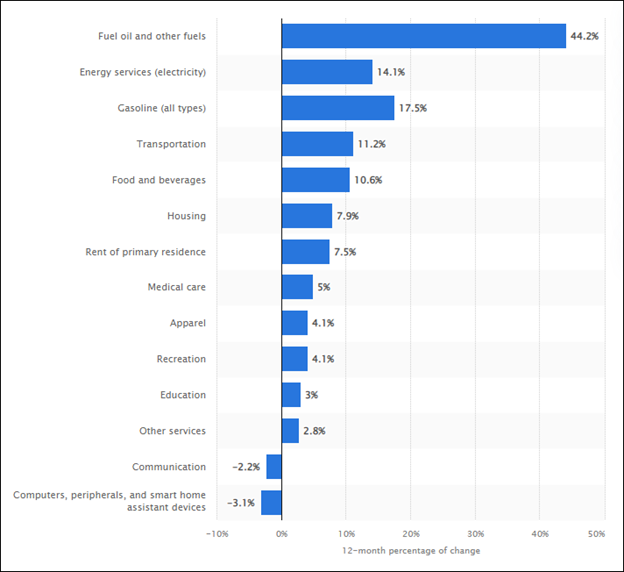 Never Let a Crisis Go to Waste
For the first time in maybe ever, a US lawmaker and/or government official actually has a seemingly good idea on crypto regulations. Yes, you read that right.
You might not know Wyoming Senator Cynthia Lummis, but you might want to soon.
Senator Lummis has taken the uproar and utter fiasco of the FTX scheme/fraud/whatever is going on down there and used the crisis to leverage the introduction of a fresh new digital asset regulation bill. Key tenants of her proposition include:
Ban on comingling of customer assets with an exchange's (duh)
Use of the Howey Test within the cryptocurrency market
Distinct sets of regulations around those who actively trade crypto on exchanges vs. those who store their assets in hard wallets
Not bad, Lummis, not bad.
Now, the bill does go into far more depth than presented above. Key tenants also include less consumer-facing aspects such as collateralization and rehypothecation.
With all that said, we still, of course, have no idea how bright (if at all) this bill's future is. Public opinion has taken a dramatic turn against cryptocurrencies and the digital asset industry as a whole, so passing supportive legislation could come with electoral risk.
One thing is clear, however-this is a step in the right direction. Simply the fact that Congress is no longer outright ignoring one of the most pivotal technological and financial developments of the last decade and a half is a real breath of fresh air.
Like it or not, the crypto industry does probably need regulation to bloom to its full potential.
The big question: Will bills like this kickstart the development of much-needed, smart crypto regulation?
Yesterday - You are playing a game of dodgeball with two other people, John and Tom. You're standing in a triangle, and you all take turns throwing at one of the others of your choosing until there is only one person remaining. You have a 30 percent chance of hitting someone you aim at, John has a 50 percent chance, and Tom has a 100 percent chance (he never misses). If you hit somebody, they are out and no longer get a turn. If the order of throwing is you, John, then Tom, what should you do to have the best chance of winning?
Miss the first time on purpose. Suppose you try to hit John and do. Then Tom goes next, and he will hit you, and you will lose for sure. If you aim at Tom and hit him, then John will go for you. If you miss on your first turn, John will go for Tom for sure because he is a stronger player. If he hits him, then it's just you and John, but you are going first. If he misses him, then Tom will hit John, and it will be just you and Tom. But again, in this case, you are going first.
Today - It's 50 bananas off the WSO's LBO Modeling Course for the first 10 respondents. LFG!
Find a number less than 100 that is increased by one-fifth of its value when its digits are reversed.
Shoot us your guesses at [email protected] with the subject line "Banana Brain Teaser" or simply click here to reply!
"Quit while you're ahead. All the best gamblers do." - Michael Batnick