The Daily Peel is Here - July 06, 2021


Welcome to the first issue of The Daily Peel, your free 5-minute guide to the markets that will educate (and entertain) you each weekday morning.
Including:
Stocks -- from meme-stock insanity to plain ol' vanilla value

Puts & calls -- and how you can make bank...but also lose everything

NFT and shitcoin shenanigans -- buyer beware or to the moon?

Real estate -- REITs to investing directly in this asset class

Anything else you can think of where you put your well-earned bananas somewhere hoping to turn them into (many) more bananas...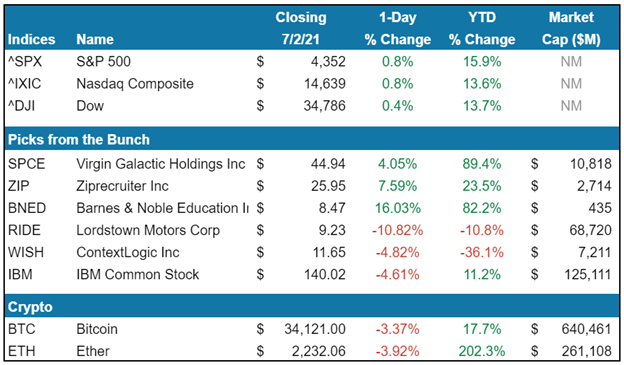 Virgin Galactic ($SPCE) – The billionaire space race may sound like reality TV but this is certainly real life, and Branson has the lead. In addition to launching 9 days before Bezos, Sir Richard's Virgin Galactic has been mooning all month, opening up 23% and finishing Friday with a 4% gain. Is a fist fight in space too much to ask?
ZipRecruiter ($ZIP) – Aside from being a place for companies to lie about their culture, pay, and benefits, it turns out that ZipRecruiter can actually be helpful to job seekers. Who would've thought? Not a bad spot to be in after the strongest jobs report since last August. Shares went up 7.6% on Friday after Goldman Sachs & Evercore initiated coverage.
Barnes & Noble Education ($BNED) – Ever since that Bezos guy came along, bookstores have struggled to survive. Barnes & Noble Education, one of the last remaining vestiges of physical bookstores, has escaped the wrath of Amazon (for now), but negative activist actions have weighed on the stock. Likely in response to a drastic drop earlier in the week, shares rose 16% on Friday. It's as textbook as it gets, buy the dip (we'll ignore that it's still down 4.3% since June 28th).


Make sure you keep an eye out for WSO Alpha (coming soon!) -- our new premium investing and research service. Get access to a real portfolio with 20%+ annual returns over the last 9 years, trade alerts and premium research.


Lordstown Motors ($RIDE) – There are a lot of negative connotations with the word probe, but none worse for a stock than that of the Justice Department. EV maker Lordstown Motors is in the midst of a head-on collision with the DOJ due to (allegedly) fraudulent sales, leading to a 10.8% loss last Friday.
ContextLogic ($WISH) – Investors in ContextLogic are certainly wishing for a brighter tomorrow. Slapped in the face by new EU VAT regulations for e-commerce, the parent company of Wish.com capped off the week down 17%. Quite the rollercoaster for another meme stock. Next time you check Reddit, expect to see less rocket emojis and a lot more tears.
IBM ($IBM) – The original kingpin of computing has had a rough few years, and it just got worse. IBM shareholders had their hearts broken after being dumped by president Jim Whitehurst, head of the Hybrid Cloud Division. In response, shares dropped 4.6% on Friday. Like when Napoleon Dynamite lost his date at prom, the board now has to scramble to avoid being stuck alone with Uncle Rico.


Jobs: Welcome to the U.S. job market where no matter how many jobs we add (850,000 in June), we're still hovering at near all-time highs for job openings.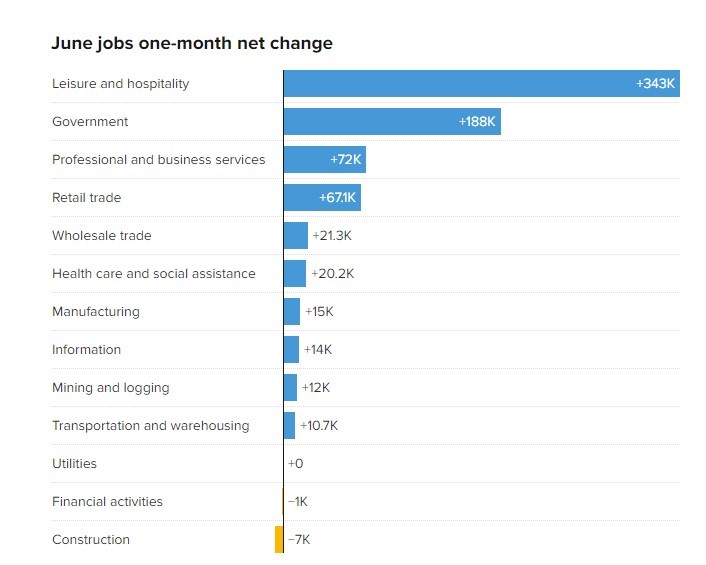 The NCAA's Big L: NCAA athletes are now legally allowed to profit off of their name, image, and likeness -- meaning Donald De La Haye was ahead of his time. Exhibit A, Trey Knox and his dog landing a deal with PetSmart and Exhibit B, Master P's son (who hasn't played a minute of college ball) signing a $2mm endorsement deal with Web Apps America.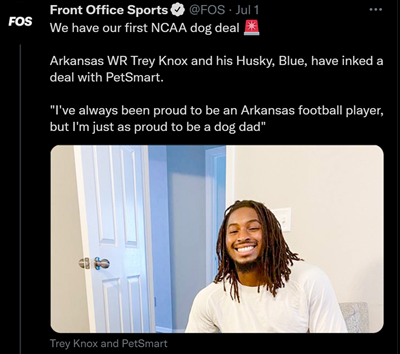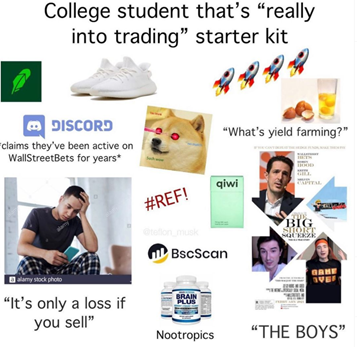 "I don't know whether I make myself plain, but I never lose my temper over the stock market. I never argue with the tape. Getting sore at the market doesn't get you anywhere."
― Jesse Livermore
Happy Investing,
The Daily Peel
Sign up for the WSO Daily Peel here.