The Day of Days | The Daily Peel | 12/15/22

Dec 15, 2022 | Peel #359
Happy Thursday, apes.
Yup, that was it; yesterday was the big one. From the long-awaited FOMC meeting to the SEC pontificating on their usual BS, it was a big day for US markets yesterday. Not necessarily a big day in price action, as confusion and indecision reigned supreme, but we still at least reveled in the volatility JPow sparked.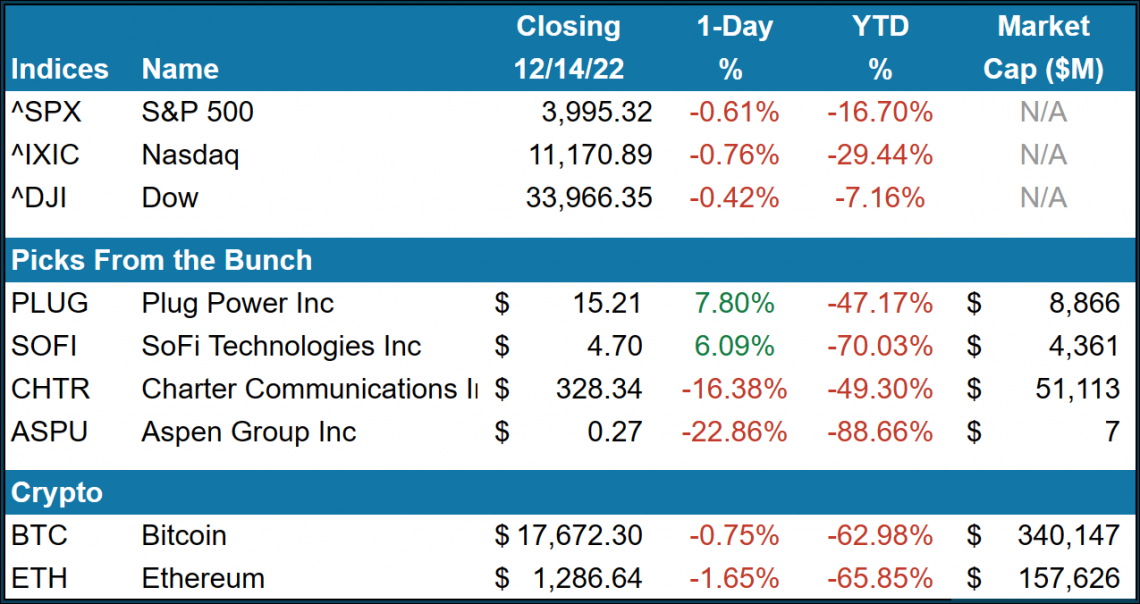 If You Still Use a Mouse to Navigate Excel, Keep Reading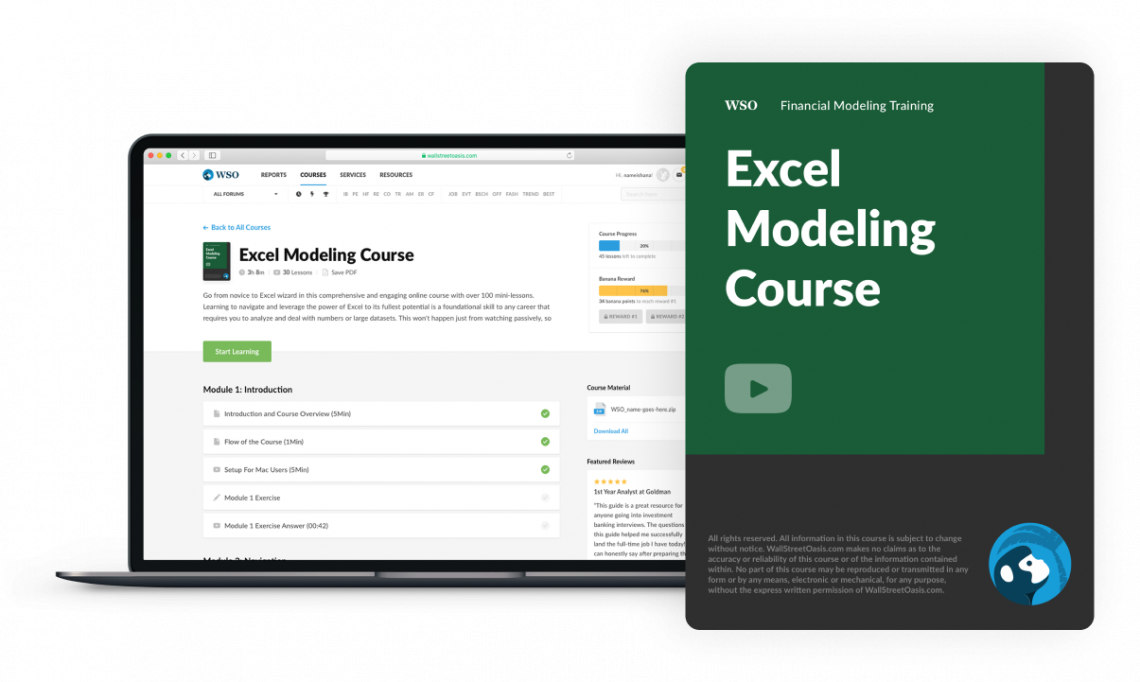 If you still use a mouse to navigate Excel, we have good and bad news for you.
The bad news is you won't be taken seriously on Wall Street. The good news is that WSO's Excel Modeling Course will enable you to toss that mouse aside and fly around spreadsheets through keyboard shortcuts.
But shortcuts aren't all you'll learn. Being able to navigate a spreadsheet efficiently and build dynamic models are essential skills on the Street, and are covered extensively in the course. Tools like pivot tables can be insanely powerful if you know how to work with them, and your MD will be impressed.
Since we know Peel readers will get a ton out of this, we're also giving out free access to our PowerPoint for Finance Course for the first 50 Peel readers to sign up for the Excel course in the next 24 hours. Yup, we're not kidding-learn the two most important finance programs for the price of one course.
Even if you don't stay in finance long-term, being able to wheel and deal in Excel will pay dividends in pretty much any industry. Do your future self a favor and sign up today.
JPow Speaks
The day of days has come, apes. Yesterday at 2 pm, the Federal Reserve raised interest rates by 50bps, establishing a new target range of 4.25-4.5%. Base rates are now at their highest level since the pre-GFC days, and somehow, we're still here.
That brings the YTD increase in the effective fed funds rate to 4,900% at a minimum. We won't know the official EFFR until, well, today due to the fact that the metric is calculated based on overnight activity in short-term lending markets. So, stay tuned.
But for now, let's take a look at what happened today. JPow said a lot, moved a lot, and dropped the mic around 3:30 pm, but that hour-and-a-half was a game changer.
For starters, Mr. Market had no clue what to do. Everyone was anticipating a 50bp hike, yet the news finally hit public wires, and markets sold off as if they had never heard of a central bank. Still, the selloff didn't last long, and indices broadly finished only slightly lower.
But markets, of course, are reacting to far more than a simple move in the economy's base rate. The words JPow and the FOMC used, along with their perceived tone, matter way too much as well. Like the SC Top 10, let's check out some highlights:
"I just don't think anyone knows whether we're going to have a recession or not. And if we do, whether it's going to be a deep one or not ... it's not knowable"
"Even though we may be approaching the finish line, we aren't there yet"
"Historical experience cautions strongly against prematurely loosening policy. I wouldn't see us considering rate cuts until the committee is confident that inflation is moving down to 2% in a sustained way"
"There's an expectation really that the services inflation will not move down so quickly so that we'll have to stay at it. So we may have to raise rates higher to get to where we want to go and that's really why we're writing down those high rates and why we're expecting that they will have to remain high for a time"
"I think we'll make the February decision based on the incoming data"
Apologies, I know some of those were long af, and reading is hard, but glad you made it through.
Anyway, a few things are clear, and from the FOMC statement, the SEP, and JPow's comments, we can start to garner a few takeaways:
Services inflation has taken center stage as the biggest problem in the room (it's your fault; stop asking for a raise)
JPow, like your parents due to their haircuts, is terrified of a repeat of the 70s. Hence, the boy will NOT be too quick to loosen policy. If anything, he's begging us to get used to rates in the +4% neighborhood
The longevity of elevated rates matters more than the speed at which they are raised
17 of 19 FOMC members indicated on their personal SEP that they see rates maxing out at least above 5%, suggesting more 25-50bp hikes are possible
We might, just might, actually achieve a soft landing. But also, we might not…
There was, however, a massive elephant in the room. JPow didn't once mention yesterday's cooler-than-expected inflation report, indicating the Fed could be basing its decision more on future expectations than past data. Pay attention to the dot plot.
Ever since Bernanke instituted forward guidance as a policy tool during the GFC, the most important rate move has always been the next one. After the hike, all eyes immediately turned towards February 1, 2023, which will be the next day of days for investors.
Finally, yields had a strong-arm reaction, gaining big on the day as investors sold off existing positions in hopes of snatching up higher-coupon issues now set to emerge in the coming days. Meanwhile, the dollar rallied sharply immediately post-announcement, only to end lower than the start of the day (currencies tend to rise with stricter monetary policy…so the 5-day chart below is just a bit…weird…).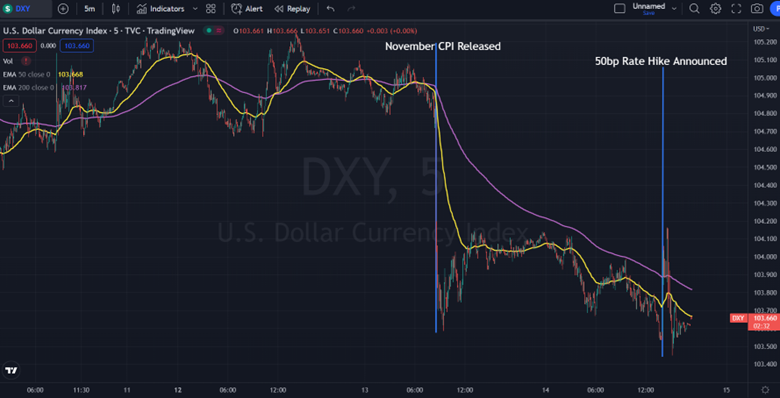 Plug Power ($PLUG) ↑ 7.80% ↑
Rev up those engin-I mean, charge up those batteries and fuel those hydrogen tanks because Plug Power is going to the moon!
Maybe, maybe not. At least, the above is what UBS thinks. Manav Gupta, an analyst at the Swiss bank, initiated coverage of the stock with a fat $26 (+70% from close) price target. Moreover, he and his team anticipate $5bn in sales annually from the firm by 2026, while the rest of the Street is calling for $3.4bn.
Whether he's right or way off, we won't know until 2026…obviously. But hey, place your bets now…I guess.
SoFi Technologies ($SOFI) ↑ 6.09% ↑
Insiders sell a stock for a bunch of different reasons, but there's only one reason they buy.
The above has been accepted common knowledge on the Street since Peter Lynch was out here buying motel stocks (and beating the market). Still, it's exactly what brought SoFi shares in from the cold for a brief moment yesterday.
The fintech stock popped 6.1% on the release of filings that CEO Anthony Noto racked up a $5mn increase in his position between Friday and Tuesday.
Charter Communications ($CHRT) ↓ 16.38% ↓
"Fortune favors the bold" has never seemed more wrong after Charter's day yesterday.
The firm had the audacity to announce a massive $10bn capex plan to boost its network, and on the very same day, the Fed increased the cost of its future debt payments. Not a brilliant move, but maybe it'll be worth it?
Wall Street sure didn't think so, tanking shares 16.4% on the news.
Aspen Group ($ASPU) ↓ 22.86% ↓
I'll venmo $50 to anyone out there who'd heard of the above $6.8mn market cap stock before right this second. Why are we talking about this rando, you ask? Well…
In one of the wildest trading days this poor, sweet commentator has ever seen, Aspen Group, an online education company, initially rallied 55% by midday from its previous close. Shares then went on to end the day almost 1/4 lower…what the actual f*ck?!
Basically, investors are slow readers. The initial hype, largely in the after and pre-market, was driven by surprisingly solid revenue growth in its latest quarterly report. But, when analysts got to the bottom of the income statement and saw that profitability was a huge disappointment, shares sank like the Titanic.
Sure, it's a low market cap, low volume stock, but how often do you see +70% intraday swings? That's pretty cool, as long as you're not a shareholder…
Gensler's Working…Just Not On the Right Things
We still don't have a BTC spot price ETF, but thank god SEC Chair Gensler wants to save you like $10/yr!
The job of the regulator known as the Securities and Exchange Commission (SEC) is to do…just that; to regulate securities and exchanges. Well, yesterday, the SEC finally dropped its 5-point plan to *allegedly* improve US markets. Let's take a simplified view of the changes; outlined in full here.
Basically, there are 5 proposals included in this report to enhance trading in US security markets. The big one involves the institution of an auction process for brokers, dealers, and market makers to engage in prior to filling customer orders, with the idea being that instead of sending retail orders to whoever grabs it first, market makers and other similar firms will be required to submit auction-style bids in order to be able to fill a customer's order.
This would force market makers to sell at lower prices and buy at higher ones, allowing you to do the opposite. Of course, the dollar figures in question are fractions of fractions of pennies, so not exactly moving the needle here.
Further, Gensler alleges the proposal could save retailers $1.5bn in aggregate trading costs annually. Based on the estimated 100-120mn retail traders in the US, that amounts to savings of $12.5-$15/yr each…is that really anything to get excited about?
Certainly not this year, as that extra $13, if reinvested, probably would've just plummeted alongside broader markets anyway. Still, can't be mad about saving more money.
But Citadel, and other market makers like them, make some good points. In response to the proposed changes, Citadel and others caution against making major changes without proper diligence. As these rules will cut Citadel's margins, along with others such as Virtu and Jane Street, even my dog would've predicted that take.
"Over the past 20 years, competition, innovation and thoughtful regulation have saved retail investors billions of dollars by increasing access and transparency and significantly lowering trading costs. The US equity market is the envy of the world, and any proposed changes must provide demonstrable solutions to real problems while avoiding unintended consequences that will hurt American investors." - Citadel
For now, nothing is set in stone, and the policy proposal is up for public comment until March 2023. We'll see what happens, but damn, are Vlad Tenev and all the other discount broker heads relieved Gensler ain't banning payment for order flow.
The big question: How will some of the largest proposed changes to US financial markets in decades impact the trading abilities of retail investors and markets as a whole?
Yesterday - A rebus is a pictogram that represents a word, phrase, or saying. For example, "Ci ii" represents "See eye to eye." What word or phrase does the following rebus represent: O_ER_T_O_?
A painless operation.
Today - It's 50 bananas off the WSO's Excel Modeling Course for the first 15 correct respondents. LFG!
Turn me on my side, and I am everything. Cut me in half, and I am nothing. What am I?
Shoot us your guesses at [email protected] with the subject line "Banana Brain Teaser" or simply click here to reply!
"Money is like an arm or a leg. Use it or lose it." - Henry Ford
Happy Investing, Patrick & The Daily Peel Team
Was this email forwarded to you? Sign up for the WSO Daily Peel here.